Updated in June 2022
Interestingly, up until now I always played golf with whatever golf balls Rick put into my bag. But now that I actually know better, I am working my way through this list of 6 of the best golf balls for women.
I definitely need to find out which are the right golf balls for me.
So, here we are going to be assessing some important factors to consider when choosing your golf balls.
Believe it or not there are quite a few technical aspects to consider. Some, in fact, that I never knew or had even thought about!
Why is Compression Important?
Firstly, what do we mean by "compression"?
Compression occurs when the Club hits the ball.
The compression rating of a golf ball relates to the hardness or softness of the core.
Men's golf balls can have a compression rating of between 70 and 100.
Whereas 6 of the best golf balls for women have a rating that is below 80 – mostly between 50 and 70.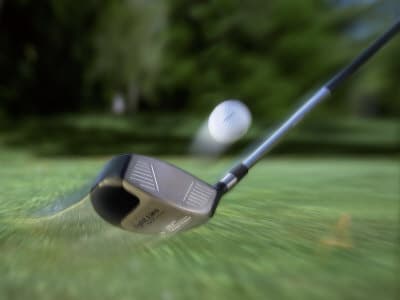 Of course, there are huge differences in a woman's swing speed and that of her male counterpart.
When a man with a very fast and strong swing hits the golf ball with the higher rating, the compression created causes a spring-like reaction in the ball which travels a greater distance.
Conversely, with a lower compression ball that has a softer feel, a woman's much slower swing is able to effectively compress the ball to provide good distance in the shot.
Another technical aspect to consider is whether the ball is a two-piece or multi-layer ball.
Multi-layer balls can be three, four or five piece.
Two-piece golf balls comprise the core and the cover whereas multi-layer balls have one or more mantles between the core and the cover.
These can impact the amount of spin on the ball at higher swing speeds. In general, the two-piece is a softer ball and therefore more suitable for women's golf with slower swing speeds.
What to look for when choosing golf balls.
Choosing the right golf balls is, of course, a very personal thing.
An important factor will be to test out different balls until you settle on the ones that give you the best results.
However, there are some questions you need to ask yourself as you go about this process:
Would you like to get more distance when you tee off?
How is your game around the greens?
Would you like more control?
At what level is your golf game – beginner or mid-range?
Would you consider your swing speed to be fast or slow?
There are probably some other questions that you can think of, but these are the main ones that you will want to answer with your choices.
Having the right golf balls for your particular swing will certainly help you get more distance off the tee.
In choosing golf balls that are softer and specifically made for slower swings, will give you more control over your short game.
The softer golf balls are also very suitable for beginners and for junior golfers.
Does Price Matter?
Indeed, it does, especially if you have a tendency to lose golf balls regularly!
Always remember the old adage that "you get what you pay for". So, don't always go for the cheapest variety of golf balls.
You will be pleased to know, though, that two-piece soft golf balls are generally more cost effective than the multi-layer, harder balls.
So, while cost is a factor, I can confirm that, in future, I am not going to be playing with "whatever Rick puts in my bag".
Rather, I shall test out these 6 of the best golf balls for women that have been specifically designed for that purpose.
Thus, I shall settle upon the particular balls that give me the best results and improve my game.
So What Are 6 Of The Best Golf Balls for Women?
Here is a list of what I have found to have star quality in the best golf balls for women.
I am not about to recommend any one of them as better than the others. This is because, as I mentioned above, choosing the right golf balls for you is a very personal thing.
It will all depend upon which one suits you the best and enhances your game.
Bridgestone e6 Lady Golf Balls – possesses great aerodynamics for improved distance.
Callaway SuperSoft Golf Balls – has an ultra-low compression core – great accuracy.
Titleist Velocity Golf Balls – suggests high flight in all shots.
Srixon Soft Feel Lady Golf Balls – soft, thin cover for better short game.
TaylorMade Kalea Golf Balls – excellent distance off the tee and more control around greens.
Volvik Vivid Golf Balls – this is a three-piece construction for higher swing speeds.
A Closer Look at Each of These Golf Balls.
So this particular golf ball is really good for female golfers because its core is large with a low-compression.
Even though it is a three-piece golf ball it is specifically designed to provide straighter and longer tee shots with a low spin.
Because of its design, the control you have around the greens maybe somewhat lacking. Go here for an in-depth review.
The Callaway SuperSoft Golf Ball has an extremely low compression rating. Because of this it is absolutely perfect for those with a slower swing.
Thus, it is an ideal choice for most women golfers whose swing speed is generally much lower than men's.
However, there are those among us, girls, who have really fast and strong swings, so this would probably not be the right ball for you. Go here for an in-depth review.
With this golf ball you will definitely increase the distance of your tee shot.
Because this ball is designed mainly for distance, its performance in the short game around the green may be disappointing to some.
It does reasonably well around the green but its main aim is improving the distance of your long shots. But additional yards off the tee maybe just what you are looking for! Go here for an in-depth review.
This ball, of course, has the required low compression rating which is good for female golfers.
It is a two-piece ball, the design of which gives it high-flying track off the tee and a generally longer flight.
While it is designed for women golfers, it is also very suitable for beginners, intermediate golfers and seniors. Go here for an in-depth review.
TaylorMade is one of the only golf equipment manufacturers to make a whole range of equipment for women. This is Kalea.
In addition, this golf ball is a two-piece ball with a soft cover and low compression. It is bound to improve your golf game with better tee shots and excellent control around the greens. Go here for an in-depth review.
This is three piece construction with a higher compression rating that would be good for those among us girls with a faster, stronger swing.
Living up to its name, the Volvik Vivid comes in a number of neon colors that makes it highly visible on the golf course.
It generally gives a very long shot off the tee and still feels good when using the putter. Go here for an in-depth review.
Okay, girls, are you ready to find YOUR best golf balls?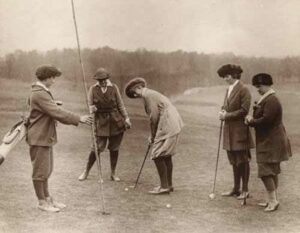 If you are anything like me, you now want to go out straight away and start trying out the golf balls I have listed.
You will want to see for yourself which are the best golf balls for women, and particularly which are the best for you!
So, get to it as soon as you can. I am definitely testing them out!
Once you start playing with the right golf balls for you, there is no doubt that your game will improve.
I hope that you now have a better understanding of what's involved in making and choosing a golf ball.
The manufacture and technology involved today is simply amazing and a long shot away from the first wooden balls made by carpenters in the 14th Century! See the history of the golf ball here.
Choose well and most of all, have fun with it and enjoy the game.
Furthermore, if you have any feedback about any of these 6 of the best golf balls for women that you have actually used, I would love to hear it.
Or, if you have any questions about the ones that I have mentioned, please leave me your comments. I will be sure to respond to you.