Are golf lessons worth it for beginners?
Indeed, they are.
New to the game – don't jump in!
Take some golf lessons from a golf club professional. He or she will help ensure that you learn the proper fundamentals of the game.
This can greatly improve your ability and help you avoid some common pitfalls that hinder beginning players.
The answer to the question is YES. It is definitely worth it for beginning golfers to take some lessons from a golf professional. While it looks fairly easy to hit a golf ball up and down the fairways to the green. There is a lot more to it than you think. And the only way to become proficient at golf is to do things the right way from the start. Most sporting activities require you to have a coach – and golf is no exception.
Taking Golf Lessons Can Save You Time, Money, And Help You Play Better Golf.
Many people have a natural talent for golf.
But even they can benefit from taking golf lessons.
A professional golfer isn't likely to say his or her career was made through natural talent, but rather hard work and dedication to practice.
We are all be born with different degrees of aptitude in different things.
Nevertheless, we should still take full advantage of what we can learn from others who are better than us, such as at playing golf.
You may believe you are talented enough to get away without lessons.
But, remember there is an infinite amount of knowledge that isn't available on YouTube or by watching Tiger Woods highlights.
And some of it could save you time and money.
Golf professionals teach beginners proper form and technique using slow-motion videos, helpful drills, and other methods so they have a solid base upon which to build their game.
Aspiring pros also go through instruction themselves because doing so will help them better communicate with students.
You might not think you need much coaching as a beginner.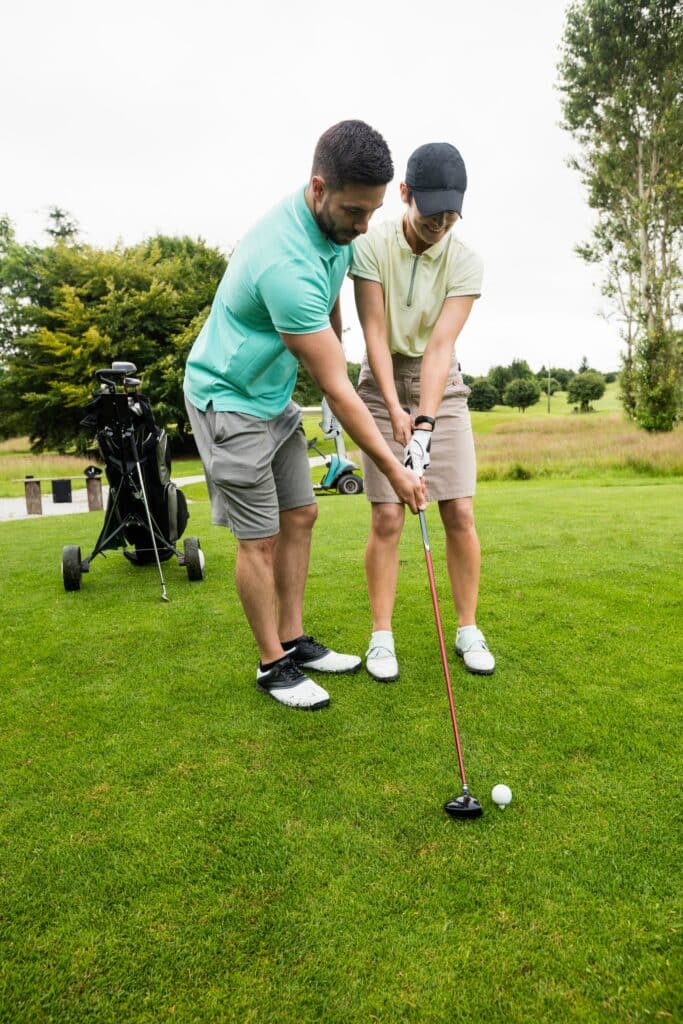 But your swing (which already requires coordination of more than 200 muscles) is difficult to critique objectively on your own—especially during your first few sessions.
Furthermore, if you don't really know what you're doing, you may well lose many balls in the rough or a lake, which can become an expensive aspect of golf.
Deciding whether lessons are right for beginners depends largely on how serious someone is about learning to play golf and improving their game.
So, paying for a few lessons up front will definitely save you money in the long run.
How To Choose A Golf Professional.
If you decide to take golf lessons from an instructor or golf pro, make sure he or she is certified (through PGA Professional School).
A teacher without certification is only qualified to teach your children how to play but probably not you.
You will be missing out on having a more knowledgeable teacher with more personalized learning experience.
Why hire someone who doesn't know what they're doing?
You may wish to take both individual and group golf lessons, here are some things to look for when choosing a golf pro.
Is he/she an experienced golf instructor?
Are they flexible in scheduling lessons?
Are they willing to meet outside normal lesson hours if needed?
How many students do they have at one time during group sessions?
What is their personality like and do you think that will be conducive to learning new things while also relaxing and having fun playing golf?
Just because someone has been teaching for years doesn't mean they are good at it.
Meeting your potential tutor face-to-face can go a long way towards getting answers to those types of questions.
What Will You Learn From A Golf Pro?
Sure, you can hit balls on your own or with your friends.
But a professional coach will help you diagnose potential weaknesses and fix them before they become permanent flaws.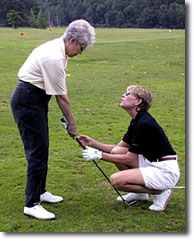 For example, if you're having problems with your grip when putting, a pro will be able to tell you exactly what's wrong and how to improve that aspect of your game.
He or she can identify problems with your swing and why you are slicing right or pulling the ball left.
Not only that, but also he or she can identify any risk of injury before it happens—which is something most beginners would be unaware of.
But isn't it expensive to hire a golf club professional every time you want feedback?
Not necessarily. While private tutoring is often pricey, group classes (or clinics) are widely available and tend to offer good value for money in terms of what's covered.
Golf Clinics focus on particular aspects of the game, such as driving or pitching around the green and such like.
Most golf pros teach clinics quite regularly. You can expect a few hours of class time, sometimes spread across a couple days along with some homework to do outside of class.
If there's one piece of advice we can give beginners looking to take their game up a notch, it would be: invest in an instructor to get started.
6 Tips On How To Find Quality Golf Instruction.
We have answered, yes, to "are golf lessons worth it for beginners".
Learning to play golf doesn't need to be difficult.
But as you develop your skills and work on building your game, you may want to seek out help from a qualified golf instructor.
If you're new to golf and looking for a professional to guide you through your first few rounds of 18 holes, these tips will help ensure that you find quality instruction.
With so many golf pros available, it can be hard to know where to start.
And how much experience an instructor needs in order to give you sound advice.
Here are six simple steps that will help ensure you get quality instruction for your beginner skills.
(1) Decide Why You're Seeking Instruction.
First and foremost, let's set one thing straight: Improving at golf cannot be done quickly.
But there are ways to accelerate progress if you've decided that some extra coaching is what's best for your learning curve.
For example, you probably want to cut down on your round time (who doesn't?).
Hitting with a coach who gives swing feedback during actual play may be more beneficial than hitting balls at the driving range alone or in group sessions.
On the other hand, if you're simply looking for someone who understands all aspects of teaching at every level and ability level. Your search should end with a PGA Professional Teaching Certificate holder.
(2) Research Your Options.
Find a list of local pros and narrow down your options by setting up appointments for consultations before choosing which teacher/coach you want to work with.
(3) Pay Attention To Style.
Matching yourself up with an instructor whose philosophy aligns well with yours isn't necessarily easy, but it's important nonetheless .
You don't have to completely buy into his or her method.
Ultimately, what works best for one person may not work well for another.
But thinking about whether he/she shares your attitude towards golf will help things go smoothly over time.
(4) Ask Around.
Once you've narrowed down potential teachers based on price and teaching style, it's never a bad idea to ask around to see if anyone has heard anything good or bad about them.
Another common question pertains to basic qualifications.
Make sure they are certified professionals holding either their PGA Professional Status or their Master Professional Golf Association Certification.
(5) Visit A Class.
Before diving in headfirst with private coaching, see if taking part in a beginner class would better suit your needs.
This way, you'll be able to learn alongside others without investing a lot of money or time upfront.
What's more, many golf schools and courses offer individualized programs tailored to your current skill level.
(6) Start Practicing.
Whether you pay for a private lesson or join a beginner's program, now's the perfect time to focus on creating good habits that will help lower your scores for years to come.
It may seem intimidating when you start out, but knowing all of these tips won't mean diddly squat if you don't actually practice and improve your technique.
Whatever your needs for golf instruction, you'll find more information on Golf Schools For Women right here.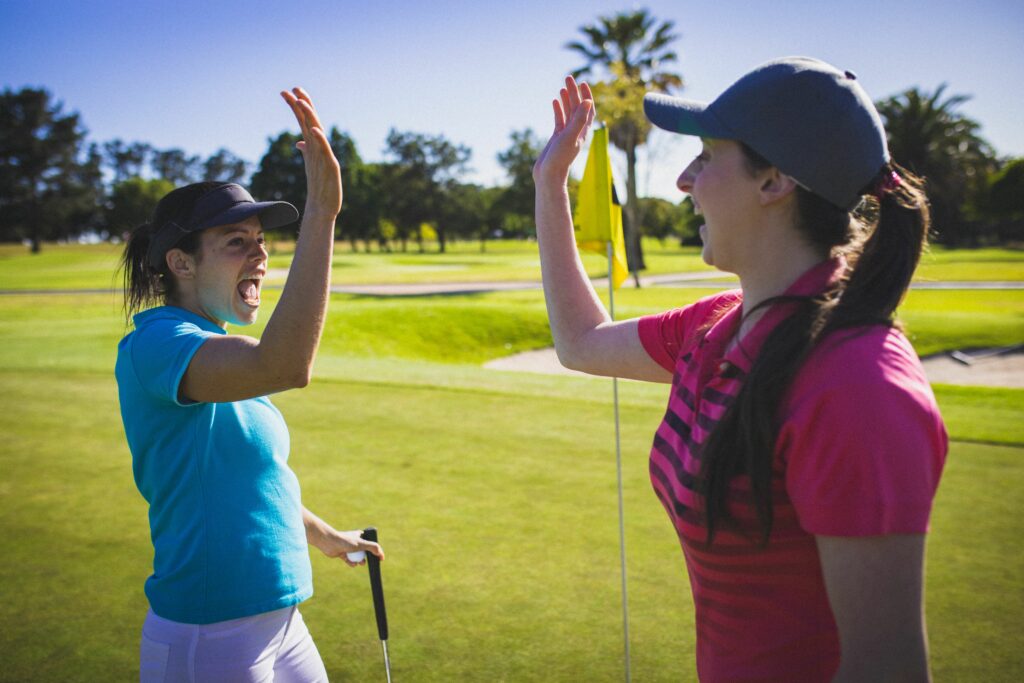 Final Thoughts On Are Golf Lessons Worth It For Beginners?
So, are golf lessons worth it for beginners? We say yes.
The difference between being an okay golfer and a good golfer comes down to two things. Knowledge and practice.
If you want to be an okay golfer, you need knowledge of how to hit every shot in golf.
Practice is also necessary.
Once you have all of your fundamentals in place, you need to practice them regularly to improve.
However, if you want to be a good golfer, every professional out there will tell you that they have put in an enormous amount of practice time on their swing before they became professionals.
They'll also tell you that it wasn't until after lots of hard work that they improved.
These statements cannot be disputed because it was hard work that got them where they are today.
As difficult as practicing can be at times, especially when we lack motivation or feel like we aren't improving; practice really does improve your golf game.
On a personal note, after I had my beginning golf lessons from the golf pro, Rick, my husband, kept me at the driving range for more than a year just practicing hitting shots.
Even so, when I finally went to the golf course for the first time – my golf game was terrible, as were the expletives that emerged from my lips!!
Only more time and lots of practice turned me into an okay golfer.