I was recently talking to my friend and golf partner, Diana, about golf drivers. She told me that she had just tried out the Women's Callaway Epic Speed Driver and was really impressed. So, I'm excited to share this with you.
Diana and I have been playing golf together for about eight years now. We love the game and compete strongly with each other. 
She usually wins.
That's not surprising really, given that Rick taught me to play without bothering to score. 
It makes the game much more enjoyable if you leave scoring to others. You can enjoy the sunshine, the beautiful scenery around Florida's golf courses and finish without the stress of competing.
First, a bit about the driver, though.
Designed specifically for women golfers, this driver combines cutting-edge technology with unparalleled performance to take your game to new heights.
Here's why the Callaway Epic Speed Driver is a game-changer for women.
AI-Designed Jailbreak Speed Frame: Because this revolutionary design enhances stability in all directions you will experience epic ball speeds and longer straighter shots off the tee.
AI-designed Flash Face: You can say goodbye to off-center hits that result in loss of distance. With this Driver, you'll enjoy consistent, forceful ball speeds, even on mishits.
Advanced Aerodynamic Head Construction: This driver's advanced aerodynamic design reduces drag, enabling you to achieve higher head speeds effortlessly. Experience more power and maximize your driving distance.
Proprietary Triaxial Carbon: Weight savings of over 16 grams are achieved with this new technology, compared to a titanium crown. This lighter driver will allow increased forgiveness without sacrificing speed or distance.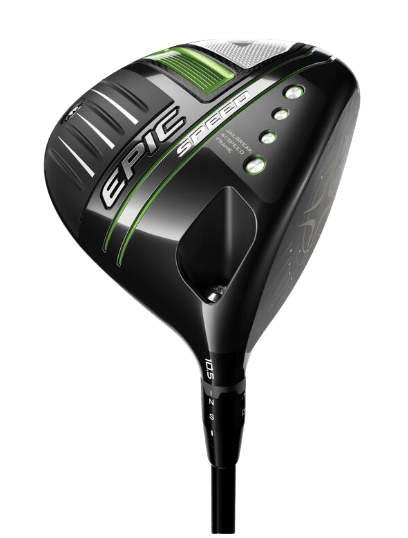 Indeed, you can certainly elevate your game with the Women's Callaway Epic Speed Driver. Now I want to share Diana's experience with you, as she explained it to me.
A True Game-Changer.
I just tried out the incredible Callaway Epic Speed Driver, and I must say, it has completely transformed my golf game.
Power And Confidence.
Once I teed up with this Driver, I could feel the new power and confidence in my swing.
The AI-designed Jailbreak Speed Frame is quite revolutionary. Its stability has had a huge impact on my ball speeds.
I was consistently achieving great distances off the tee, with better accuracy.
I'm not concerned about mishits any more. The Flash Face spreads speed across a wider area.
The result?
Explosive ball speeds and consistently long drives that rival even my best shots.
The Aerodynamics Are Amazing.
Nevertheless, the Callaway Epic Speed Women's Driver doesn't stop there.
Its advanced aerodynamic head construction has taken my swing to the next level.
The reduction in drag allows me to generate higher head speeds and a whole new level of confidence in my game.
Carbon Technology – The Future In Golf Drivers.
In addition, I was blown away by the carbon technology in this driver.
The weight savings of over 16 grams, have allowed Callaway engineers to optimize forgiveness without compromising speed or distance.
Sometimes I didn't strike the ball perfectly, but I was amazed at the great shots I was getting. There is a huge amount of carbon covering the crown and toe, which is lighter and gives more accurate and consistent shots.
The lightweight and flex shaft of this Women's Callaway Epic Speed Driver enhanced my swing and gave me more distance.
Exceptional Performance.
You'd better watch out for me now because this Driver has given me my best performance yet.
The Women's Callaway Epic Speed Driver is definitely the future of driver speed in the golf industry.
Callaway continues to push the boundaries of technology and innovation that will improve women's golf.
Every swing I took with this driver made me feel like I'm part of something extraordinary – an innovation in the future of driver technology.
Summarizing Diana's Experience With The Women's Callaway Epic Speed Driver.
I think you will agree with me that this is certainly a great driver. It will give exceptional performance to even the most novice golfer.
Leaving aside all the techie details, Diana discovered that the Callaway Epic Speed Driver:
Was a true game-changer.
Gave her power and confidence in her swing.
Had wonderful aerodynamics in the club head.
Was innovative and futuristic with its carbon technology.
Gave her exceptional performance off the tee.
So, there is no doubt that this Driver is one to be reckoned with.
Final Thoughts On The Women's Callaway Epic Speed Driver.
I trust Diana's judgment implicitly. Even so, I do think I must try out this driver for myself, too. I can see myself exploding that ball into longer drives, which would be especially good on those Par 5s.
As we have said before, the Women's Callaway Epic Speed Driver is more than a club – it's a game-changer.
If you're a female golfer looking to take your game to new heights, I highly recommend you embrace the power of this Driver.
Elevate your performance and experience the thrill of epic speed and precision with every swing.
To reinforce the benefits of this Epic Speed Driver, here's a comment from another satisfied Callaway customer: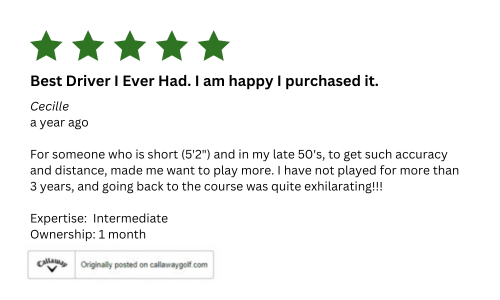 Don't settle for an ordinary driver when you can own the extraordinary.
Now, if you really want to purchase one and try it out, you can click on the image below.