Valentine's Day is fast approaching and we want to share with you some gifts for golf lovers.
But, before we go into those, I thought it might be fun to talk about the origins of Valentine's Day?
Of course, you probably know that it was originally Saint Valentine's Day.
Not surprisingly, there are several explanations of its origins and some say it dates back to the 5th Century and the Roman Spring Festival of Lupercalia.
Lupercalia was a pagan festival that included fertility rites and the pairing of young men and women through some sort of lottery.
Hence, its romantic connection.
Although there are a number of hazy versions of how it began, no-one really knows!
Who Was Saint Valentine?
Actually, there were several Christian martyrs who were named Valentine.
One was supposed to have healed the blindness of his jailer's daughter.
At that time the Roman Emperor enlisted only single men as soldiers because he considered them to be better when single.
He banned marriage for soldiers.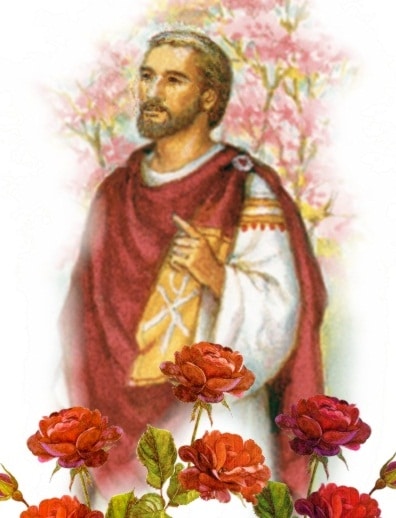 It is said that St Valentine of Terni may be the true St Valentine.
The story goes that he conducted secret wedding ceremonies for single guys to help them stay out of the Army.
Thus, the day became synonymous with love.
We may never know the true beginnings of St Valentine's Day.
Nevertheless, we celebrate our love on that day – 14th February – each year.
It Doesn't Have To Be Roses Only!
When thinking about Valentine's Day gifts for your golfing wife or girlfriend, think about this. While roses may express your love for her, she'll know you really love her if you give her an addition to her golf bag.
So, one of the best gifts for golf lovers might be something that she doesn't need, but she might just like to have.
Therefore, here are a few suggestions.
Jewelry:
There are some really cute jewelry items for the golfing girl.
Beautiful, Golf Goddess, earrings in the style of golf balls. They are perfect for both on and off the golf course.
Also, these can be teamed up with the Golf Goddess necklace featuring a golf ball bead charm as well as with the Golf Goddess Stroke/Score Counter Bracelet also featuring golf ball beads. They come in both silver and rose gold.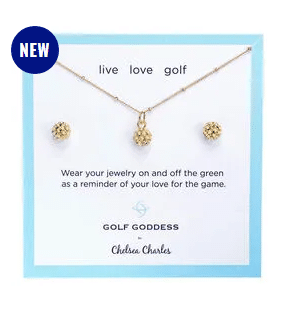 Buy her one of them, or buy all three – it's your choice.
Rangefinder:
Perhaps you'd really like to help her with her golf game and you certainly can with this great Blue Tees S3 Max Rangefinder.
That is because it is equipped with slope technology so that she can get an accurate measurement taking into account the slope of the green. Great even for those with shaky hands.
It has 6x magnification and precise technology. Also, water-resistant and comes with a 2-year warranty.
Nothing could be better to guide her right to the flag!
Perfect Practice Putting Mat:
She can certainly soon become an expert putter with this mat.
This putting mat features two holes (one regulation and one reduced size). There are guide lines to each hole, automatic ball return and it rolls up for easy storage.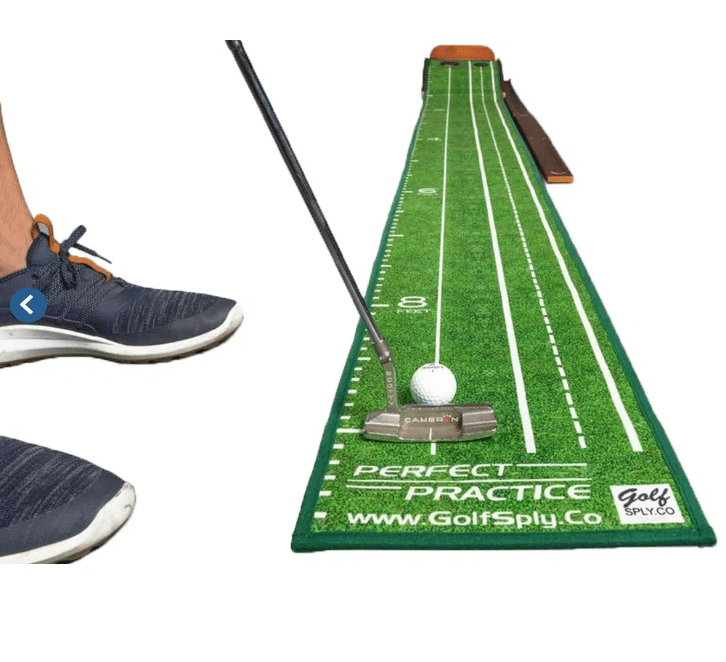 Improve her putting with one of these.
GPS Unit:
This unique clip-on Voice Caddie VC4 GPS unit will be just the thing. No need to carry a rangefinder or wear a GPS watch.
This clips onto her hat or shirt pocket and will give her guidance around the course. Pre-loaded with 40,000 courses. It has a range of volume levels so that you won't disturb others in your golf group.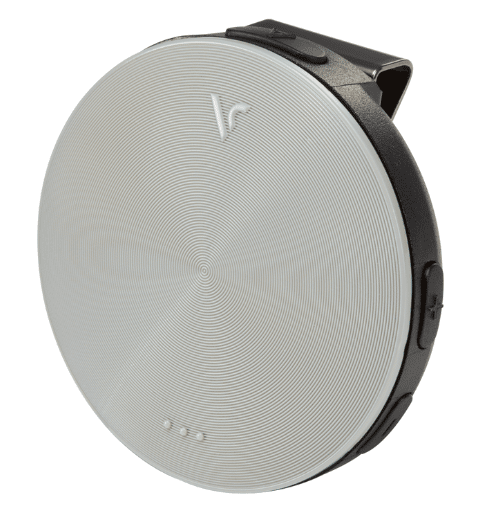 Give her a head start with this Voice Caddie.
When In Doubt, Get Her A Gift Card
If, after reading this article, you're still not sure what you should buy for the golf girl, how about just getting her a PGA Superstore Gift Card and let her choose for herself.
Gift Cards are always a safe bet.
Gifts For Golf Lovers For The Man In Your Life.
Because Valentine's Day is for lovers, we always want to let him know just how much we love him. Sometimes it is hard to decide on a suitable gift.
But for our golfing guys, the job becomes much easier, and here are some suggestions.
GPS Golf Watch:
This Garmin Approach S10 GPS Golf Watch has more than 41,000 golf courses pre-loaded. As well as this, it will accurately predict yardages to the green and give him an edge in his golf game. It is lightweight, easy to use and has a rechargeable battery.
He'll always be prepared with this GPS watch.
Volvik Vivid:
Here is a great idea for Marvel Fans. These Volvik Vivid Special Packs of golf balls feature Marvel Super Heroes. There is a choice of Hulk, Spiderman, Captain America and Ironman.
These are Volvik's usual high performance golf balls.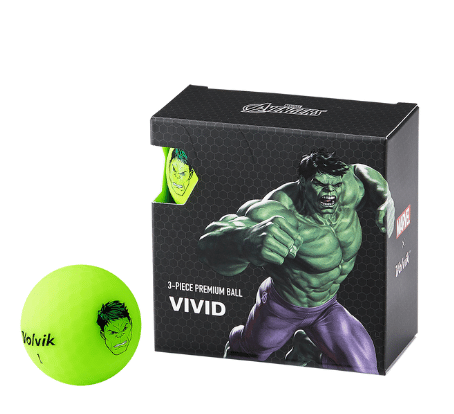 He would not want to lose these fun-to-play-with golf balls.
Golf Towel:
Get him a funny golf towel just like this one which says "Saturdays are for the boys"! It will be fun for him and his golf buddies.
He probably won't want to use it to clean his balls!
Gift Cards:
And, finally, if you are still unsure of what he might like, you can choose a PGA Superstore Gift Card for him.
He will have fun browsing for his gift.
Gifts For Golf Lovers On Valentine's Day.
So, there is no time to waste, with Valentine's Day looming large. There are only 14 days left now until Valentine's Day dawns so do not waste another minute.
You should get started right away planning your special occasion with these ideas for gifts for golf lovers on Valentine's Day. Take all the stress away and be prepared for Valentine's Day.
One Final Thought.
Of course, if it's romance you want, even if she's a golfing girll, you can consider buying her some of those Red Roses. Then add a luxurious box of chocolates for a truly romantic evening.