I have been asked, on occasion, "Is it possible to teach yourself to play golf?" 
A lot of people dream of learning to play golf, but many never take the time to do it. 
And although some people have no choice but to learn the game on their own, this method of acquiring new skills can be risky and frustrating.
Especially if you don't have access to someone who already knows how to play. 
However, with the right information and advice, it is possible to teach yourself how to play golf, no matter what your age or current skill level.
So, let's give you a few things to think about and maybe you'll be playing like an expert in no time!
In answer to this question is, of course, it is possible. Is it advisable? Probably not. There are many online resources aimed at teaching the different aspects of golf. Will you be able to translate what you learn online into actions on the golf course? If your answer is Yes, then maybe you can teach yourself. If not, then you should most definitely get some lessons from a Golf Pro.
The equipment you need.
Now that you've decided to learn how to play golf, the first thing you'll need to do is buy some equipment. 
If you're learning on your own, there are a few things you should invest in right away. 
The first is a basic set of clubs either new or used. See my article about Golfing For Beginners for details.
If a friend or family member already has clubs they want to get rid of, or that you can borrow, it might be ideal. 
Otherwise, check out online retailers to see if they have any used clubs in good condition.
If you have decided to take golf lessons, don't buy anything until your instructor gives his or her approval.
Is It Possible To Teach Yourself To Play Golf?
Any sport that has a complex set of rules and involves hitting a ball with a club can be difficult to learn on your own. 
Nevertheless, there are plenty of resources available for those who want to teach themselves how to play golf. 
Online resources  are plentiful and encompass videos and tutorials by experts in their field.
If you wanted to learn everything about golf swing mechanics alone, there are websites dedicated just to that. 
The difficulty in teaching yourself to play golf is having the ability to translate what you have learned online to the golf course.
But if you are able to do this effectively, then it is certainly possible.
Is It Worth Having Golf Lessons?
With a game such as golf, which can be difficult to master, it is always worth getting some lessons from a golf professional. Most golf clubs have a Golf Pro on staff.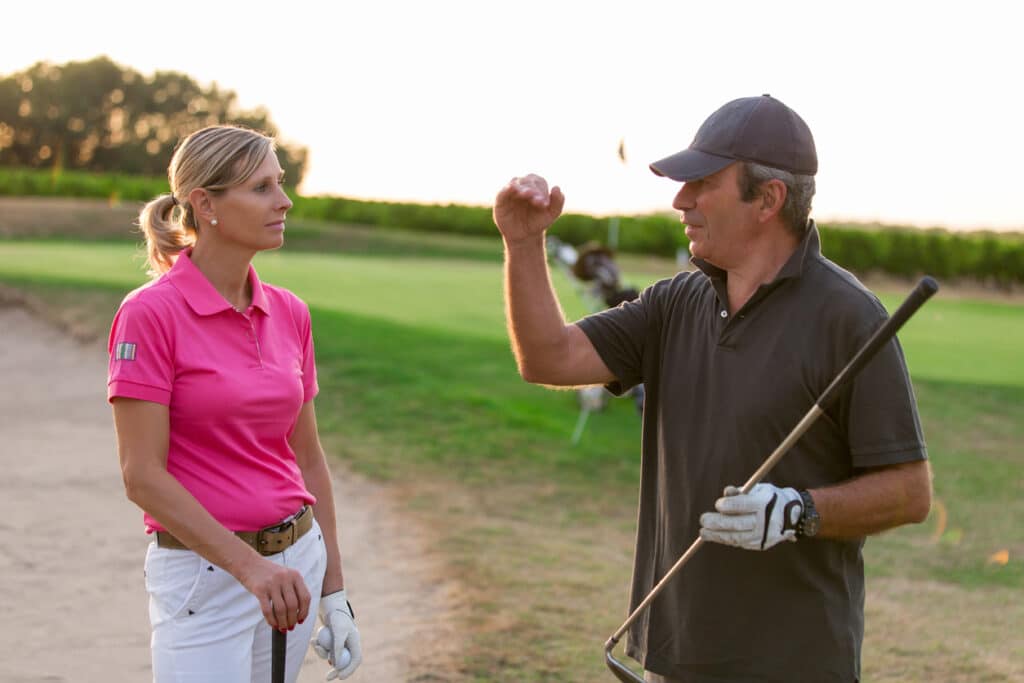 At the very least you should buy yourself some lessons to learn the golfing basics, such as how to grip the clubs, the correct stance and how to swing at the ball.
While you can find online lessons to teach you these things, you must be able to translate these to the physical game to be successful.
I must admit that there is nothing quite like having a Golf Pro watching you and correcting your mistakes as you make them!
Golf Etiquette Is Important.
It is possible to teach yourself to play golf.
However, you also need to learn proper golf etiquette and some of the basic rules.
You cannot be a good player unless you know them. 
When you make a mistake while playing in an official tournament or casual game, there are certain rules that everyone abides by. 
For example, if your ball ends up in someone else's fairway or rough and you go after it without asking for permission, you will be violating one of these unspoken rules. 
Learning about golf etiquette is all about adapting to specific situations and ensuring you always do what's right by your fellow players.
More info on Rules and Etiquette can be found here.
How Long Does It Take To Learn To Play Golf?
I see many questions on golf forums where people ask how long it takes to become proficient at golf.
While there is no definitive answer, I think there are some pretty solid guidelines. 
Just like anything else in life, you'll need to put in a lot of work and effort to get good at golf.
My husband, Rick, told me that I had to hit about 1,000 golf balls before I could call myself a golfer.
Don't think you can start playing a few times a week and immediately be able to match Tiger Woods or Rory McIlroy.
Professional golfers spend hours upon hours every day practicing their technique and working on their swings.
But even they still have mentors that help guide them along their journey.
This is one reason why it is preferable to take lessons from a Golf Pro, rather than go it alone.
If even the best golfers have coaches, why should you think that you can teach yourself and be successful?
Is It Hard To Learn Golf As An Adult?
Speaking from personal experience, I did not begin my golf journey until I was about 60, so I was a senior to start with.
Rick bought me some golf lessons from a Golf Pro and then kept me on the Driving Range for about a year.
Having become quite proficient at the Range, when I actually played on a course for the first time, it was a disaster!
Now, well into my 70s, I'm an okay golfer.
I don't play often enough to say I'm a good golfer.
But I love the game and I love being out on the golf course with Rick.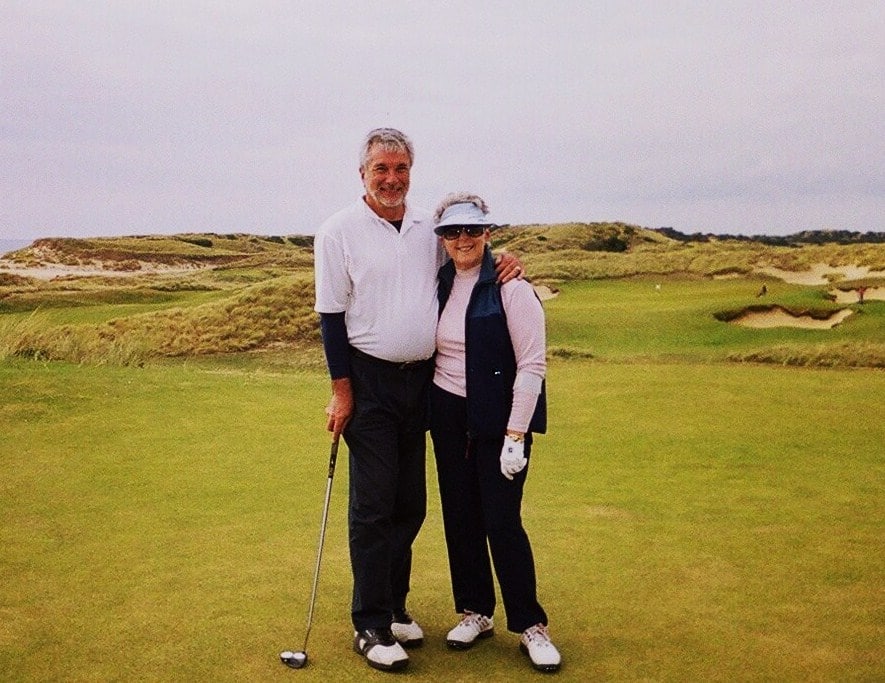 So, the answer to the question is that no matter what your age, golf is not hard to learn.
To become proficient at playing golf, though, requires patience and persistence.
The more you play, the better you get.
Some Final Thoughts on "Is It Possible To Teach Yourself To Play Golf?"
As I mentioned above, while it is possible to teach yourself to play golf, I would not advise you to do this.
You would be well advised to take a few lessons to master the basics of the game.
Nevertheless, if you decide to teach yourself, there are a few factors that affect how well you will play.
Can you translate what you have learned online to your physical game?
Do you have the right clubs for a beginner?
Have you mastered your swing?
How often do you practice – remember that the more you play, the better you get?
Do you understand the difference between the long and the short game?
Can you manage your expectations?
Do you know some of the basic Rules Of Golf?
While there is much more to learn to become proficient and enjoy playing golf, if you can answer these questions effectively, you should be well on your way.
And, if you're ready to get started and are looking for some beginner's golf clubs, you can find out more right here.