Golf is one of the few ball games in which the player with the lowest score wins!
Learning about golf can take some time and persistence before it is mastered.
Women were not allowed to play golf until around 1867.
At this time, the wives and daughters of gentlemen and aristocrats were permitted on The Himalayas Putting Green at the famous Royal and Ancient Golf Club of St Andrews.
Now there are just over six million women playing golf in the USA alone.
So, for those of you about to start out on your golfing journey, we have answered 23 of your most earnest questions.
We hope that these answers will assist in your learning about golf.
1. Should Women Learn To Golf?
Indeed, they should.
Golf is a great game, though challenging. In many ways, it teaches you about life.
Our predecessors fought long and hard for the right to play this "men's game". We should not waste the opportunity.
See the History of Women's Golf in my article here.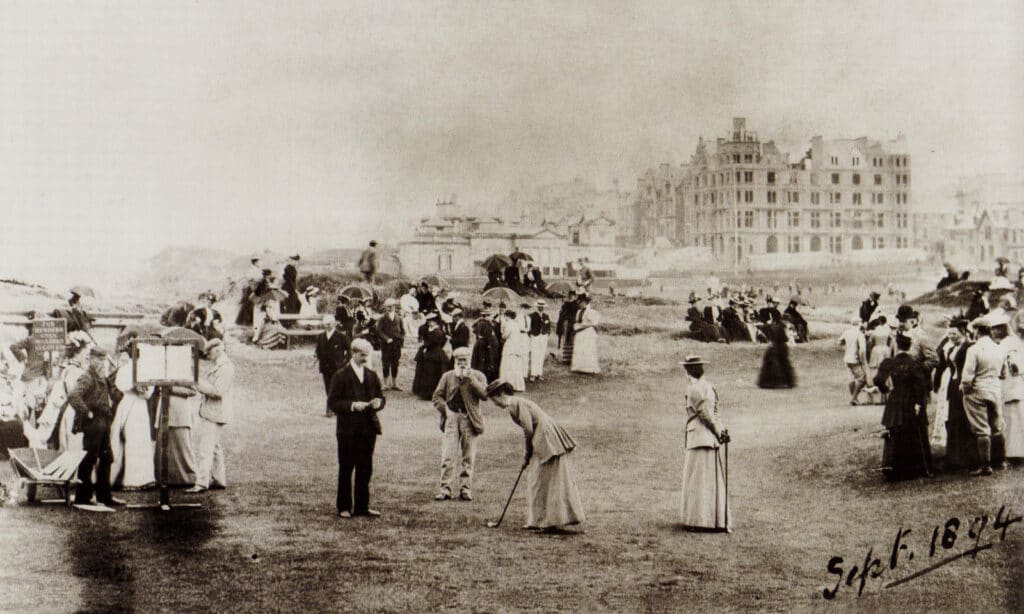 Golf can be both rewarding and frustrating. It teaches you resilience and consistency.
There are certain Rules to be observed so that you learn to respect the needs of others.
It is a game full of integrity where honesty is paramount.
You are honor-bound to play by the Rules. Accepting successes and failures on the golf course can help you deal with the same in daily life.
2. How Do You Get Girls Involved In Golf?
Of course, if we are to get more women into the game of golf, we need to get them started when they are girls.
There is no definitive age at which girls should start to learn golf. Some have started as young as 3, but generally their interest develops by about age 8 or 9.
There are many clinics or classes for juniors and the best way of starting your daughter off is for her to attend one of these.
It is important for girls to learn to golf the proper way, rather than teaching them yourself (unless, of course, you're a golf pro).
Learning good habits at the beginning will carry them through their golfing journey with greater success.
3. Why Is There Men's And Women's Golf?
Well, the short answer to that question is because of the different physical make-up of men and women.
Men are mostly taller and stronger than women.
Because of this, men naturally have a more powerful swing speed than women.
This leads to requirements for different golf equipment for men and women. And, of course, a different game.
It is vitally important that women not only have different golf clubs, but also the golf balls they play with should have a lower compression rating.
See my article on the best golf balls for women.
In general, men play with harder golf balls because of the power of their swing.
On the other hand, women's golf balls are much softer.
Because a woman's golf swing is usually about 20% slower than a man's, they cannot compress a hard ball enough to get a good result.
Thus, playing with softer (low compression) golf balls gives greater distance and loft.
Needless to say, there are some professional women golfers in the LPGA who can actually match the powerful swing of their male counterparts.
But, generally speaking, men's and women's golf games are quite different.
4. Do Ladies Need Ladies Golf Clubs?
Yes, although there are occasions in which we girls can play with men's golf clubs.
To elaborate on this, some women are as tall as men, in which case, they would need longer golf clubs than those designed specifically for women.
Some brands of golf club do cater for tall women, as well as short women and make clubs in petite, standard and tall lengths.
In addition, some of the professional members of the LPGA may choose to play with men's clubs.
Most amateur female golfers though, would definitely benefit from golf clubs designed for us girls.
There is such a thing known as "ladies flex" in the shafts of women's golf clubs, that facilitates the playing of good golf.
Because of the way we swing our clubs, graphite shafts with ladies flex are highly beneficial for us.
5. Should A Man Use Women's Golf Clubs?
There are certainly occasions when a man might want to use a set of women's golf clubs.
Whether he should or not is entirely up to him.
This could include his height – not all men are 5'9″ to 6′ in height.
And even though most men are stronger than women, a smaller man might benefit from using women's golf clubs.
Even though most men's clubs are longer and heavier than women's clubs, there is only about a one-inch difference in the length of standard clubs.
But then most women's clubs are made with graphite shafts, which makes them lighter and more flexible.
This leads to a better swing speed and they have more forgiveness in the club head.
This might be beneficial, too, for older men.
So, the answer to – should a man use women's golf clubs is – it's entirely his choice.
6. Do LPGA Players Use Ladies' Clubs?
Players who are members of the Ladies Professional Golf Association (LPGA) are not great users of ladies' clubs.
Many golf club manufacturers say that they do not make clubs or balls for different genders.
Rather, they align their equipment with swing speeds.
Many LPGA players swing their clubs at 94 mph compared to the average male golfer at 95 mph.
Therefore, it is not surprising that most LPGA players tend to play with clubs traditionally suited to the men's game.
Nevertheless, many of them do use clubs with graphite shafts.
We have mentioned above, graphite shafts with ladies flex.
These are not what the professional players use.
It is more likely that the graphite shafts have a much stiffer flex to accommodate their faster swings.
So, I guess the short answer to the question is mostly not.
7. What Size Women's Clubs Do I Need?
This largely depends upon your height. Some golf club manufacturers do make clubs in three different lengths.
If you are 5'3″ or less, you should probably purchase a Petite set of golf clubs. These have a slightly shorter shaft that will suit small women.
Ladies who are 5'4″ to 5'7″ can usually play with a Standard set of clubs. Standard clubs for women are about one-inch shorter than men's clubs.
If, however, you are taller than 5'7″, you would be well-advised to use the Tall set of clubs. These are similar in length to men's clubs being one-inch longer than Standard clubs.
I am actually 5'4″ and have been playing comfortably with a set of Standard clubs ever since I started playing golf.
8. How Do I Get My Wife To Play Golf?
The best way for me to answer this question is to tell you about my own golf journey.
Some 16 years or so ago now, Rick, my husband, would regularly go and play golf on the weekends with some mates.
One Saturday when he came home from golf he said "I love golf and I love you and I hate being away from you on the weekend. Can we find a solution?'
I had never played or been interested in golf and never thought I would.
Nonetheless, I responded: "Well buy me some golf lessons, and we'll see".
He did, and I caught the golf virus!
He said a year or so later that he had created a monster! I always wanted to be out on the golf course playing.
Perhaps this will give you some ideas as to how to get your wife to play golf.
9. Is It Worth Getting Fitted For Golf Clubs?
The general consensus of those in the know is a definite YES. This is true especially if you are a golfing beginner or you are buying a new set of golf clubs.
Your golf swing can be badly affected if you use clubs of the wrong length or with the wrong flex in the shaft.
Professional golf club fitters can help you to prevent this by assisting you to choose the right set of clubs to suit your game.
Of course, it can be quite expensive to engage a professional fitter, so the ultimate answer will depend upon how serious you are about the game of golf.
If you are like me and just want to play for fun and infrequently, then it is probably not worth the expense of club fitting.
However, if you are really serious and want to join a club to participate in tournaments and competitions, then you should most certainly have your golf clubs professionally fitted.
10. Can Ladies Use Junior Golf Clubs?
Yes they can.
Women who fit into the Petite category (5'3″ or below) can certainly benefit from having Junior Golf Clubs.
Clubs made for Juniors have been designed with more flexibility, are lighter and have high loft capabilities. Thus, young golfers can be more successful in their golf game.
Clubs made for Juniors who fall into the teenage category (around 13) are most likely to be the best fit for Petite ladies. This is because the club length will generally be fit well with their height.
In addition, because Junior clubs have extra flexibility and greater loft power, they could prove to be highly beneficial to the Petite Woman's game.
11. How Far Should You Hit a 7-Iron?
There is not really a definitive answer to this one. It depends on how proficient you are at golf.
Nevertheless, some studies have been done and we girls should be able to manage 80 yards, while our male counterparts will average around 120 yards.
This is just an average and some girls will hit farther and some a shorter distance. Do not stress over how far you can hit your 7-Iron.
The 7-Iron, is often the most favored Iron in the golf bag.
It is quite versatile and can help you hit out of the rough, under or over trees, even out of the sand trap!
So, you should learn to love your 7-Iron – it can usually get you out of tight spots.
12. What Kind Of Golf Clubs Should I Buy As A Beginner?
This is certainly a great question to ask when you are about to embark on your golfing journey.
You should definitely have the right equipment when you begin.
Some of the golf equipment manufacturers do make clubs specifically for women. In addition, some of them also make sets of beginner golf clubs.
So, things are much better for beginning golfers today than they were back in the early 1900s when women fought for the right to play this "men's" game!
I have written a full article on "The Best Women's Beginner Golf Clubs" with some suggestions of what you will need to start your golf journey.
You can read my article right here.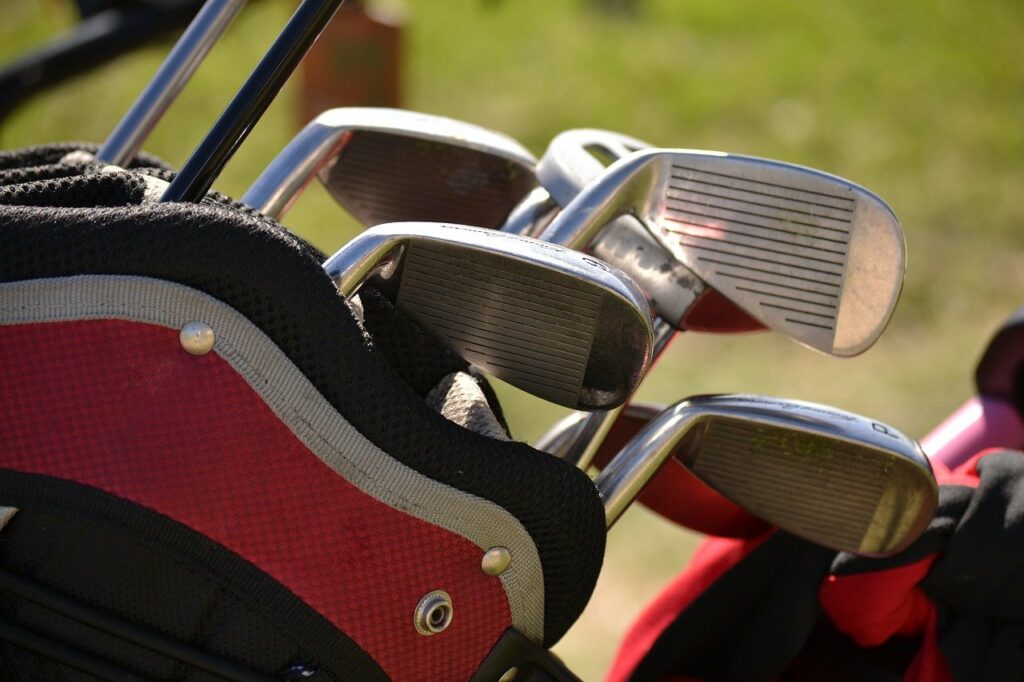 13. How Many Golf Lessons Should A Beginner Take?
The general consensus is that you should take at least three lessons from a golf pro before starting, maybe more.
A golf pro can guide you on golf basics, such as to how to grip the club, your stance and how to swing the club for the best benefit.
He or she can spot problems straight away and help you avoid the pitfalls.
And even though you've taken these lessons, you are probably not ready for the golf course yet.
In fact, after taking my three lessons from the golf pro, Rick, my husband, kept me on the driving range for about 18 months before allowing me to go to a golf course.
You can read all about it here.
Even then, I had a difficult time – hitting balls at the driving range is quite different to being on an actual golf course!
Anyway, I finally got the hang of it and now I'm an okay golfer.
But a word of advice – be consistent and work at your game.
You've, no doubt, heard the saying "The more I practice the better I get". Well that certainly applies to golf.
14. How Much Is A Beginner Set Of Golf Clubs?
Golf is not one of the cheapest sports to begin.
In fact, there is not a definitive price for a beginner set of golf clubs. Rather, they will range in price from between $300 to $500.
Beginner clubs should be lightweight and have club heads shaped for forgiveness.
Not all of your shots will be perfect.
The right sort of clubs will allow for imperfections and still give you a reasonable shot.
Golf club shafts come in three different types, Graphite (the lightest and most flexible), a mix of Graphite and Steel (not as much flex) and Steel (very little flex).
Beginners would do well to choose golf clubs with graphite shafts.
The lightness and flexibility will add distance to their golf shots.
You will find good sets of beginner golf clubs at Wilson, Callaway and Tour Edge.
For further information check out my article on the Best Women's Beginner Golf Clubs.
15. Can I Change Golf Balls During A Round?
Yes, you can. Actually, you can switch to a different brand of golf ball at every hole if you wish.
However, this can only happen as you move between holes. You cannot change balls in the middle of playing a hole.
Perhaps you start playing with a Titleist and want to change to a Callaway or Nike golf ball.
Once you have played your Titleist into the hole, you can change balls to tee off for your next shot.
While there is nothing in the Rules of Golf to prevent this, there is an opportunity for a tournament committee to impose such a rule for a particular tournament.
This is known as the "one ball rule". If a ball is lost during play, the golfer must drop another ball of the same brand and model as the lost ball.
16. How Far Does An Average Lady Golfer Hit A Driver?
This is not an easy question to answer because one must first decide what is an "average lady golfer".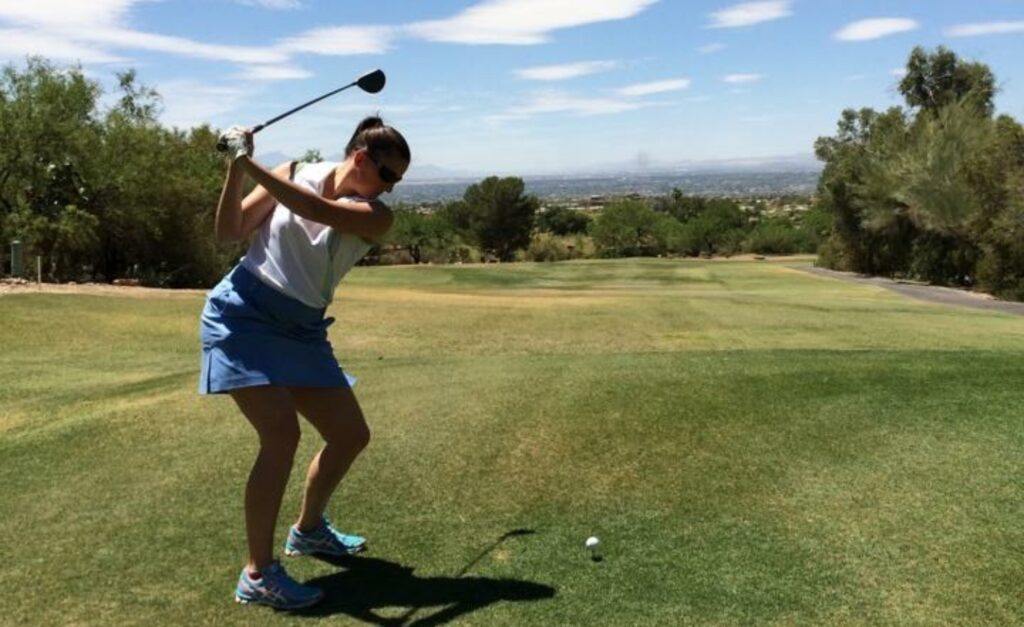 So, if we say an average lady golfer has a 10 Handicap, the surprising result is that her age influences the length of her drive. Here is an example:
30: 176 yards.
40: 161 yards.
50: 151 yards.
60: 133 yards.
These distances are from an article in Golf Monthly about this and you can read the full article here.
Therefore, it seems to depend upon the age of the average lady golfer, as well as her handicap.
Of course, scratch golfers can drive the ball out to much greater distances.
17. Are You Allowed To Use A Tee On The Fairway?
No you cannot use a tee on the fairway.
The Rules of Golf state that the golf ball must be played from where it lands.
You cannot intentionally move the golf ball before making your shot.
If you were to pick up your golf ball and put it on a tee in the fairway, this would be intentionally moving the golf ball which is in contravention of the Rules of Golf.
So, the only time a tee can be used on the golf course is when you are teeing up for the drive on each hole.
On occasions, when tee boxes are under construction, there may be a temporary tee box on the fairway.
This is the only occasion on which you are allowed to tee-up on the fairway.
18. Who Should Tee Off First?
This is an interesting question.
On the first tee of a golf round, it is usually the person whose name appears first on the score card.
However, if it is a social game, the players will decide who goes first among themselves, or by tossing a coin or some other means.
After this, the first person to tee off at any hole will usually be the player who won the previous hole.
She get's the honors.
When playing on the fairway or close to the green, it is the player whose ball is farthest from the hole who hits first.
19. Can I Use My Driver On The Fairway?
You can use your driver on the fairway, but it is inadvisable to do so. The driver is designed to hit the golf ball off a tee and usually has an exceptionally large club head.
In addition, it is the longest club is your golf bag, so hitting off the deck (the ground) becomes much more complicated.
Nevertheless, if you decide you want to try to hit a longer shot from the fairway with your driver, bear this in mind:
Do not attempt this if the ball is buried in the grass.
The golf ball should be sitting well up on the fairway grass.
You should choke up (move your hands down the shaft) on the driver so that the shaft is not quite so long.
20. What Is A "Mulligan" And How Many Are Allowed?
A Mulligan is a second shot on the first tee when you have duffed your first shot, often allowed by fellow golfers in a casual or social game.
However, the word "Mulligan" does not appear in the Rules of Golf, and is definitely not allowed during tournaments or serious rounds.
You will find that Mulligans become quite prominent in charity golf matches for fundraising purposes.
In a fun game of golf for charity, players using Mulligans are required to buy them.
This is another way of raising extra funds for the charitable organization.
But, if you are just practicing rather than playing golf, Mulligans become more acceptable. Whenever used, there must be agreement from fellow players.
21. What Is A "Birdie" In Golf?
You probably know that Par for a hole on a golf course is the number of strokes a golfer is expected to take from tee to putting into the hole.
The holes on golf courses are divided into Par-3, Par-4 and Par-5. Therefore, a good golfer will play 3,4 or 5 strokes to successfully play those holes.
A "Birdie" is when a golfer completes the hole with one stroke under Par. So, two, three and four strokes respectively.
These are usually few and far between for social golfers, so definitely a reason to celebrate!
22. What Is An "Eagle" In Golf?
This is an even more challenging shot and usually only achieved by professionals and expert golfers. An "Eagle" is when a golfer sinks a putt at 2-under Par.
This means that they would make one stroke on a Par-3, two strokes on a Par-4 and three strokes on a Par-5.
Such an achievement would attract drinks all round at the 19th Hole!
23. What Is A "Bogey" In Golf?
As the name might suggest, it is not as nice as the others. A "Bogey" is one stroke over Par. For example, 6 strokes on a Par-5.
Of course, there is also a "Double-Bogey" which, you guessed it, is two strokes over Par. This is much more aligned with my golf game.
I seem to get more "Bogey" and "Double-Bogey" shots in than I should!
I think in all the years I've been playing golf, I've only managed three or four "Birdies" and never and "Eagle".
So, it just goes to show how hard it can be to score well in golf.
Final Thoughts On Learning About Golf.
We hope you have found this article useful. If you have any burning questions that are not answered here, please leave us a comment and we will certainly try to answer them for you.
Thank you for dropping by and have fun golfing!