This TaylorMade Golf Balls Review is actually going to focus in upon the Kalea golf ball.
TaylorMade is one of the few golf equipment manufacturers to produce a whole range of equipment specifically for us girls.
Not only do they make a full set of golf clubs for women called Kalea but also golf balls to match.
TaylorMade Golf Company
Although TaylorMade has been making golf equipment since 1979, it did not enter the golf ball market until 1999.
The very first TaylorMade product was a 12-degree driver made from stainless steel. This was the first of its kind and heralded the beginning of the "metalwood".
From that day forward golf equipment manufacturers began researching the benefits of metal to replace their traditional "woods".
So that ultimately, in everybody's golf bag, the "woods" became redundant and the "metalwoods" took their place.

Subsequently, a great deal of research and development led to the technologically advanced golf clubs we have today.
It was many years later that TaylorMade incorporated its innovative ideas into the manufacture of specialty golf equipment for women.
Its most recent update of women's golf equipment occurred in December 2015. It was then that the latest range of Kalea golf clubs and balls were launched to the public.
TaylorMade Golf Balls Review – Kalea
Like others we have reviewed, Kalea has a low compression rating and is a two-piece golf ball.
In our research we have discovered that these are both vital factors in choices of the best golf balls for women.
In addition, the Kalea golf ball has a high energy core and a thin soft cover.
So here is what you will get with this golf ball:
Greater distance off the tee with its High Energy REACT™ Core.
The Ionomer cover is designed to benefit your short game.
A 342 dimple pattern facilitates outstanding aerodynamics and a straight and true flight.
The low compression of 60 cuts down driver spin and assists with a soft feel.
Two-piece design will enhance control around the green.
So, as you can see, the Kalea golf ball has all the qualities that we girls need to play better golf.
We can hit the ball farther when driving. As well as this, we can expect more spin around the green as well as a soft feel while putting.
I think this is a ball definitely worth trying to see if it is suitable to your particular golf game.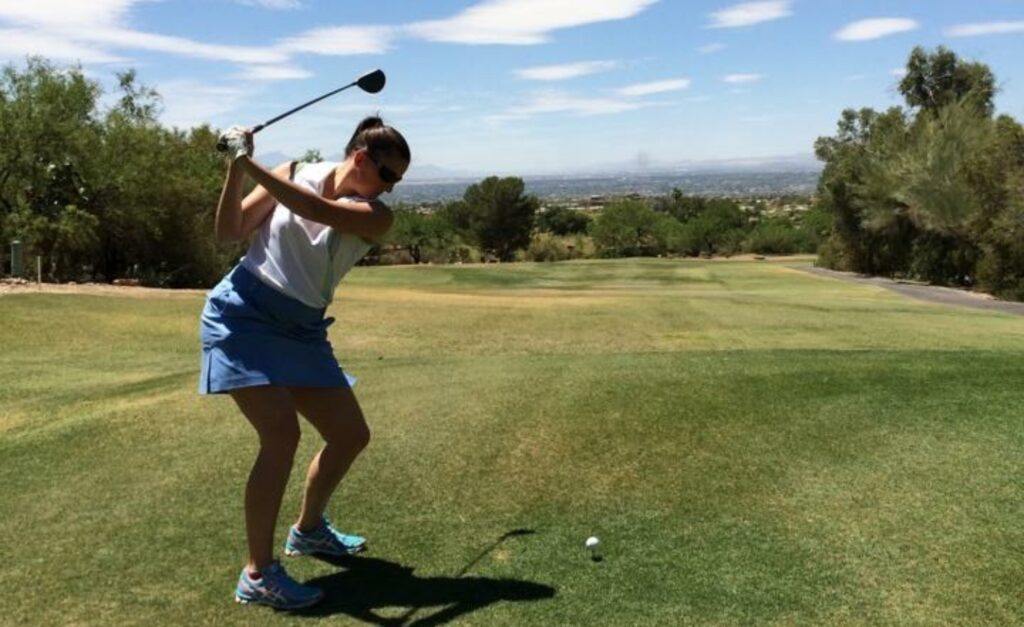 Obviously, Color Is A Consideration – Price As Well
The Kalea golf ball is not quite so prolific in its color range as some of the other golf balls, such as the Volvik Vivid.
In fact these golf balls only come in three colors – White, Purple and Peach.
Both the Purple and Peach come in a matte finish, the purpose of which is to reduce glare and help you track the ball while in the air.
We have heard it said by other golfers that the Purple Kalea is quite dark in color and easy to track while airborne.
However, once it lands on the grass, it is often much harder to spot than the lighter colored golf balls.
You may want to take this into consideration when making your choice.
Price is always a consideration when choosing your next set of golf balls. So, we have discovered that the TaylorMade Kalea golf balls are very reasonably priced.
The PGA Tour Superstore has them available for only $19.99 per dozen for any of the color options.
So they compare favorably with all the golf balls we have reviewed so far.
Choosing The Right Golf Balls
So, my research into the best golf balls for women has uncovered some amazing information.
I have discovered important stuff about compression ratings, cores, ball covers, two, three and four piece golf balls.
Also, I now understand why golf balls have dimples and the aerodynamic value of these as well as the importance of spin to stop the ball in the short game.
In fact, I really didn't know that women should play with different golf balls than men. Or why!
Therefore, this has been a journey full of new insights about understanding golf ball choice.
When you think about buying your next set of golf balls, here are a few things that you should think about:
Understand how you swing the golf club as well as your swing speed.
If your swing speed is fairly slow, choose a golf ball with a low compression.
Make sure that the dimple pattern on your chosen ball has enhanced aerodynamic lift.
If you are good off the tee and need short game help, then the TaylorMade Kalea maybe right for you.
Do be aware that golf balls with low compression ratings generally also have a low spin.
While this maybe great to give you a longer drive, it can disadvantage you around the green.
In other words, the ball with a low spin value may roll a long way rather than stopping where it falls on the green.
Most manufacturers seem to have taken this to account in their design of the best golf balls for women. But not all!
Be sure that you know what you will sacrifice to get a longer drive.
Final Thoughts On The TaylorMade Golf Balls Review – Kalea
I hope that my posts on this website have given you an insight as to how to choose the appropriate golf ball to suit your game.
The best golf balls for women are not necessarily golf balls that are made specifically for the women's game, as you will have seen from some of my reviews.
In addition, those golf balls that are actually labeled with the word "Lady" are not necessarily only for women.
As I have mentioned before, my husband, Rick, now in his 70s, has lost some of the power from his swing. Therefore, he would do well to try out some of the lower compression golf balls.
He is constantly bemoaning the fact that he cannot carry the ball as far as he used to on his drive.
I have convinced him to try the Callaway Supersoft to see if he can improve this. I'm sure he will be quite surprised at the result!