Tee Off in Style: 7 Must-Have Accessories for Women.
Did you know that in 2022, 25% of all golfers were women? This remarkable surge indicates a significant shift in the sport's landscape compared to previous years. As more and more women eagerly embrace the challenges and rewards of golf, it becomes essential for you to equip yourself with the right gear and accessories to enhance your experience.
From functional items that amplify your performance to stylish pieces that showcase your unique flair, these accessories are designed to boost your game and match your style. In this comprehensive guide, we'll explore the 7 must-have accessories that you should consider as a woman embarking on your golfing journey.
Join us as we navigate the golf accessories world, revealing the game-changers that can take your golfing experience to the next level. So get ready to unlock your full potential on the fairways and greens while looking effortlessly stylish. 
In addition, if you've never golfed before, find out here whether golf lessons are worth it for beginners.
Are you ready to tee off? Let's dive in!
1.  Golf Bag: Carrying Style and Functionality.
Your golf bag is more than just an accessory; it's your trusty companion on the course, carrying everything you need to conquer each hole. But how do you choose the perfect bag that strikes the right balance between style and functionality?
When selecting a golf bag, finding one that reflects your taste and offers practical features to make your golfing experience a breeze is essential. In addition, look for a bag with ample storage compartments, ensuring that your clubs, balls, tees, and other essentials are neatly organized and easily accessible.
But maneuverability is vital. Opt for a lightweight bag that won't weigh you down as you go from tee to green. Comfortable straps are a game changer, allowing you to carry your bag comfortably throughout your round. Say goodbye to unnecessary strain and hello to stress-free transportation.
Now, let's talk style. Your golf bag should be an extension of your unique personality and fashion sense. So whether you're drawn to a classic leather design exuding timeless elegance or a bold, eye-catching pattern that turns heads, a bag out there complements your style flawlessly.
So, when hunting for the perfect golf bag, remember to prioritize style and functionality. Embrace a bag that looks fantastic and enhances your overall golfing experience. After all, when your clubs find their cozy spot in your bag and effortlessly carry it with a personal flair, you'll feel ready to conquer the fairways confidently.
2.  Golf Shoes: Enhancing Performance and Comfort.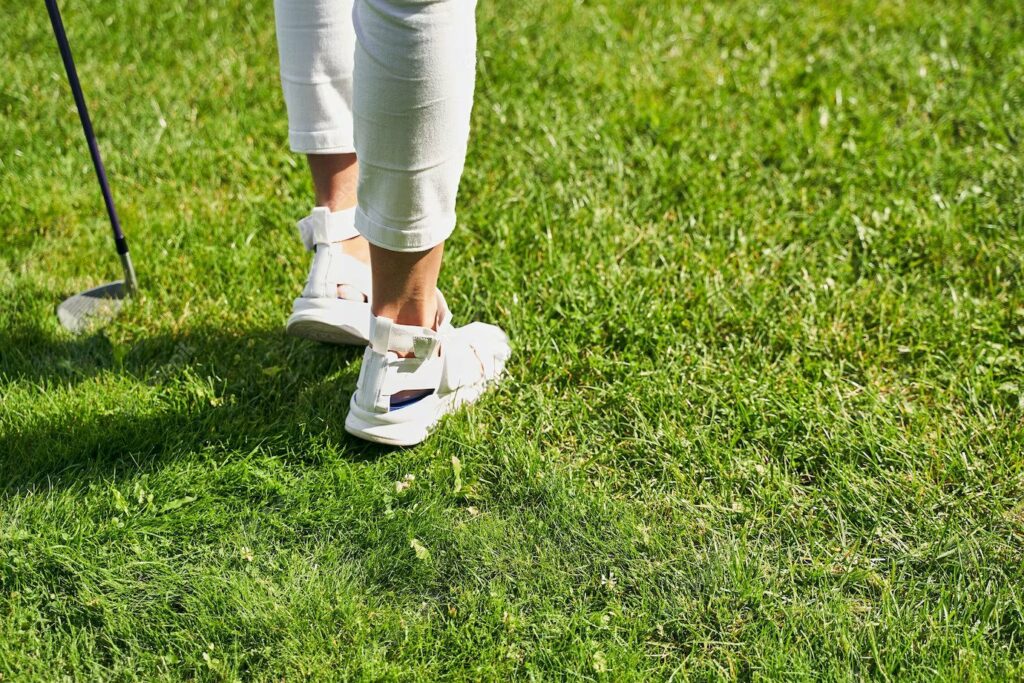 When conquering the golf course, proper footwear is an absolute must. The foundation provides stability, support, and essential traction for those powerful swings. That's where golf shoes become your trusted ally on the fairways.
When choosing the perfect golf shoes, you have 2 options: shoes with spikes or spikeless designs. The choice ultimately comes down to personal preference and the course conditions you typically encounter. 
Spiked shoes offer superb grip, anchoring you firmly during your swings and providing excellent traction on various terrains. On the other hand, spikeless shoes offer a versatile alternative, delivering reliable traction without the hassle of replacing worn-out spikes.
But there's more to consider than just grip. Comfort plays a vital role in your performance. So look for shoes that prioritize your comfort, offering ample cushioning to absorb the impact of each step. Breathability is also crucial, allowing air circulation to keep your feet cool and dry throughout your round.
Gone are the days when golf shoes sacrificed style for functionality. Modern designs beautifully blend performance with fashionable flair. Express your personality on the fairway with feminine touches and colors that complement your style.
So, whether you opt for spiked or spikeless, prioritize comfort and traction as you choose your golf shoes. Make sure they support your feet, literally and figuratively, so you can confidently focus on your game. Then, with the right pair of shoes, you'll step onto the tee box, ready to conquer the course while showcasing your unique style.
3. Golf Glove: Grip and Style.
The golf glove should be noticed as you step onto the golf course. This seemingly small item is crucial in providing a secure grip on the club and protecting your hand from potential blisters.
When selecting a golf glove, prioritize high-quality materials that strike the perfect balance of durability and flexibility. Genuine leather gloves offer a classic choice, known for their longevity and supple feel.
Alternatively, synthetic fabrics have gained popularity, offering excellent durability and enhanced breathability to keep your hand comfortable during those long rounds.
A proper fit is paramount. Your glove should fit snugly but not restrictively, allowing for natural movement and providing the utmost comfort. In addition, a well-fitted glove enhances your grip and allows precise control over your swings, ensuring your shots are as accurate as possible.
While functionality is critical, it doesn't mean you must compromise style. Explore a range of gloves that feature feminine designs or vibrant colors, adding a stylish touch to your golfing ensemble.
Express your personality and showcase your unique flair as you confidently swing down the fairway.
Remember, the golf glove is more than just a fashion statement. It's a vital companion that elevates your game and protects your hand from discomfort. So, invest in a high-quality glove that fits like a second skin, enabling you to confidently grip the club and unleash your full potential on every swing.
4. Golf Hat or Visor: Sun Protection and Fashion Forward.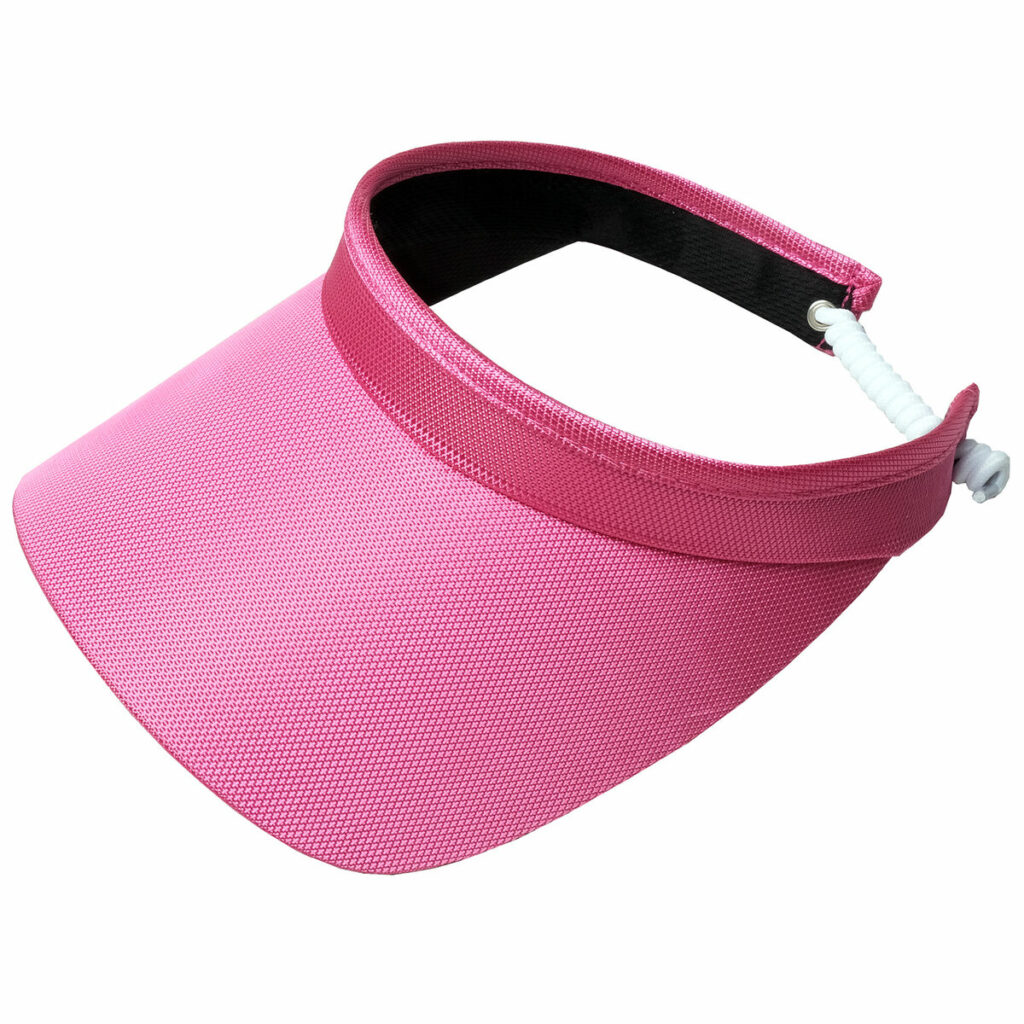 Shielding yourself from the sun's harmful rays is crucial during extended periods on the golf course. A stylish golf hat or visor not only provides protection but also adds a touch of elegance to your outfit.
Look for hats or visors made from lightweight, breathable materials that offer comfort and sun protection. Wide-brimmed hats are particularly effective in shading your face, neck, and ears.
On the other hand, visors provide a sportier look while offering protection for your eyes and forehead. Experiment with different styles and colors to find the perfect headwear that suits your taste.
5. Sunglasses: Eye Protection and Visual Clarity.
Protecting your eyes from the sun's glare is paramount when spending hours on the golf course.
High-quality sunglasses shield your eyes from harmful UV rays and enhance visibility and depth perception.
Opt for sunglasses with polarized lenses, effectively reducing glare from reflective surfaces such as water hazards or sand traps.
In addition, look for frames that fit your face shape comfortably while providing a fashionable and modern aesthetic. With the wide range of styles available, you can find sunglasses that blend functionality and flair effortlessly.
6. Golf Towel: Keeping it Clean and Dry.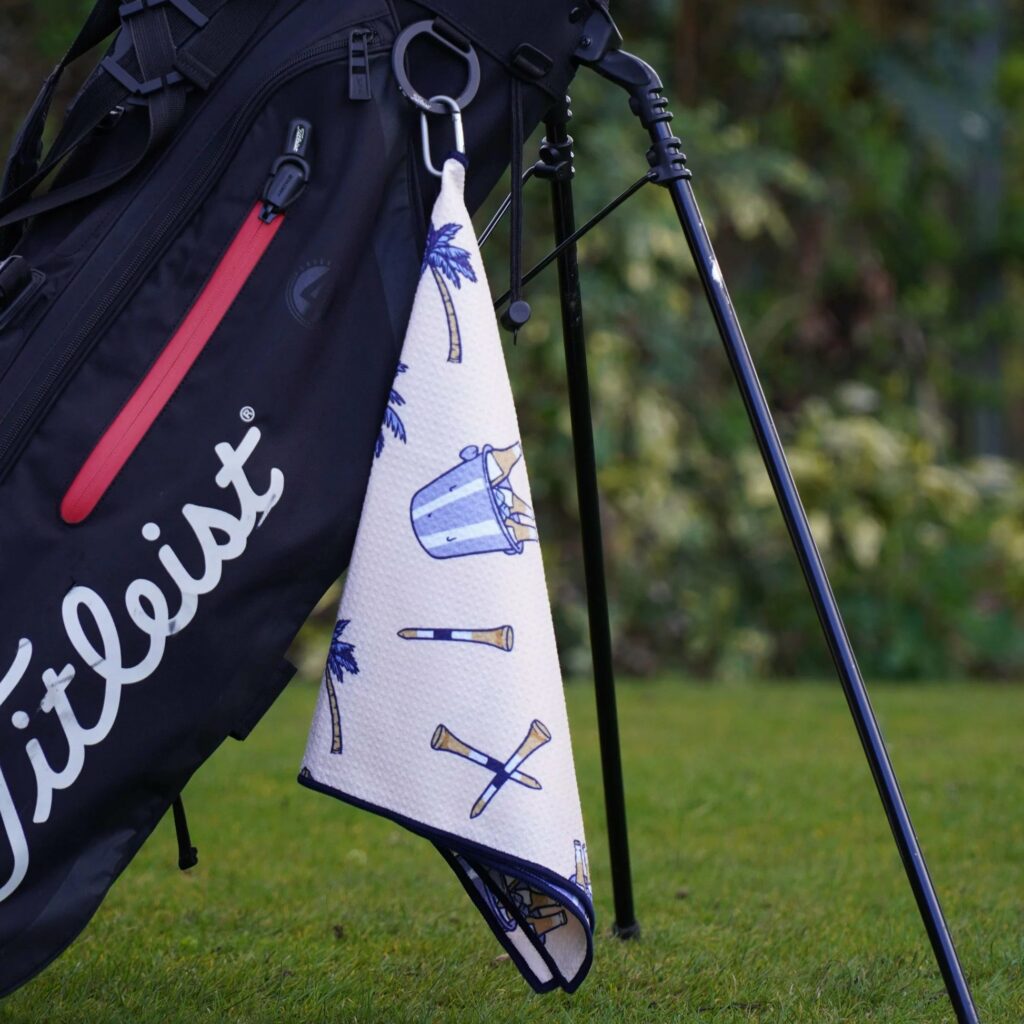 A golf towel is a practical accessory that helps clean and dry your collection of the best golf balls throughout your round.
Look for a towel made from absorbent materials, such as microfiber, to remove dirt and moisture effectively. Consider choosing a towel with a convenient clip or attachment to quickly secure it to your golf bag.
ersonalize your towel with initials, or choose a design that matches your style, adding a touch of uniqueness to your golfing accessories.
7. Ball Marker and Divot Repair Tool: Respect for the Course.
Respecting the course and maintaining its integrity are essential elements of golf etiquette.
Therefore, carrying a ball marker and divot repair tool ensures you can adequately mark your ball's position on the green and repair any divots caused by your shots.
Opt for markers and repair tools that are durable, easy to use, and made from high-quality materials. In addition, consider selecting designs that reflect your personality or coordinate with your golfing attire, showcasing your attention to detail and style.
And, Finally, Tee Off In Style: 7 Must-Have Accessories for Women.
Enhance your golfing journey with the essential accessories that pave the way for success on the course. From a meticulously designed golf bag to stylish shoes, each item elevates your experience and performance. Shield yourself from the sun's rays with a hat, visor, and sunglasses, while a golf towel keeps your equipment pristine. Show respect for the course using markers and repair tools, leaving it in top-notch condition. Then, step onto the fairway in style and make a lasting impression.
Finally, get ready to tee off confidently, equipped for an unforgettable golfing adventure that awaits you.
---
Contributed by Emily Clark.
Emily Clark, a golf enthusiast and tech expert shares her valuable insights on golf drills, equipment, and training aids. She stays current with the latest updates in golf simulation technology, from high-fidelity graphics to advanced ball tracking and swing analysis. She shares her thoughts and experience with fellow golf lovers through Nifty Golf.]