I found my research on the Titleist Velocity Golf Ball very interesting. This particular golf ball has been on the market for quite some time.
It was introduced in 2012 and there are actually five versions.
I am specifically researching the 2020 version in this Titleist Velocity Golf Balls Review.
We will check out the earlier versions and give you an idea of what you can expect from this golf ball.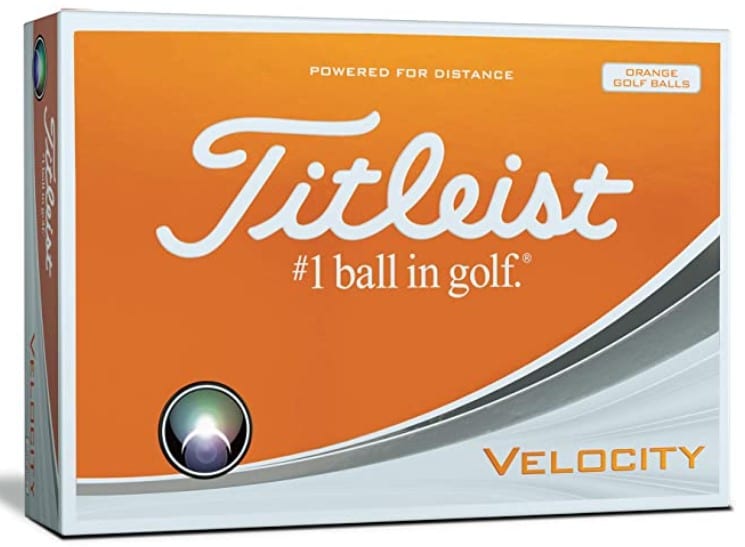 About The Titleist Velocity Golf Ball
Titleist says that it does not manufacture gender specific golf balls. Rather, it aligns the performance of a golf ball with the type of player who may use it.
Thus, while this ball, like others we've discussed, is not specifically a women's golf ball, it will certainly help you with getting more distance on your drive.
This particular golf ball was first developed by Titleist in 2012 and it captured the market as the ball with the longest distance off the tee.
Those golfers who bemoaned their shorter drives thought this was the answer to their prayers – and it may have been.
However, because it was designed as a distance ball with a low spin, it did not perform as well around the green.
As the saying goes – you can't have everything – or can you?
The next major update occurred in the 2018 version when Titleist developed a softer core for the ball.
This still had a low spin and it traveled even farther than the earlier versions. And, because of its softer core, the performance in the short game was better than before.
And so we come to the Titleist Velocity Golf Ball of 2020. It is still a two-piece golf ball with some significant changes.
The LXS high-speed core was larger with a thinner cover. A new design incorporating 328 tetrahedral dimples adds to the aerodynamics.
All of this has led to a longer drive and even better control around the greens.
Alright, so that's all the technical stuff about where it's come from and where it is today, but what about benefits to golfers, especially us girls.
What are the benefits for us girls?
As we have discussed above, the Titleist Velocity Golf Ball, as its name suggests, is primarily designed to get long shots from your drive.
Nevertheless, the latest version has other benefits too:
Because of its larger, high-speed core, you will get longer shots off the tee.
Its new tetrahedral dimple design will ensure great aerodynamics for more loft.
The technology incorporated into this golf ball will help to add height and distance to fairway shots.
You will have more control of the ball in approach shots and around the green.
I know that my own drives are quite short – somewhere between 100 yds and 120 yds – so I am really looking forward to personally testing out this golf ball.
It would be really great to get that extra distance when driving off towards a Par 5.
Sometimes it takes me all 5 strokes and more to just get anywhere near the green!
Of course, this golf ball will not suit all of us because we all play a different game, but the purpose of a review is to give you enough information so that you can make an educated decision for yourself.
Other Interesting Facts In This Titleist Velocity Golf Balls Review
And now we get to discuss colors.
We were playing golf last week and I was quite surprised when I saw an old guy ahead of us teeing off with a bright pink golf ball!
I didn't get the chance to ask him about it, but he probably uses it because they are certainly easier to spot in the air and on the fairway.
So, this latest version of the Titleist Velocity Golf Ball comes in White, of course. The other colors are Bright Pink, Orange and Green.
All the colored balls come with a Matte finish.
Therefore, if your preference, like the old gentleman I saw, is to play with a colored ball, then you can certainly try one of these.
The visibility aloft is definitely enhanced with a colored ball.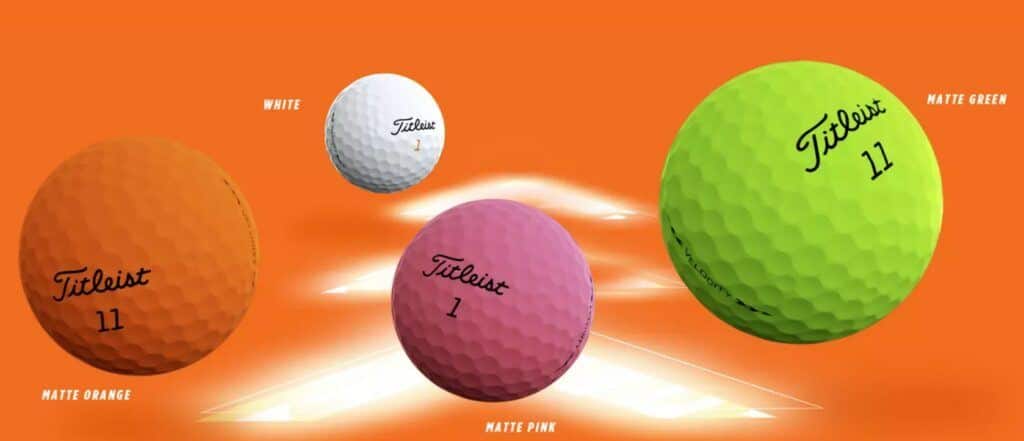 In case you're wondering who else plays with Titleist – a number of the golfers in the LPGA Tour do.
Here's an interesting fact about Brooke Henderson, who is a Canadian Professional Golfer on the LPGA Tour.
She won her first major at the age of 18 in 2016. She was the youngest player ever to win the KPMG Women's PGA Championship.
Brooke is a Titleist fan and plays with Titleist Pro V1 golf balls, which are definitely only for pro's or single digit handicap amateurs!
Performance vs Price
Of course, golf is a fairly expensive hobby. There are high costs associated with golf equipment, such as golf clubs, bags and other accessories.
Price is often a major factor in the purchase of golf balls.
Given that some of us have a tendency to lose balls in the rough or the lakes, we don't really want to be playing with expensive golf balls.
So you will have seen above the benefits that the Titleist Velocity Golf Ball offers and it is not as highly priced as you might expect.
Titleist has a great reputation for its golf balls and other golf equipment and is generally known to be more expensive than other manufacturers.
However, for the sort of performance you will get from this golf ball, its price is quite reasonable.
It is more expensive than most of the other golf balls we are reviewing.
Currently you can buy a dozen from the PGA Tour Superstore for between $27.99 and $31.99.
So, definitely worth a try, especially if you have a good short game and need extra distance on your drive.
Final Thoughts
After reading this Titleist Velocity Golf Balls Review you may well be asking yourself a question. "Is this the best golf ball for me"?
The answer, of course, is if you want to get a longer drive, Yes, you should definitely try Titleist Velocity.
It is certainly not the right golf ball for professional golfers. This is because they seek greater spin and a top class all-round performance.
If your short game is already good but, like me, you take more strokes than you should to get to the green, this golf ball will undoubtedly improve your game.
So go and try it out and, as the Titleist saying goes,
"Get Every Yard".