Let's check out these top rated golf range finders.
Perhaps you are asking yourself why you might need a range finder?
Well, I'm not sure about you, but I know that I have great difficulty judging exact distances just by looking.
So, a range finder will help me accurately measure the distance to the flag/pin from where my golf ball lands.
As you gain experience as a golfer, you begin to understand how far you can hit the ball with different clubs.
Therefore, this review of top rated golf range finders will assist you in deciding what will be best for your needs.
Laser Golf Range Finders
The two main ways in which range finders work is Laser and GPS. In this article we are going to be considering the Laser equipment and have covered GPS in another article.
These clever little devices shoot out a laser beam directly to the flag/pin.
In this way they measure the length of time the beam takes to reach the pin and bounce back.
Thus, an accurate measurement of the distance between you and the flag is taken.

It shows the result for you on the device's screen so that you know which club to use when you make your shot.
With a laser range finder, you can also measure the distances to hazards, such as trees, around the golf course.
It can give you an accurate picture of what is up ahead. Some have a considerable yardage length to identify such hazards.
What To Consider
When I started researching this topic I discovered that there are hundreds of these devices on the market. So here are the things I considered when making choices.
Battery life: You would not want to run out of battery half-way through a round of golf. So I looked for range finders that had batteries with a long life to ensure several rounds of golf.
Price: Golfing is a fairly expensive hobby, so you don't want to break the bank when buying one of these.
Range and Accuracy: Needs to have long range to scan the course and high accuracy when aimed at the pin. The chosen devices have ranges between 800 – 1200 yards and accuracy of +/- 1 yd.
Size and Weight: The unit should be easy to handle and light to carry so we chose those weighing less than 8oz.
Multiple Uses: Some of the laser rangefinders were used for both golf and hunting. I excluded these and focused only on golf range finders.
Our Choices Of The Top Rated Golf Range Finders
We have listed our top choices here in order of price, with the most expensive first, currently retailing for around $260, then $250 and finally, $200.
Made of ultra-premium materials and a custom, weatherproof case.
The device has a pulse vibration when it senses the pin. It will lock on to your required target. The vibration confirms that you have the distance to your target.
Easily switch between slope technology or not. With slope technology, the unit will give you the adjusted distance, taking into account the upward grade or downward slope. Thus, the accuracy of your shot is assured. Switch it off for tournament use.
It has a Crystal Clear Display for easy reading.
A built-in magnetic strip to attach to your golf bag or cart.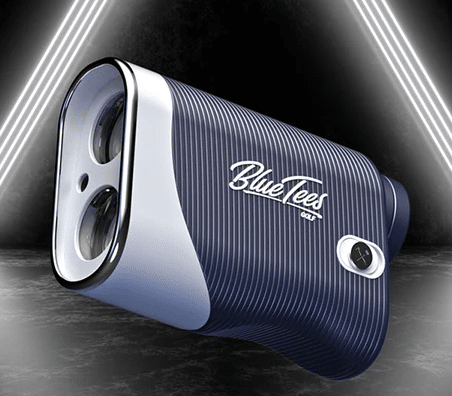 Like the Blue Tees, this device also has slope technology that can be switched on or off and is accurate to +/- 1 yd. It will lock onto the pin and issue a vibration to let you know it has the pin and not a tree behind it.
You can generate continuous measurement mode to survey the course for hazards.
Extremely powerful optics, for which Nikon is famous, give you clear vision of the course.
It also has a magnetic strip to attach to your bag or cart.
Small and extremely lightweight at only 6.2 oz.
Nikon supports its products with a 5-year warranty.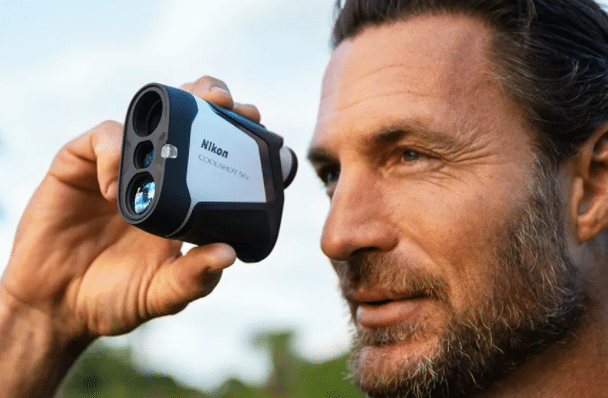 Has a 6X magnification and high definition camera. Its distance range is 5-800 yds and it can lock onto the pin at 275yds.
This unit also has slope technology to give you alternate distances in regard to upward or downward slope. This, too, can be switched off for tournament play. Measures distance in both meters and yards.
When scanning broadly, it is accurate and can easily identify hazards on the golf course. Know your distances to the trees or the sand traps.
It is both water and fog proof.
A compact, ultra lightweight unit, weighing in at only 3.9 oz.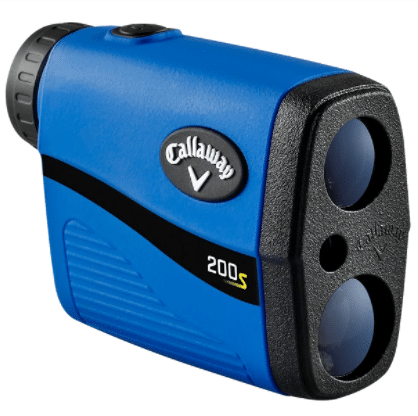 What Do Golfers Say About Them?
We did a quick search for some of the comments made by golfers about these three range finders. Here are some of them.
Blue Tees S3 MAX Rangefinder
DoubleD from Naples, FL had this to say:
"This range finder from Blue Tees has exceeded my expectations in every aspect. Definitely recommend this product for anyone researching range finders."
But, Tx Golfer from Granbury, TX said this:
"I did not want to spend too much on a rangefinder so I chose this one based on the good reviews. Overall, I am happy with its performance but it is not very easy to lock on to the flag. It usually takes me anywhere from 2-5 times to get a good reading. . . "
Nikon Coolshot 50i Rangefinder
Inferno2ss from Denver, CO had this to say:
"The main reason I went with the Nikon Coolshot 50i because of the bright red numbers etc. It has 5 different brightness settings and is really easy to read. I also like that you can hold the button for up to 8 seconds and get instant distances on objects as you move it around. Best rangefinder for the money in my opinion. . ."
Whereas Bob from Palm City, FL said this:
"Optics were very good…..It was very easy to lock on the flag….took a couple of times to get correct yardage & then I had to double check with my Garmin…..My original low Bushnell much easier to use."
Callaway 200S Rangefinder
UConnJim from Lake George, NY had this to say:
"Love this rangefinder. I'm pretty high handicap, but still find this helps my game. It's also blue, which is easy to find when thrown in the cart. Would highly recommend."
Whereas, Shaun from Houston, TX said this:
"This product is the absolute worst. No matter what you try it doesn't give you constant readings to the flagstick. You'll stand there in the fairway forever trying to get it to read the flag & not the trees behind it."
Do These Top Rated Golf Range Finders Measure Up?
Yes, indeed!
Especially when thinking about the things to consider before purchasing.
Each of them has a reasonably long battery life.
They are cost-effective purchases with the top price being around $260.
They all have long-range scanning and really good accuracy in locking onto the pin.
All are lightweight and easy to handle.
So, I think if you choose to purchase one of these top rated golf range finders, you will be well-served during your next game on the golf course.
I do not intend to recommend one over the others, but leave you the choice, knowing that they will all do the job effectively.
If you'd prefer to wear a GPS Golf Watch rather than carry a Laser Range Finder, we have you covered, too.