What is in Golf Balls?
To answer this question properly, we will need to go into the history and evolution of the golf ball.
Because the question might also be interpreted as what is in the modern golf ball, let'so go back in time first.
So, we can discover how it all began and how we arrived at the modern day technology and materials.
How It All Began
The earliest information we have is from about the 14th Century.
There is some talk that stick and ball games have been around since Roman times. However, we will start our journey in the 14th Century.
At this time golf balls were made of wood. Carpenters would fashion slightly irregular spheres from beech wood, which was a hardwood and fairly suitable for this process.
At the time, golf clubs were also wooden sticks and this fashion of golf ball lasted until the end of the 16th Century.

In the early part of the 17th Century, progress was underway. This saw the invention of the "Featherie".
This was constructed from leather (sewn together in the shape of a sphere) and stuffed with goose feathers.
The feathers were boiled and the leather sphere (also wet) was stuffed with the wet feathers. As they dried, the feathers expanded and the leather contracted.
Thus, despite its name of "Featherie", there was nothing light or "featherie" about it.
The ball became quite hard, though, like its predecessor, was not completely round.
This obviously made playing golf quite challenging. In addition, because of its leather outer, the golf ball performed quite differently when wet than when dry.
So, What Happened Next?
St Andrews in Fife, Scotland, is generally accepted as the home of modern golf.
It's no surprise, therefore, that the next iteration of the golf ball came from that area in the mid 1800s.
The Rev. Dr. Robert Adams Paterson discovered that the sap from the Malaysian Sapodilla tree could be heated and then poured into a spherical mold.
As it dried, it became very hard and, thus, the Gutta-Percha (or "Guttie") was conceived.
Thus began the mass-production of golf balls.
An added benefit was that they could be heated up and reshaped if the ball lost its roundness.
The golfers of the day discovered that, as they played with the "Guttie", it often became dented and nicked.
It was quite by accident, therefore, that this discovery led to the scuffed and nicked golf ball having a more stable and better flight than the new, totally round, "Guttie".
So, the golf ball manufacturers started experimenting by carving and making protrusions in the surface of the ball.
The aim was to achieve a better flight pattern with these protrusions, and this continued to nearly the end of the 19th Century.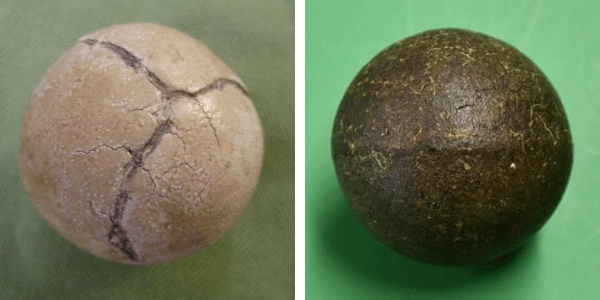 More Bounce And Energy
Yet another discovery was made quite by chance that affected the evolution of the golf ball. This occurred in 1898.
A gentleman by the name of Coburn Haskell visited the B.F. Goodrich rubber factory to meet a friend with whom he was to play golf.
While waiting for his friend he saw some discarded rubber fibers, picked them up and began winding them into the shape of a ball.
When it was completed, he was amazed to discover that it had more bounce and energy that he had ever experienced.
Thus began the modern golf ball. Haskell and his friend, Bertram Work, subsequently made a skin (or cover) for the ball from balata sap, which is a kind of latex. This golf ball gained huge popularity in the early part of the 20th Century.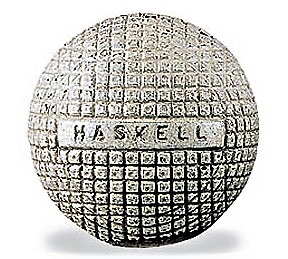 Innovation and Dimples
But wait – there's more!
Modern golfers will know that it did not end with the Rubber Haskell wound ball.
Golf ball manufacturers began to devote much attention to the research and development of the golf ball.
It was through this research that golf ball flight was made even more stable. The manufacturers discovered that dimples (indentations) rather than protrusions provided considerably better aerodynamics and a stronger flight.
Then, in the 1960s, the Dupont Company invented a synthetic resin product which they called Surlyn, and which was better and more reliable than balata.
Golf balls that were skinned (or covered) with Surlyn were decidedly more dependable than previous iterations.
The game of golf became more viable and fun for beginner and average golfers.
So, What Is In Golf Balls?
Throughout the 20th Century there was a massive amount of research and development in the golf ball industry.
Added to this, as technology has advanced, we have been presented with a huge range of new resins and compounds.
These have led to the introduction of the solid-core golf ball, with each golf ball manufacturer naming their own solid-core as being dynamically different to the rest.
For instance, Titleist calls the core of its Velocity golf ball "the LSX high-speed core".
With the incredible advances that have been achieved in these compounds, golf ball cores keep getting better.
In addition, some of them are layered with what are known as "mantles", in different combinations that achieve different objectives. So that a solid-core with a Surlyn cover is known as a two-piece ball.
Three-piece, four-piece and even five-piece golf balls are so named, depending upon the number of mantles inserted between the core and the cover.
All this provides the modern golfer with a golf ball that is attuned to his or her game.
Furthermore, technology has not stood still when it comes to dimple design.
Following discovery that dimples rather than protrusions provided better aerodynamics, research in this area has continued apace.
Certainly, many golf ball manufacturers have moved on from the round dimples first introduced.
Now, not only do they change the shape of dimples, but also there are many differing views as to the numbers required to produce the best flight outcome.
Again as an example, the Titleist Velocity now has 328 tetrahedral dimples.
Some golf balls have even had dimples within dimples!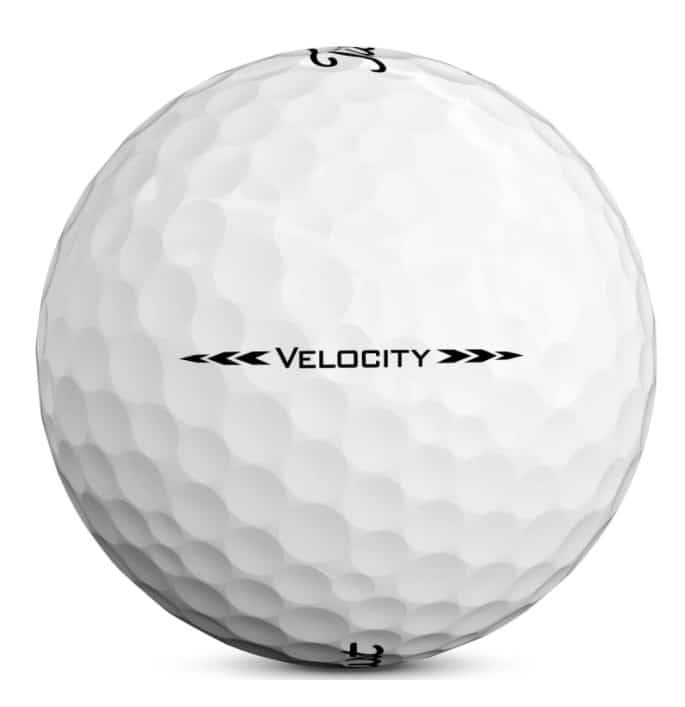 In The Final Analysis
The golf ball as we know it today has achieved exponential change from its early beginnings.
The modern golf ball design has a solid-core, surlyn cover and technically advanced dimple pattern. It may also have one or a number of mantles between the core and the cover.
All this technology is aimed at giving the golfer a better and more manageable game.
The different combinations will provide any one of longer drives, higher and straighter flight, better management of fairway shots, more control in the short game and around the green. Or even a combination of all these benefits.
I think you will agree that we have come a long way in golf ball design and manufacture since the 14th Century!
I hope that you have enjoyed this journey through the ages as much as I have enjoyed researching what is in golf balls.
If you have an interest in finding out about the best golf balls for women, go here.
Furthermore, if you would like to give me feedback about the what is in golf balls or if you have any questions about this article, please leave me your comments. I will be sure to respond to you.