What to wear golfing for the first time ladies?
When first starting golf, women may be confused about the correct golfing attire.
What sort of clothing should you wear? Do you need special shoes?
Can you wear shorts? What type of tops should you wear?
What issues are important when considering golf clothing?
This article will help you answer these questions and more, so that you can comfortably enjoy your game without being distracted by your clothes!
Choosing Both Comfort And Fashion.
Of course, being comfortable is key when it comes to golfing.
You want your clothing not only to be practical, but also something you'll enjoy wearing.
You're bound to spend a lot of time walking around and be out in all kinds of weather—so it's important that you have clothes that will keep you dry if it rains and warm if it gets chilly.
Golf is certainly an energetic game that requires considerable movement in the upper body.
Therefore, it is important to choose clothes that do not restrict movement.
Fortunately, with modern golfing attire it is possible to be both comfortable and fashionable.
Unlike our historical counterparts who had to wear clothing like in the image below.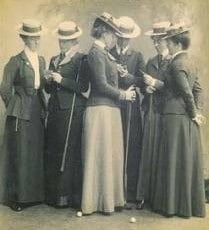 Can I Wear Shorts On The Golf Course?
Of course, you can.
You will probably be more comfortable in Bermuda-length shorts. Also, most golf clubs would prefer that you do not wear really short shorts.
Capris are very acceptable when deciding what to wear golfing for the first time ladies.
Long pants are a good choice for the cooler weather.
Most golf courses ban the wearing of jeans, so you should definitely avoid these.
Likewise, track pants or gym shorts should be avoided when dressing for golf.
These days, there are a great range of golf skirts as well as skorts, the latter being a combination of skirt and shorts together.
The choice is yours, so long as you stay within the guidelines, but whatever you choose to wear, be sure that it is comfortable.
Wearing clothes that are too tight will definitely take your mind off your golf game.
Check out the array of women's golf clothes right here.
Choosing The Right Shirt.
Choosing a shirt that is comfortable and functional is important.
So, you should make sure that the fabric is appropriate and stretchy to allow for significant movement.
Most golf courses do not allow t-shirts, and prefer golfers, both female and male, to wear shirts with collars.
Nevertheless, women can wear sleeveless shirts during the hot summer months.
Although, tank tops are not allowed, nor are short tops that bare the midriff.
Golf can be played year round in many parts of North America, so it's a good idea to choose different shirts for different seasons.
You will want to be comfortable on those hot summer days as well as in the cooler Fall weather.


You will find a range of shirts available here that are both fashionable and comfortable.
Do I Need Special Shoes For Golf?
It is not essential that you have a pair of golf shoes when you are starting out in golf.
Many of the modern golf shoes no longer have spikes.
Therefore, if you have a good pair of sneakers or something similar, these will be adequate for the beginning golfer.
Often, in inclement weather and at times of morning dew, the golf course will be quite wet.
So, all-weather shoes are a must-have because they allow your feet some room to breathe while providing protection from hard ground and water.
Whatever you decide, make sure it is the right choice for you.
If you really want proper golf shoes, you can go here to find yours.
Hats, Gloves And Other Accessories.
One thing that most beginners are concerned about is their comfort.
Golf can be an arduous sport, and many golfers choose to invest in accessories like hats, gloves, or even jackets. These help to make things a little more comfortable for them on and off of the course.
It's important when looking at clothes and accessories to look not only at how they will affect your performance but also how they will affect your experience overall.
Most golfers tend to choose baseball-type caps for when they are playing golf.
These act as sun-shields as well and are a great asset when driving directly into the sun.
Alternatively, you can use an open-topped sun visor instead.
Visors and hats for women often come as matching accessories to shirts and other golf clothing.

Hats and visors can be found here.
Most beginning golfers also use a protective glove on the left hand (if right-handed) or vice versa.
This is not a necessary accessory but is a helpful protection when striking the golf ball.
With that being said, find items you enjoy wearing because you will likely spend a lot of time putting on and taking off those golf clothes and accessories when going out onto any given course.
And Finally. . .
Most importantly, you need to be sensible in your choice of clothing when considering what to wear when golfing for the first time ladies.
One more thing that we have not mentioned is sunscreen and sunglasses.
You need to protect your skin and your eyes from the glare. Especially if you are playing golf during the hot summer months.
So, here's what we have discussed with regard to what to wear when golfing for the first time ladies:
Choose comfortable clothing (remember that it can be fashionable, too).
Wear Bermuda Shorts, Capris, long pants or skorts.
Choose a shirt appropriate to the weather.
If you don't have golf shoes, you can wear sneakers
Wear a baseball cap or sun visor.
Use a protective glove.
Make sure you have suitable sunscreen and sunglasses.
There are, indeed, many choices for women golfers today, whether choosing clothing or other golf equipment or accessories.
You will have no reason to be uncomfortable on the golf course with the myriad of choices available to you.
In addition, you have a wonderful opportunity to be fashionable as well as comfortable.
We have talked in other articles about the "mental game". This is an important aspect to take account of.
Therefore, it stands to reason that if golf is as much "mental" as it is physical, you will want to look and feel your best when starting out.