In this women's golf driver review, I want to talk particularly about the Ping G LE2 Driver.
It is the second version of this club and it is described by Ping, thus: "golf's highest-performing ladies driver is lighter, faster, and more forgiving."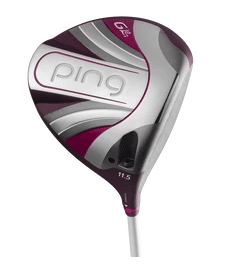 Ping is an excellent brand for female golfers because these clubs have been designed especially for us girls.
Let's Examine The Ping G Le2.
The first thing you should know about this driver is that it is in the high end of pricing. So, if you are just beginning your golf journey, this may not be the club for you.
Nevertheless, if you have ever used any Ping golf clubs, you will always want them in your golf bag. Probably, about 10 years ago, I bought a Ping Rhapsody 30˚ Loft Hybrid. It is my favorite "go-to" club.
The club face of the Ping Le2 Driver is so thin that you get an enormous amount of bounce when you first strike the golf ball.
Added to this, it has an ultra-lite graphite shaft to give you more flexibility in your swing and greater power at impact.
The latest technology developed by Ping for this club, certainly puts this Driver ahead of the game for those of us with slower swing speeds.
A more detailed look follows in this women's golf driver review.
Excellent Adjustability.
The Ping G Le2 Driver is adjustable for both loft and lie. I particularly love the loft adjustment facility.
It comes with an 11.5˚ loft that can be finely adjusted by +/- 1.5˚. Therefore, depending on your own requirements, it can be adjusted down to 10 or up to 13.
If you prefer a flatter lie, you also have the ability to adjust this setting to make it up to 3˚ flatter than usual.
This feature is definitely first-rate in allowing you to fine-tune your game.
Exceptional Ball Striking With This Club Head And Face.
There is aerodynamic shaping in this 460cc club head. When this is combined with the ultra-strong, thinner face, it results in a faster ball speed that is carried a greater distance.
This is especially beneficial for those of us with slower swing speeds.
In addition to this, the weights that are placed strategically within the heal help with straighter ball flight.
Everything about this driver is aimed at outstanding performance on the golf course.
Choose Your Shaft And Enjoy A Soft, Velvety Grip.
If you have been golfing for a while, you probably know that there is something known as "Ladies Flex" in graphite shafts. "Ladies Flex" shafts generally come in at around 45 gms.
We can promise you that the Ultra Lite graphite shaft on the Ping G Le2 Driver weighs about 44 gms. So this is even lighter than that mentioned above.
Then, there is also a Lite graphite shaft, for those girls with a faster swing speed. And this weighs in at around 52 gms.
The grip is described as a "lighter, super-soft Golf Pride Tour Velvet 360 grip", that should ensure great handling of the driver.
Pricing.
As we have mentioned above, the Ping G Le2 Driver is in the high end of pricing. You will rarely find a new Ping golf club at a discounted rate. Only used Pings will be cheaper.
Nevertheless, a driver such as this can improve your golf game exponentially. Especially when you are driving off the tee at a Par 5.
So, if you are in the market for a Driver of this quality, click on the image below for pricing details.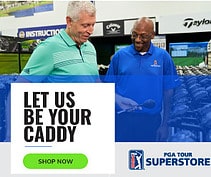 Final Thoughts On Women's Golf Driver Review.
I do believe that if you are looking for outstanding performance on the golf course, then the Ping G Le2 Driver is an excellent choice.
Of all the golf equipment manufacturers, Ping seems to have got it right when designing golf clubs for women golfers. The key word here is "golfers".
Just because we are women, does not mean that we value performance any less than our male counterparts. We actually value it more.
Male golfers have more bodily strength because of their biological advantage. Golfing equipment made for women, then, needs to counter-balance this with smart design and technology.
Ping does it well, and charges accordingly.
However, this may be a bit out of your price range. Feel free to check out our article on the best women's golf drivers for some other options.
A great option if you are apt to slice the ball when driving, is the Cobra Women's Air-X Offset Driver. The offset club head is designed to straighten out your slice.
I hope you have found this Review interesting and informative. If you have any questions, please feel free to leave me a comment below. I will be sure to get back to you.