Are golf shoes necessary? This is a question often asked by beginning golfers. We will answer it and give you some further information on why golf shoes may be important to improve your game.
There are more than 25 million golfers in the United States alone with 25% of these being women. So, girls, we make up just over 6 million of those, and the numbers are growing every year. Therefore, I think it's important to share information that could be beneficial to our golf game.
Getting back to the title question: Are golf shoes necessary? Other questions spring to mind, such as "What are the benefits of wearing proper golf shoes?" "Will they actually improve your game?" "Can I wear my sneakers on the golf course, instead?"
As a beginning golfer, you will find that it is not a requirement for you to wear proper golf shoes to play on a golf course. You can actually begin your training wearing sneakers or running shoes. However, as you become more proficient and want to improve your golf game, you will find that golf shoes are necessary for this.
What Are The Differences Between Golf Shoes And Sneakers?
Believe it or not, golf shoes and sneakers are designed with totally different purposes in mind.
Sneakers generally have flat soles and are designed for comfort in walking or running. Sometimes they feature air cushioned soles that provide extra comfort for walkers and runners.
Golf shoes, however, are quite different in design, aimed at specifically providing traction and stability. For this purpose, their soles are generally wider than those of sneakers. In addition, golf shoes either have traction patterns built-in to the soles or they feature spikes of some kind.
Modern spikes are made of synthetic material and are much softer than the metal spikes of old. In fact, metal spikes were banned from golf courses in the early 1990s. They generally tore up the golf course and caused havoc in the club house by scratching and denting floors and tearing carpets.
As a matter of fact, as well as having metal spikes, early golf shoes were made of sturdy leather and were definitely not built for comfort on the golf course.
Why Do You Need Traction And Stability?
Swing consistency is an important aspect of your golf game. Golf shoes are designed to grip the ground and provide stability and traction, which is the foundation of your golf swing.
If you golf in regular shoes or sneakers, you may find that your swing becomes less stable and consistent. The support provided by proper golf shoes will give you the stability and traction to make a perfect swing every time.
Which Should You Choose – Spikes Or Spikeless?
There are good reasons for choosing golf shoes with spikes, particularly if you are an all-weather golfer. They will give you more grip in wet or dewy grass conditions.
Additionally, if you play golf on hilly golf courses where you must walk up and down the hills and valleys, shoes with spikes will be of more benefit to you than those without. They will prevent you from slipping as you traverse the golf course and, of course, will give you even better stability and traction when driving from the tee.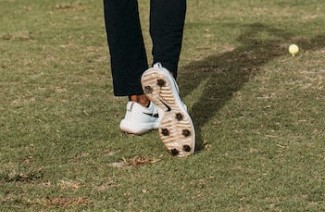 On the other hand, if your golf courses are flatter, like mine in Florida, and you are a fair weather golfer, you probably don't need shoes with spikes.
The modern traction patterns on the soles feature protrusion and indentations that provide excellent traction and stability under these conditions.
Things To Consider When Choosing Golf Shoes.
We have already discussed the differences between spikes and spikeless shoes, and you should definitely consider this when choosing your golf shoes. You should also give consideration to the following items before making your choice.
1. Choose Comfort Over Style.
Remember that 18 holes of golf will generally take at least four hours, so if you are walking the course, you should definitely choose shoes that are extremely comfortable. Nothing could be worse that finishing a golf game with painful feet.
On the other hand, if you are riding in a cart for your game, this will not be quite as important. But, bearing in mind that you will be jumping in and out of the cart for about four hours, you will likely still need to keep comfort in mind.
If you can combine comfort with stylishness, by all means go ahead.
2. Do You Have Problem Feet?
If you have high arches or flat feet, you will need to choose shoes that will take account of this problem. Likewise, problems occurring from such things as bunions, Morton's neuroma, Achilles tendons.
Make sure that you try on the golf shoes and that they are aligned with your particular foot problems.
3. Materials and Weather Protection.
Golf shoes come in a variety of different materials, such as leather – both real and synthetic – mesh and fabric. It is also possible to get golf sandals.
If you are golfing in wet weather or wintry conditions, you should definitely choose leather or synthetic leather, because these will be both waterproof and warmer.
As a Florida golfer, though, I generally choose shoes that have a combination of fabric and mesh. There is better airflow through these to keep my feet cooler when on the course. One thing to note though, on dewy mornings, these types of shoes will not keep your feet dry. Although, there are now some new technologies that can make fabric shoes at least water-resistant.
4. What About The Price?
High quality golf shoes can be very pricey. And with the cost of all the other equipment you will need to golf, it is something you may have to consider.
Nevertheless, some golf shoe manufacturers, such as Sketchers and Adidas, make shoes that can fit within any price-conscious budget.
In addition, some good deals are available on golf shoes that belonged to the previous season. If you shop carefully you can generally find a bargain.
Are You In The Market For Golf Shoes?
If you're in the market for golf shoes, please click on one of the images below. You will find a whole range of shoes from different manufacturers and at different prices, available for purchase.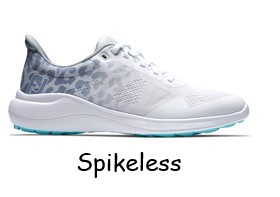 Final Thoughts On "Are Golf Shoes Necessary?"
As we have said, golf shoes are not an absolute necessity, particularly for beginners. However, with the right golf shoes, you will have the proper foundation for your golf swing. The stability and traction you need to play your best golf will be there for you when you have appropriate golf shoes.
So, we have discussed the differences in design between golf shoes and sneakers, and why traction and stability is important for golfers.
We talked about whether you should buy spiked or spikeless shoes and the differences between them. And we gave you some thoughts to consider when choosing shoes, such as:
Comfort and style.
Choosing shoes suitable for problem feet.
Shoe materials and weather protection.
Pricing.
I hope you have found this article helpful in deciding "are golf shoes necessary/" And, if you have any further questions on the subject, please leave me a comment below and I will be sure to get back to you.