Want to know what are the best rated golf GPS watches?
There are literally hundreds of them on the market and we have identified three that we consider to be the best rated golf GPS watches for you.
The criteria we used to identify the best rated golf GPS watches was to to rate them in terms of simplicity of use and economical pricing.
So, if this is what you are looking for, read on.
The Benefits Of Having A Golf Watch
I think that the most amazing thing about technology today is how everything has been minimized.
This means that you can actually track your golf game with something as small as a wristwatch!
Here are some of the benefits of using a Golf GPS watch on the golf course.
Accurately reads distances on the course, including to the front, middle and back of the green.
It can help you to lower your handicap because you can make fewer shots if you know the distances.
You can track your progress by keeping score and analyzing your game.
Your "approach to the green" shots will be more efficient.
It will give you guidance about where to aim when you cannot see the green.
A golf watch will have pre-loaded golf courses from around the world, so travel won't be a problem.
You will be able to detect distances to hazards such as lakes and sand traps.

So, for your benefit, we have chosen three different golf watches, all of which are simple to use and economically priced.
They all have similar attributes and the pricing ranges between $150 and $300.
Garmin Approach S10
The Garmin Approach S10 is pre-loaded with 41,000 golf courses from around the world.
It can be readily updated. It is incredibly easy-to-use and the screen display can be seen in bright sunlight.
Like other GPS watches, it will automatically identify the golf course you are playing.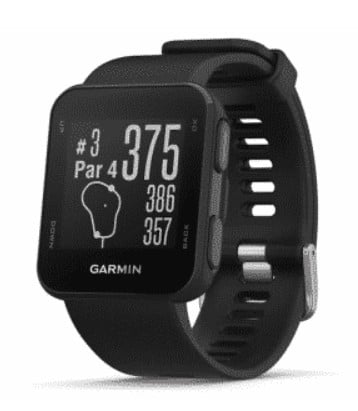 Then, it smoothly adjusts from hole to hole as you move around the course. An added benefit is that you can keep your score digitally. Also, you can upload it to Garmin Express to keep a complete record of your golfing season.
Here's what you will get with the Garmin Approach S10:
Simplicity of use and easily readable screen.
Yardages to the front, middle and back of the green.
Rechargeable battery giving up to 12 hours of use.
Tracking for hazards and doglegs.
41,000 golf courses and more to come.
Keep score and analyze your round.
This waterproof watch is good to 50 meters so you can even reach into the lake (provided you're not in Florida!)

Golf Buddy Aim W11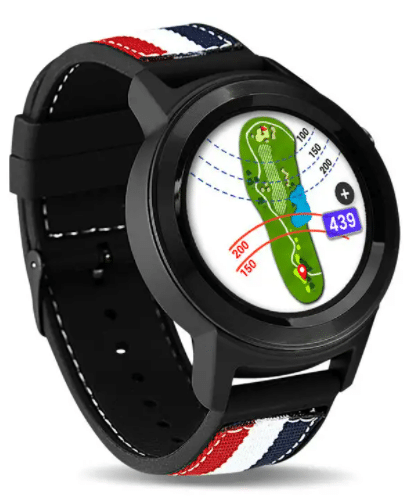 Golf Buddy, of course is famous for both laser range finders and GPS golf watches.
This new Golf Buddy Aim W11 GPS watch has everything you need.
It is pre-loaded with 40,000 courses from 170 countries and features Bluetooth connections.
The technology is a little more advanced than the Garmin S10, and has color aerial views of holes, including distances.
This watch also includes a pedometer, so you can use it in your fitness training as well. It also shows green undulation on select courses.
Here's what you get with the Golf Buddy Aim W11:
Comfortable, easy to use Golf GPS watch with two separate bands.
Pre-loaded with 40,000+ golf courses from 170 countries.
Yardages to the front, middle and back of the green.
Yardages to targets and hazards
Enhanced connectivity with your smartphone through Bluetooth.
Rechargeable lithium-ion battery that lasts for 13 hours.
Color aerial views of holes, including distances.

SkyCaddie LX5 GPS
The manufacturer describes this watch as "Golf's smartest, brightest and fastest watch".
Indeed, it is equipped with all the "bells and whistles" a golfer could possibly need.
You can get the right distances on the golf course. It has an intuitive interface that is powered by an ultra fast multi-core.
This is combined with a simple touch screen and accurate course maps for ease of use and great on-course results.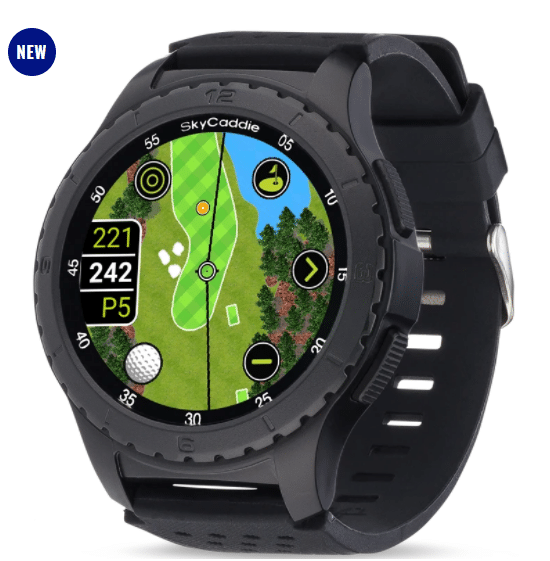 Here's what you will get with the SkyCaddie LX5 GPS Watch:
Access to more than 35,000 accurate maps of golf courses.
Full and stunning HD Graphics.
Distances to the front, middle and back of the green in large easy-to-read numbers.
High accuracy.
Has amazing IntelliGreen technology that automatically rotates to match your approach angle to the green.
Intelligent Automation includes: auto-course, auto-hole, auto zoom, auto distance, auto green depth.
There are also many more features in this highly technologically advanced device.

Best Rated Golf GPS Watches – Final Thoughts
In our review of the best rated golf GPS watches, we have chosen to recommend these three watches because they are easy to use and reasonably priced.
Golfers who have used them are quite complimentary about each of them as compared to some of the more expensive models.
I know that when I am on the golf course, I cannot always judge distances well just by looking.
This is especially true of those approach shots to the green.
I often think it is farther than it is and therefore use the right club for that distance, only to overshoot the green!
A golf GPS watch is obviously a good answer to this problem.
A similar problem occurs when I am trying to lay-up a shot to avoid a hazard.
Then, I lose my ball either in the water or the rough, or else it lands in the sand trap.
Each of the Golf GPS watches in this review not only provide yardages to the green, but also to identified hazards. Thus, I can avoid the problem.
There is no question that golf has become a highly, technologically advanced game.
Gone are the "Fetherie" and the "Guttie" and these have been replaced by aerodynamic golf balls designed by computer.
Our clubs are no longer just woods and irons, but are "metal-woods" and hybrids.
We are now blessed with laser rangefinders and GPS watches. One wonders what the next iteration will be.
I hope you've enjoyed reading this and found it useful to your particular golf journey.
I certainly welcome your questions about this article or if you would like to leave a comment, I will be sure to read it and respond.