This is my Callaway Supersoft Review.
In my previous post about the best golf balls for women, I listed a few different manufacturers' products that I believe will serve our needs well. This was one of them.
Here's what I have discovered.
Why is this ball good for us girls?
Well, as I've mentioned before, most women golfers have a much slower swing speed than many of their male counterparts.
We have already established that a softer ball will carry a lot farther and is more appropriate for those with a slower swing speed.

So, within this Callaway Supersoft Review, here are some benefits for us:
This ball has an extremely low compression core which will provide better accuracy.
Because of its core, the ball carries farther with minimal spin. Its trajectory is low and straight.
The Callaway Supersoft features new HEX Aerodynamics. This has the effect of reducing drag on the ball as it flies through the air giving a longer distance shot.
It is a two-piece ball that also has a very soft cover in what Callaway calls Trionomer (otherwise known as Surlyn).
While it is not made specifically for female golfers, this golf ball will be a great addition to any golf bag because of these benefits.
Okay, so I get better distance off the tee. What about the short game though?
This ball is designed to get greater distances for those with a slower swing speed.
Because of this design and its low spin, one would expect that it is not good in the short game.
However, because of its Trionomer cover it has a much better feel and good stopping power around the green.
Click on this image to get your Callaway Supersoft Balls.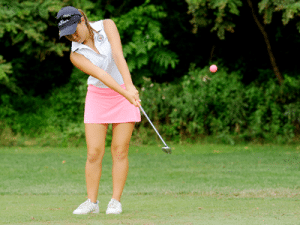 Therefore, the general consensus is that it is a good combination for distance shots and still allows the player some good control in the short game.
So, if this is what you are looking for to improve your golf game then the Callaway Supersoft is the ball for you.
Do I need golf balls designed especially for women?
No, definitely not.
The Callaway Supersoft is not a "strictly for women" golf ball. But is has the qualities that most of us need to play good golf.
In fact, some men we know who have slower swings would also benefit from using a ball like this.
I am actually going to suggest to Rick that he tries using this ball. We are both in our 70s and his swing does not have the same power that he once had!
He is always bemoaning the fact that he cannot reach the distance he is used to with his tee shot.
In addition, the low spin and straighter flight of the ball will probably assist him in avoiding either his left hook or his right slice, which often occurs.
Golf balls have come a long way since the 14th Century!
Manufacturers now have some simply amazing engineering.
They can make balls with different compression factors and different cover materials, as well as the mantles in between the core and the cover.
All this leads to golfers being able to select just the right golf ball that will enhance their game and give them the winning edge!
Performance vs Price.
This Callaway Supersoft Review would not be properly complete without a discussion about its performance as it relates to its purchase price point.
As we have discussed above, the Callaway Supersoft is designed for great performance off the tee and also the ability to provide some worthwhile control around the greens.
One might expect, then, that it may not be the most cost-effective purchase choice.
That would be a mistake because this golf ball compares well to all those outlined in my previous post – "The Best Golf Balls for Women". The others were:
Bridgestone e6 Lady
Srixon Soft Feel Lady
Volvik Vivid
Titleist Velocity
TaylorMade Kalea
So, girls, if you're looking for both great performance and a well-priced golf ball, this one should be your first choice.
Other Thoughts in This Callaway Supersoft Review.
What about the thought of being able to color coordinate your golf ball to match your golf gear of the day!
Well, you certainly can with this Callaway Supersoft Golf Ball.
I don't know about you, but I think it's great fun on the golf course to be able to play with colored balls!
Of course, some of them are not as easily seen as the boring old white balls, but fun, nevertheless.
So these golf balls come in White (of course), as well as in Yellow, Matte Orange, Matte Green, Matte Pink and Matte Red.

Imagine having a colored golf ball that has exactly the same attributes as the traditional White ball, so you can still play a great round with it.
Think what fun you could have matching them up with your golf outfit or your clubs and bag. You might be the envy of the foursome!
Anyway, just a thought.
Final Food For Thought.
Here are some things to think about when purchasing your next set of golf balls:
Know your own game – do you need help with your short game, off the tee and in the fairways – or all of them.
Understand the strength and speed of your own swing.
Choose a ball with the right compression for you.
Do the number or shape of the dimples on a ball matter? (That's a topic for a different blog post!).
How will my choice improve my game? (You will not know until you choose).
Before I started on this journey, I knew nothing about the technical aspects of golf balls. I had absolutely no idea that the choice of the right golf ball could be quite so complicated.
But now that I know, the whole process will become much easier. I hope this has helped you as much as it has helped me in coming to a decision.
Here is my first choice and recommendation for all you girls out there who are not sure which golf ball to choose.
I believe that the Callaway Supersoft is far and away one of the best for both value and performance.