You won't read much about my 3 favorite Florida golf courses in golf magazines.
They are not listed in the top 100 golf courses in Florida. But, nevertheless, they are still my favorites.
I live in a small Florida town called North Port. It is situated half-way between Venice and Fort Myers in SW Florida. So, naturally, my top choices are also in that vicinity.
If you check out the top 100 golf courses in Florida, you will discover that they are either over on the East Coast, or further south around the Naples area.
North Port and Port Charlotte are not even mentioned!
Here are the reasons why I absolutely love playing these 3 Florida Golf Courses. First, they are all within 15 minutes-drive of my home. Florida, as you know is very flat and almost at sea level. As an Aussie, I miss the hills and valleys of Australian golf courses. Each course provides some significant undulations in the land. Although these cannot quite be described as hills and valleys, they add immensely to the golf game. All three are well-cared-for, with manicured greens and fairways and beautiful surroundings. In addition, they all provide challenging, though not intimidating games.

Why I Absolutely Love Playing These 3 Florida Golf Courses!
Before I continue to wax lyrical about why I love playing these 3 Florida golf courses, I ought to tell you a little about each of them. So, here goes.
Heron Creek Golf & Country Club was designed by Arthur Hills. It features three 9-hole courses – Creek, Marsh and Oaks, each of them challenging in their own way. The course makes much of the natural scenery incorporating oak trees, pines and palmettos. Water features are dominant and, of course, house some of Florida's much maligned alligators!
Riverwood Golf Club was designed by Gene Bates. An 18-hole course, and like Heron Creek, this course is steeped in nature making great use of banks of Florida pines and beautiful lakes dotted strategically around. It boasts a four and a half star rating from Golf Digest.
Charlotte Harbor National Golf Club at Bobcat Trail was designed jointly by former PGA Champion, Bob Tway and architect, Lee Singletary. Originally known as Bobcat Trail Golf Club, the Club was acquired by Rich and Ellen Smith in 2017. Since then, it has undergone some exceptional updating. While the hill and valley undulations of land are not quite as extensive as in the other two courses, the scenery is incredibly stunning and the holes challenging.
A residential estate surrounds each golf course. Thus, they are very attractive with beautiful homes and gardens dotted around the course.
My Love Affair With Golf!
My love affair with the game of golf began some 16 years ago, when I married Rick Stannard in Sydney, Australia.
Rick was an avid golfer whereas I had never ever even picked up a golf club!
One weekend he came home after playing golf with some friends. He said, "I love you, and I love golf, and I hate being away from you at the weekend". "Is it possible to fix?"
I said "Buy me some lessons, and we'll see." He did. And, thus, began my passion for the golfing life.
One thing I should tell you now is that we play golf because we love it, not to be competitive. So we never keep score. Much easier to love golf that way – no stress!
And, by the way, there is more information on this website about the History of Women's Golf and the Best Golf Balls for Women.
It Is Almost Unnecessary To Ask "Which State Has The Most Golf Courses"?
It is almost unnecessary to ask this question because, of course, it is Florida. There are estimated to be more than 1,100 golf courses scattered throughout the State.
Golf is an $11 billion industry. Approximately 48 million rounds of golf are played annually in Florida.
The majority of these during the Fall and Winter months from November to April when the weather is more conducive to outdoor sports.
The professional golf bodies – PGA, LPGA and the PGA Tour are all housed in Florida, in Palm Beach County on the East Coast.
With all this golf activity taking place in Florida, it is not surprising that my 3 favorite golf courses should also be situated in the sunshine state of Florida.
We'll talk more about them in a minute but first I want to tell you about Jupiter Island and the popularity of golf in Florida..
Jupiter Island – Home Of Rich And Famous Golfers.
Many PGA Tour golfers have made the exodus from cold northern climes down to warm and sunny Florida – in particular to the Jupiter Island area in Palm Beach County.
Current estimates are that more than 30 PGA Tour Members now call this area home. In addition, a significant number of professional golfers, both male and female, have made the move, too.
Jack Nicklaus began the exodus back in 1966. Some of the famous golfers you might see playing on one of the 15 courses in Jupiter include two octogenarians – Jack Nicklaus (81) and Gary Player (85).
In addition, there could be:
Tiger Woods
Ernie Els
Greg Norman
Nick Price
Bernhard Langer
Rickie Fowler
Rory McIlroy
To name but a few, and Phil Mickelson is about to join them and build a house on Jupiter Island.
But I digress, so let's get back to my 3 favorite Florida golf courses.
My 3 Favorite Florida Golf Courses.
Heron Creek Golf and Country Club.
What I really love about this golf course are the differences between the three sets of 9-holes.
Oaks is even more hilly than the other two. Marsh has a lot of rough terrain hazards and Creek features some incredible lakes.
In fact, the first tee on Creek requires driving across a lake. All this leads to an interesting and challenging round of golf.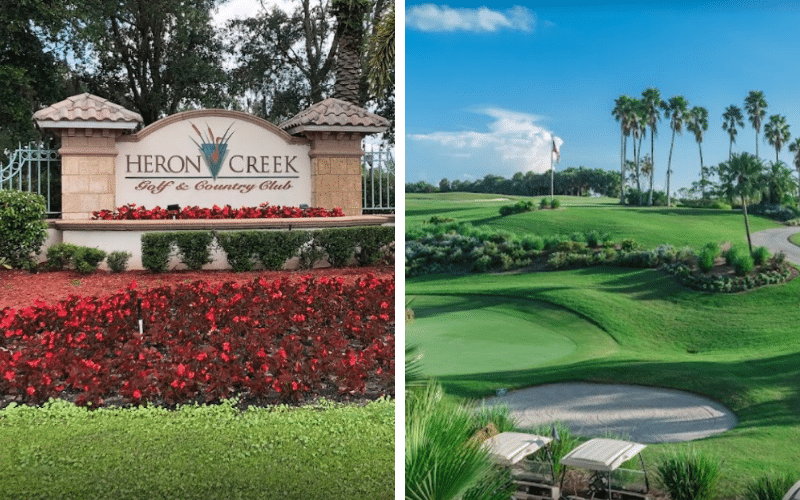 Riverwood Golf Club.
As I mentioned above, Golf Digest rated Riverwood with 4.5 Stars and it is situated in a beautiful natural environment.
Gene Bates designed it to take advantage of the natural Florida vegetation, with the front nine engulfed by many stands of Florida pines.
Then the back nine features wetland terrain and salt marshes.
If I had to, I would assess Riverwood as being more challenging than either Heron Creek or Bobcat.
In fact, I love it because of this and because it is considered to be one of Florida's best kept secrets!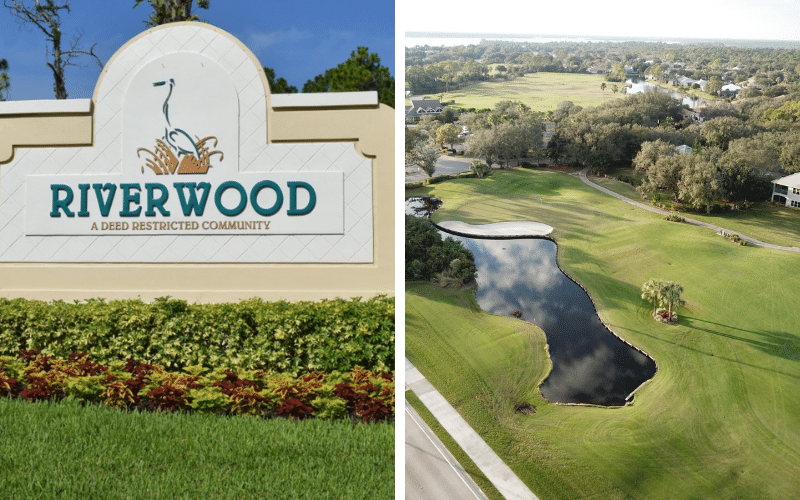 Charlotte Harbor National Golf Club at Bobcat Trail.
This course is quite different to the other two and has a more expansive, open feel to it. When playing there, I love that "wide-open-spaces" feel.
In addition, bunkers are sprinkled generously around the course so green approach accuracy is crucial.
Water is featured heavily around the course creating more hazards for lost balls. I particularly love the openness of this course.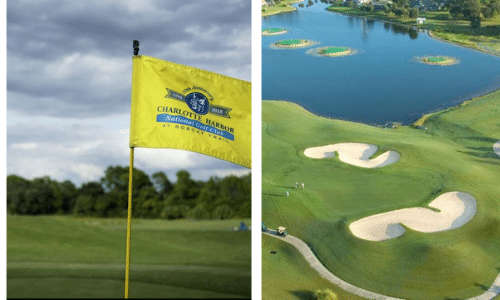 Finally, There Is The 19th Hole!
Each of my 3 Favorite Florida Golf Courses features a really awesome Clubhouse (19th Hole!) with great dining facilities.
After all, what could be more pleasurable after a challenging game of golf than to visit the "19th Hole" for drinks and a good meal.
Bobcat has the Cahoots Bar & Grill offering light lunches and full service bar and grill meals.
Golfers can have lunch and drinks at The Riverwood Clubhouse, but dinner service is reserved for Members and their guests only.
Heron Creek, however, provides golfers with a range of choices.
There is the Heron's Roost Grille Room, Top of the Green Main Dining Room and the Courtside Cafe. All feature varying menus and full bar service.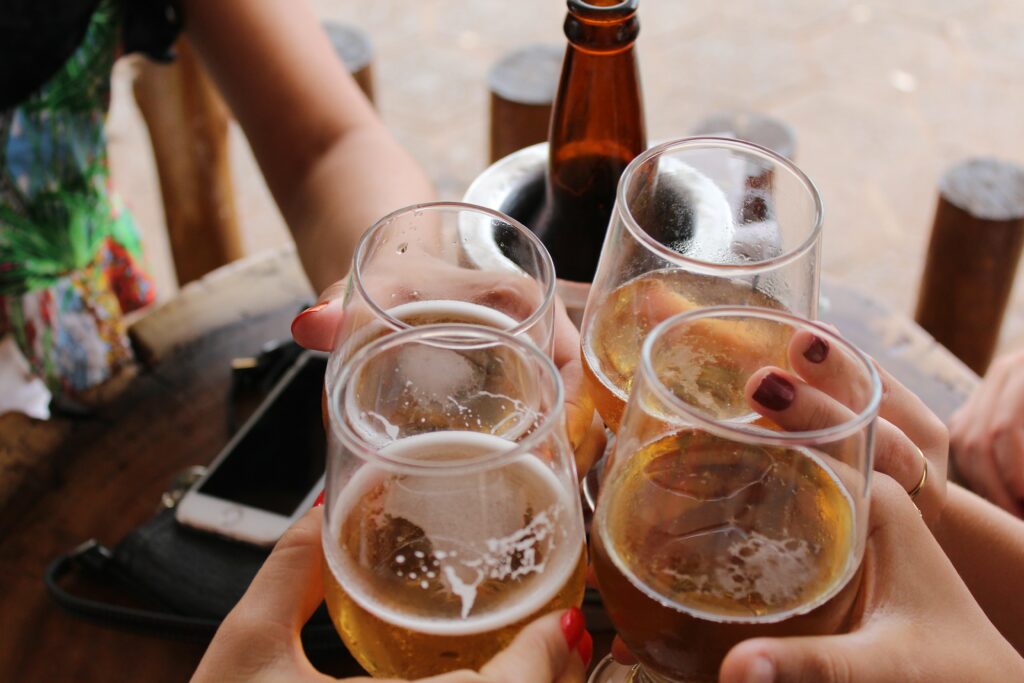 Therefore, the only thing left for me is to extend an invitation for you to join me for a game at any of my favorite Florida golf courses.