What are the best golf putters for women?
Maybe you purchased a full set of clubs that included a putter when you began.
If so, perhaps you have not considered this question.
Even so, maybe you are tired of your old putter and you want to update it.
Whatever your reason for considering new golf putters for women, we have you covered.
Do Men And Women Actually Need Different Putters?
Not really. 
Though they do need different sets of clubs. Check out our article here if you are about to begin golf.
Interestingly, while driving from the tee and playing off fairways, men have the stronger swing and definitely need different clubs and balls.
However, once arriving at the green, the men's and women's games are quite similar.
Therefore, they do not, in fact, need to play with different putters.
I suspect the main differences will be in the length of the shaft.
Nevertheless, we have chosen some putters that have "women" in their description and some that don't.
One thing I did bear in mind, though, is that I am of average height – 5′ 4″ – and the shaft of my putter measures 33″.
So, the recommended golf putters for women come in this size, and some are flexible.
The adjustment in shaft length allows for shorter or longer shafts – between 31″ and 35″.

Golf Putters For Women – Blade Or Mallet?
You probably know that there are two styles of putter.
The blade is the slim straight head and the mallet generally has a curved weighted head.
Of the two, the blade putter came first.
When first designed, they were actually completely flat so it was possible to use them from either side. 
However, blade putters today include technological design, particularly in the face, and will also include lines for alignment, though these are shorter than in mallet putters.
The advantages of using blade putters:
Great to use on fast greens.
Really good for arc stroke players.
Consistency on impact.
Exceptional feel and control on the green.
The disadvantages:
Alignment is not as good as the mallet.
It is less forgiving.
The mallet putter is generally larger than a blade.
When they first hit the market, mallets were semi-circular and this extended farther out the back of the putter.
Over the years, mallet design has improved and changed.
So that, in addition to the traditional semi-circle, there are squares, fangs and spiders.
The advantages of using mallet putters:
They are more forgiving if you hit the ball off-center.
Alignment is a breeze with a mallet.
The shaft can be either at the heel or centered.
Great for the straight stroke player.
The disadvantages:
Not as good as the blade on fast greens.
If you have an arc sroke, you should use a blade.
I'm sure that whichever you choose is just a matter of preference.
Since I started playing golf about 15 years ago, I have always used a blade style of putter, and I have never tried to use a mallet.
After conducting this research, though, I may just decide to experiment on different styled putters!
So, here are the golf putters for women that we have chosen for this article..
First, The Blades.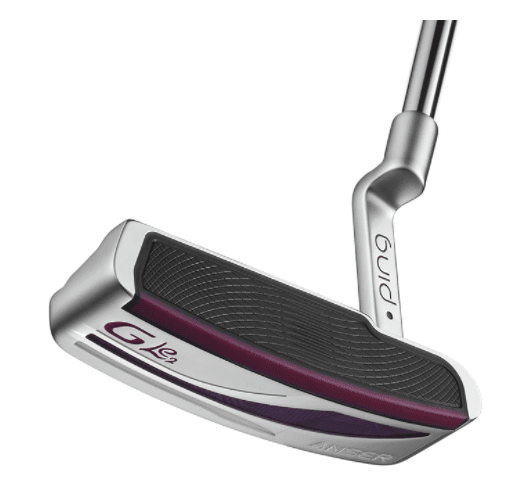 Ping has been making this putter for many years. It features great forgiveness and a wonderful feel. 
In addition, it has an adjustable shaft that can be anywhere from 31″ to 35″ in length for better performance.
With the enhanced face technology, this putter will help your consistency on the green.
The manufacturer of this Cleveland Huntington Beach SOFT putter says it has been reimagined to feature speed optimized face technology.
The effect of this technology is to normalize ball speed, including those times when you hit off-center putts.
So this sounds like a really good deal if you don't always catch the ball in the center of the putter.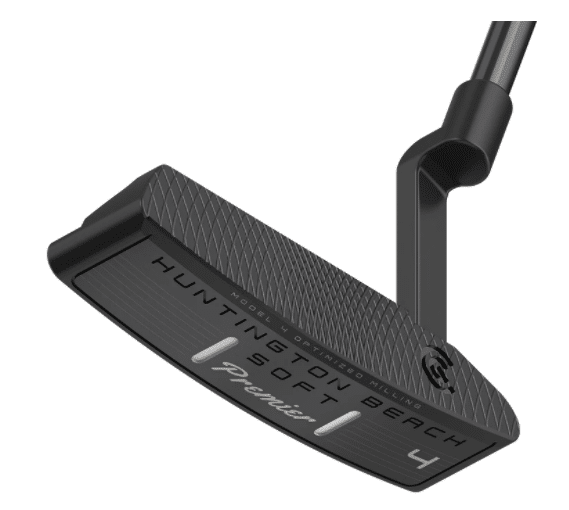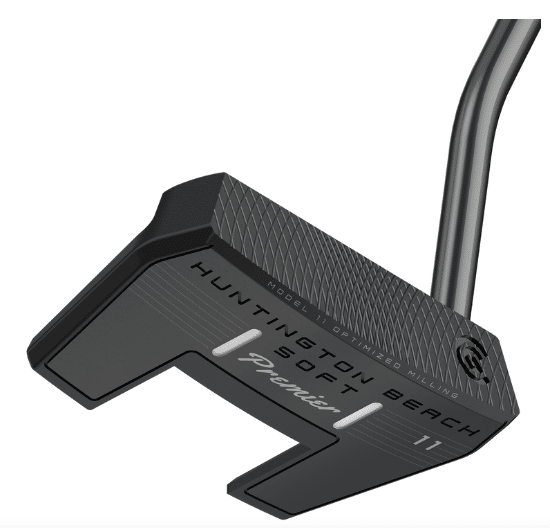 I've included this putter in the Blade section, even though it's a bit more than a Blade, though not quite a Mallet. It features "stability wings".
This promises to be one of the most forgiving putters with its weighted stability wings.
It has many of the same features as its #4 counterpart, so the technology should still ensure consistency of your shots around the green.
Now, On To The Mallets.
As with all the Ping G LE 2 series, this putter has a soft insert of dual-durometer on the club face and a firmer layer to provide consistency and feel on the green.
It also has an adjustable shaft allowing a 4″ spread.
So, if you're very short or very tall and love mallet putters, this is definitely the one for you.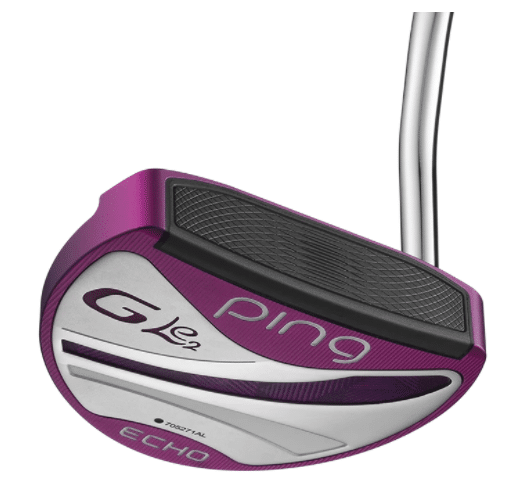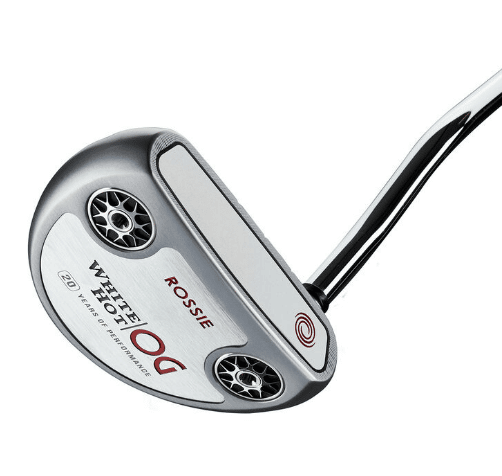 The iconic White Hot insert has been updated and brought back into this great putter. 
You can be sure of a smooth feel and roll on the green when putting with this. Enjoy the also famous Odyssey high performance grip.
And it comes in two lengths – 34″ and 35″ with the Stroke Lab red shaft.
You won't regret your purchase of this Putter.
The features of this Putter include great parallel and perpendicular sight-lines for better ball alignment on the green. 
An oversized grip for counter-balanced technology. Moves the balance closer to the hands providing a smoother stroke.
The shaft length is 33″ and there is no adjustment possible. Its dark, anti-glare finish will help you focus on the green.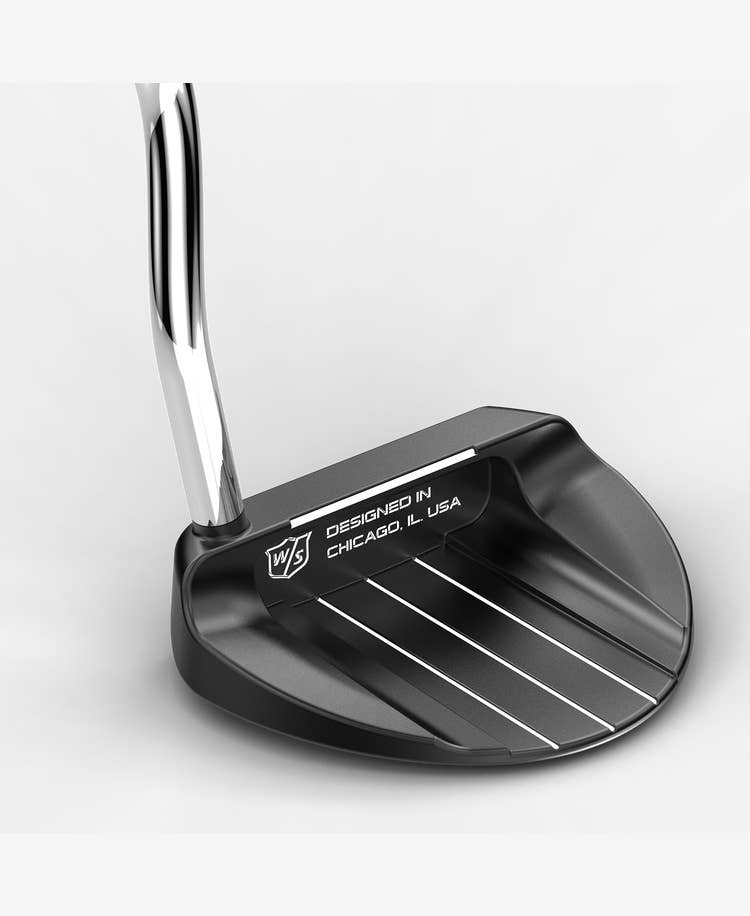 Putting Tips and Tricks
One of the tips that seems to be the most prevalent in the research I have done about this is to make sure that your aim is true.
Also that you should try to have a comfortable grip.
There doesn't seem to be a hard and fast rule to the grip. When you find out what works for you, stick to it.
Here is a good article that gives 10 tips for making great putts.
Golf Putters For Women – Final Thoughts
I hope you have found this article helpful in your quest to find a new putter to add to your golf bag.
Golf is a serious game, especially if you are competitive.
However, remember that it should always be fun, too.
Rick and I love the game of golf and always have a great time playing.
This is partly because we are not competitive. So when Rick taught me to play, he said that we should not bother scoring.
Thus we could enjoy the game without the tension of getting a bad score.
Now, 15 years on, we've never joined a golf club. We've never won a golf tournament.
And we still love playing golf!