Have you read those articles about how playing golf with your significant other is fraught with danger for your relationship? Well, this article is different. I shall talk about how to have fun playing golf with your spouse (or significant other).
Whether you're an experienced golfer or a beginner, we'll tell you how to make the most of your golfing experience together.
It's not about choosing the perfect golf course. Nor is it about giving helpful and uncritical tips.
You can discover the secrets of creating a lighthearted and enjoyable atmosphere, where golf and laughter go hand in hand.
So, grab your clubs and put on your golf shoes. Get ready to have fun playing golf with your spouse. Tee off for two and make some happy memories on the fairway.
Why We Love Playing Golf Together.
Ever since I learned to play golf (about 15 years ago), Rick and I have always loved playing together and had fun.
What is our secret?
Several things, really. The first of which is that we never keep score. Our objective when we go out together, is to enjoy the day, without stress.
Rick has played golf for most of his life and never kept score. So, naturally, he taught me to do the same. Neither of us is highly competitive, so we don't need to keep score to enjoy the game.
Next, is that golf courses are usually situated in beautiful surroundings. We make it a point to enjoy the beauty and being outdoors together. We love playing golf, so it is the perfect activity for us when we combine leisure with exercise.
Despite the fact that we know each other very well – we've been together for 20 years – there is still stuff to learn about each other. The strategies and problem-solving involved in golf often give each of us new insights about the other.
Finally, it is a great way to meet new people and make new friends. We often find ourselves paired with another couple, who also love golf.
Four of our closest friends are people we met first, and were paired with, on a golf course. You may be surprised to know that two of them are Swiss. They travel from Switzerland almost every year to play golf in Florida during the winter months.
Is Golf Course Choice Important?
I'm not actually sure that there is a right or wrong golf course on which you can have fun with your spouse.
We play mostly on local Florida courses that we enjoy. I would certainly recommend choosing a course that has some challenges, though is appropriate to the the skill level of each person.
Here is one thing I would recommend. Make sure that the course you choose has a great 19th Hole with good food and a bar.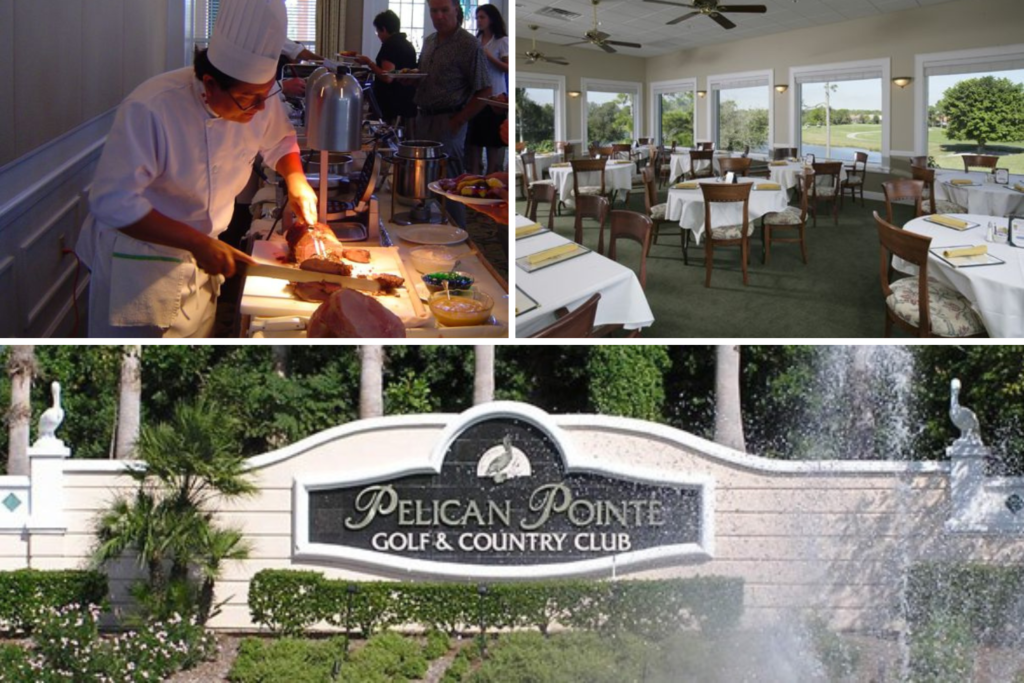 There is nothing quite like relaxing after the game with your spouse or significant other over a good meal and a few drinks.
This is certainly how to have fun playing golf with your spouse.
Observe Golf Etiquette While On The Course.
Just because you and your spouse are out there to have fun and enjoy the day, doesn't mean you should not observe normal golf etiquette.
There may be others on the course with you who have a more serious and competitive attitude towards the game.
So, make sure that you do not meander too much or search too long for lost balls.. Keep pace with the group ahead.
Help to keep the golf course in good condition and repair divots and ball marks – especially on the greens.
Lastly, respect the other players and help to minimize noise and distractions. You can still have fun if you avoid talking loudly or on the phone while others are teeing off.
Everyone should be able to enjoy their golf day out in their own way.
How To Have Fun Playing Golf With Your Spouse.
Here are three ways to play the course and spice up your game.
Alternate Shot: This game is exactly what it's title suggests. One of you tees off, then the other hits the next shot and so on, until you reach the green. This requires you to play as a team and communicate well to develop strategy.
Closest to the Pin: You decide together to choose a specific hole (or holes) to see which one of you can land the ball closest to the pin. This certainly adds some friendly competition into your game, and can help you with accuracy and understanding distance. 
Scramble: Teamwork again. Both of you tee off and then choose the best shot. You both continue to play from there. This game can help you both to achieve a good score – that is if you do decide to score after all.
The aim of your day out is to have fun and enjoy the day outdoors together. Only friendly competition is allowed – nothing serious. Neither of you  will win nor have a perfect game.
Planning A Golf Getaway For Even More Fun.
This can be the ultimate fun experience for couples who love golf, and who love playing together.
Plan the vacation together for an opportunity to explore new courses, enjoy luxurious accommodation and immerse yourselves in the world of golf.
Decide whether you want to plan a short trip 2-4 days or something longer, perhaps two weeks. Then choose the desitnation accordingly.
If a mini-vacation, you may want to stay in one location and play at one course. Alternatively, for something longer, make sure that your destination offers several courses and different amenities.
Are you going to fly or drive.? Do you have the right travel equipment for your golf clubs and accessories.
You can research all the details online yourself, or choose to travel through a vacation planner.
Golfing Together Strengthens Relationships.
By excluding competition and including fun and enjoyment, playing golf with your spouse can lead to a stronger relationship off the course.
There is ample opportunity for conversation and listening to each other while playing golf together. Make sure you use this unique moment to deepen the bond between you.
Encourage and support each other in both golf and life. Celebrate your successes and give encouragement during the challenges.
Maintain a lighthearted attitude towards golfing together – don't take yourselves too seriously – and most of all, have fun when playing golf with your spouse.
Final Thoughts On How To Have Fun Playing Golf With Your Spouse.
Playing golf with your spouse can be a fun and rewarding experience. 
We have shared with you in this article our own strategies for having fun and enjoyment on the golf course. In reading this article, you've learned:
Why we love playing golf together.
Whether your choice of golf course is important.
Etiquette is still important, even if you're out there having fun.
Games you can play to spice up your day.
How to think about planning a golf getaway.
How golfing together can strengthen relationships.
So, all that remains to be said is tee off with enthusiasm, embrace the challenges and have fun and enjoyment on your day out golfing with your spouse.
I know I shall.