Chromax golf balls may well be considered novelty golf balls, especially because of their metallic shiny covers.
Despite this label of "novelty", you will find that performance-wise, it does stand up.
We are going to be looking particularly at the Chromax M1x golf balls.
These have a lower compression rating than some of the other Chromax golf balls so are, therefore, more suitable for women.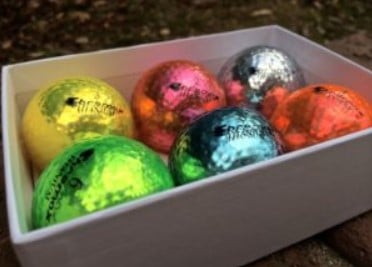 The links on this page will take you to Worldwide Golf Shops. To find these golf balls you will need to type "Chromax" into the search box at the top of the page.
Are Chromax Golf Balls Really Just A Novelty?
Actually, no!
Of course, they don't look quite the same as regular golf balls because they have those shiny metallic covers.
Nevertheless, the interior workings of these golf balls will match many others on the market today.
So, here are just a few points you should know about the Chromax Golf Ball:
It's compression rating is 75 and, therefore, slightly higher than some of the golf balls we have reviewed.
A 75 compression rating is still meant for golfers with slower swing speeds and, thus, suitable for us girls.
This golf ball has what the Chromax Golf Company calls a High Energy Core enabling it to spring off the club face.
The unique bright metallic look creates high visibility in any light situation.
Dimples are of different sizes and number 432 for great aerodynamic lift.
What Can I Expect From These "Novelty Golf Balls"?
The first thing you will notice as you use these golf balls is the straightness of flight.
When you strike Chromax with your driver, it will fly straight and true right down the center of the fairway.
Because of its design you will have difficulty slicing or hooking this golf ball.
In addition, its straight flight will ensure that your ball will carry further through the air for great distance.
How often do you track your ball through the air and then lose sight of it?
I know that I often have that problem and I get quite frustrated if I cannot see where it landed.
Well, you won't have a problem with Chromax golf balls.
Not only are they bright and colorful, but also the metallic-like finish will ensure that you do not lose them mid-flight!
I think it's always fun to play with colored golf balls and these will make it even more fun.
Then there's your short game. While it doesn't perform as well as some of those tour quality golf balls, it will be okay.
You will probably get more control around the greens than you expect, largely due to that 432 dimple pattern. This is designed for both aerodynamic lift and spin around the green.
In addition, Chromax Golf Balls are USGA and R&A Tournament compliant and are tested for this each year.
More About The Unique Metallic Appearance
The unique luminosity of this golf ball is achieved through a reflective inner lay surrounding the ball.
This is covered with a translucent surlyn outer cover to give the golf ball more durability. This reflective coating also makes the golf ball seem brighter and larger, and therefore much easier to track.
In addition, they are easier to see when they land on the fairway, as well as in the rough. The result of all this will be fewer lost golf balls and, hopefully, a lower score.
So, what colors are available in the Chromax M1x? Blue, Green, Pink, Orange, Yellow, Silver, Purple, all with the trademark bright metallic finish.

Price vs Performance
As you can see, the point of difference for Chromax "novelty golf balls" is the extraordinary visibility in all light conditions.
This is certainly a bonus to a golf ball that flies straight off the tee, giving you more distance.
Added to this, its dimple pattern and high number will give you good performance around the green.
All this combines to make it a fairly good all-round golf ball and one that is definitely worth trying.
I think I would personally love playing with these golf balls that sparkle in the sunlight. However, we do need to have a look at pricing.
The Chromax Metallic Golf Balls are definitely more expensive than some of the other golf balls we have reviewed.
Worldwide Golf Shops have a 6 pack of Chromax Mixed Color Golf Balls for $24.99. This price is significantly more than most of the other golf balls we have reviewed. The same price is charged for six golf balls as for 12 with the other manufacturers.
See our full Affiliate Disclosure here.
Golfers Comment Favorably
A review of the Chromax Golf Company website turned up many favorable comments from golfers who have used the Chromax Golf Balls.
These were from both men and women. Two, in particular jumped out at me and I thought it would be worthwhile quoting them here. Especially because both of the women managed a hole-in-one while using them.
This first testimonial is from Glenda Seles:
". . . On hole 16, I pulled out my blue Chromax, went to the tee box and hit. I then turned around to talk to someone. Our newest member said to me "I think you just went in the hole." I said "the blue is kind of hard to see, so it is probably just on the green." As we drove up I kept looking for the blue ball, but couldn't see it. I walked up to the pin and looked down and there was my pretty blue ball!! I have never had a hole-in-one but thanks to my blue Chromax I now have one!"
A similar result was experienced by Gayle DeRycke:
"I have been using the chromax golf balls for about a year. I really like the distance I get and just the feel of the balls. The colors are great. The other day, I got a Hole In One at the Bardmoor Golf Club with a pink Chromax ball! I like the chromax balls very much. Thanks!"
I have been playing golf now for quite a few years and I have to confess that I have never achieved such an extraordinary result.
I manage to get a few Birdies here and there but most of my results are either Pars, Bogeys or even worse!
It would be so absolutely exciting getting a hole-in-one, so I think I must try these Chromax novelty golf balls. Click on the image below to get yours.