My research into the best golf balls for women has turned up some interesting facts about Srixon Ladies Golf Balls.
In particular, we are going to be looking at the Srixon Soft Feel Lady Golf Ball.
Srixon has been in the golf ball business for quite some time. This is the 5th version of this particular ball.
I have already researched the Callaway Supersoft and Bridgestone e6 Soft. This golf ball is specifically designed for us girls.
How Does It Perform Off The Tee?
The Srixon Soft Feel Lady Golf Ball has an incredible performance off the tee.
It has been designed to fly straight and bounce high off the club. Its high start gives the ball a longer carry through the air and because of the way it is engineered, it can finish with a long roll once it is on the ground.
As we have discussed before, most of us girls have slower swing speeds than our male counterparts.

Therefore, we need a golf ball that has a lower compression than normal so that it operates effectively when we hit it with the Driver.
This Srixon Soft Feel Lady is a two-piece ball with what Srixon calls an Energetic Gradient Growth core.
Sounds highly technical to me, but I guess it means that it moves higher and faster off the club face.
This should really help me and others who only drive short distances!
Will It Help Me With My Fairway Shots?
It is likely that your fairway shots will be better than ever with this golf ball.
Whether you use a fairway wood, or a hybrid iron, you should get good height with it.
Srixon's new Energetic Gradient Growth core is designed to give you better performance whatever the shot.
So that once you make contact with it, this Srixon Soft Feel Lady Golf Ball will take flight and fly straight.
Some of the great features are:
Achieves good height off the tee, long distance and straight flight.
Similar performance on the fairways with woods or irons.
The very soft compression of 60 helps the ball to travel farther.
Its highly engineered core is specifically designed to transmit more energy with every shot.
This golf ball has a 344 dimple pattern for great aerodynamics.
So, as you can see from all this, Srixon Ladies Golf Balls are well worth testing out.
Even though we can describe their performance for you, we cannot know your particular golf game.
Therefore, it is vitally important that, if it sounds good to you, then you should aim to try this ball, along with others, to assess which one benefits your game the most.
What Else Is Good About Srixon Ladies Golf Balls?
Maybe you are wondering about your short game and approach shots to the green.
Well, we've got you covered with the Srixon Soft Feel Lady Golf Ball.
As we've discussed above, if you decide to use this golf ball you will get excellent performance off the tee and in the fairways.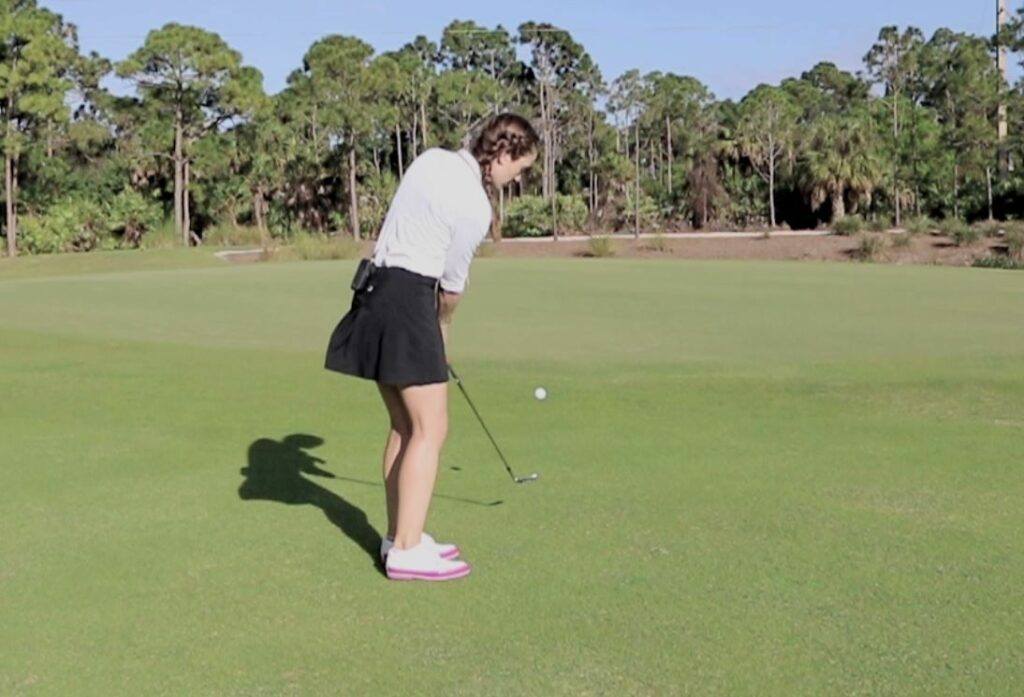 Moreover, when its high energy core is combined with the thinner and softer cover of this version, it will definitely give improved spin on the green.
If you need a long-running chip shot – this is your ball! It can also deliver a short pitch and stop shot, with practice if needed.
It is evident that this is a fairly versatile golf ball, but you certainly won't know if it is the right one for you until you try it out on the golf course.
The crazy thing is that even though this is one of our recommended best golf balls for women – it won't suit all women golfers.
I may play a better game with this golf ball. Your game may be made better with the Callaway Supersoft or one of the others.
The fun thing is going to be trying each of them in turn to discover which one will assist you to play better golf.
Price vs Performance
You wouldn't expect a professional golfer to play with golf balls designed for beginners, would you?
It stands to reason, then, that we girls probably shouldn't play with a golf ball that needs a high speed swing to compress the ball.
Modern golf ball manufacturers have devoted endless time to research and development.
The result is that now they understand the differences between the women's game and the men's game and the different needs in golf balls and equipment.
The Srixon Soft Feel Lady Golf Ball has been engineered as a high performance golf ball. It is specifically designed for us girls to make sure that we can play a better game.
You might expect that it would be pretty pricey. You would be wrong. In fact, this particular golf ball is one of the cheapest on the market and comes in at $22.99 – the same price as the Callaway Supersoft golf ball.
So, for performance and price, it would be hard to find a better ball.
Other Things You Might Like to Know.
Here is an interesting fact. Laura Davies, now Dame Laura Davies – Britain's Golf Legend – has been known to play with the Srixon Z-STAR golf ball. This ball is especially for golfers with a swing speed of 100 mph or more!!
Her fast swing speed came as a result of playing golf with her brother when she was quite young and trying to keep up!
Anyway, back to the Srixon Ladies Golf Balls. One of the additional benefits of the Srixon Soft Feel Lady Golf Ball is that it features Srixon's "Hit Straight" alignment aid.
This takes the form of a line with arrows printed around the circumference of the golf ball. The purpose of this is to assist you with aiming your tee shots and putts. Another great feature.
In addition to its great performance, this golf ball comes in two colors – Pure White and Passion Pink!
So if you want to color up your game, you can do it with this.
Another great point is that the Passion Pink ball is very easy to see on the grass and so it could be much easier to find when "lost" in the rough.
So, don't think about it too long – try this golf ball to enhance your game.