Why is Core Strength important for Golfers?
People who don't play golf (and some who do) may not realize why.
Those who do play golf will understand how crucial it is to have solid core strength,
This is especially for those who want to play consistently well throughout their lifetime, regardless of their age or skill level in this sport.
This article will help you understand why having a strong core is so important to your golf game. And what you can do to improve your core strength today and into the future.
Core strength is important for golfers because it is this that enables the whole body to move in harmony to complete the golf swing. When you have instability in your core, it is likely that you will be off-balance when completing your swing. This can have the effect of little power in your swing and golf balls careering off at different angles. Core strength is vital to good golf strokes that put the golf ball right in the middle of the fairway.
What muscles are in the core?
Your core comprises six muscle groups: two on each side of your lower back. Obliques on either side of your waist, plus rectus abdominis (your six-pack) and erector spinae in your lower back.
The core is designed to protect your spine and support movement throughout your body.
In order for that to happen, it must be balanced.
All muscles should be strong and flexible.
Keep this in mind when strengthening your core for golfing.
As with any other muscle group, you want to develop strength in your core without straining or injuring yourself.
What Is The Function Of These Muscles?
The major function of these muscles is to allow your torso and spine to rotate.
They stabilize your core while providing balance, enabling you to move efficiently.
The core muscles also help protect your lower back and spine by acting as a natural cushioning system.
Strengthening your core muscle group will keep them toned for those times when you need extra support.
Especially when bending over a putt or swinging a club.
You can improve your golf game by strengthening these critical muscles.
How Does Golf Use Your Core?
Your core is used during almost every swing—from driving to putting.
So, developing strength will improve your game no matter what stroke you play.
Core exercises also help improve balance and stability. This can make a huge difference on course by reducing stress from mishits or slips on wet turf.
Even if improving your golf game isn't your primary goal, developing core strength can have an impact off course as well.
Good posture will help relieve pain from injuries like slipped discs or bulging disks, while regular exercise helps maintain bone density.
How Does Core Strength Affect My Golf Swing?
Your core strength can affect your golf swing in many ways.
If you have weak abs, for example, that could affect your ability to rotate and cause problems with your golf swing.
In other words, if you have a weak core, your entire body is unstable.
We all know that during a golf swing there are multiple muscles working together in harmony.
If any of those muscles move too much or not enough during a swing, you might struggle with consistency.
Having a strong core will help give you stability.
So it's easier to keep all of your muscles moving as one and producing consistent shots when you play.
There is even more to consider if you want to attain the perfect swing, and we have written about this right here.
Is Strength Or Flexibility More Important In Golf?
While core strength is vital, flexibility is also important.
This is because an inflexible core may actually limit your ability to hit certain types of shots.
The main thing here is that while core strength and flexibility may seem like they are at odds with each other (and they kind of are), both are necessary for good golf performance.
Core strength helps make sure everything stays stable and flexible.
This helps ensure every part of your body moves together without resistance.
That's why it's important to work on both components individually—you want them working together seamlessly when you get out on the course!
What Time Is Needed Each Week To Improve Core Strength?
To improve core strength, most fitness professionals recommend performing core exercises two to three times a week.
Performing these exercises multiple times a week increases your chances of seeing results quickly.
And may be enough to help you improve your golf game.
The American Council on Exercise recommends including a full-body strength workout in your weekly exercise routine.
In addition to including targeted core exercises in your routine, you can also perform stretches that improve flexibility, balance and coordination.
These exercises will not only help you improve your core strength but will also help prevent injuries during play.
Which Exercises Will Increase Core Strength?
There are two fundamental exercises for improving your core strength and flexibility.
Planks and Dead Bugs.
Both strengthen different core muscles, but it's good to do both, or a combination of both.
Here is a great video with a range of core strengthening exercises: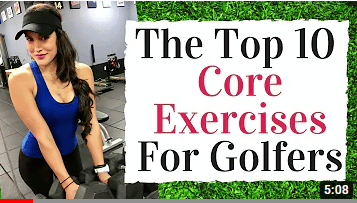 Planks offer versatility because they can be done at home or outdoors, plus they target one specific muscle group – your abs!
So, we have discussed which is more important core strength or flexibility? And, of course, it depends.
Core strength improves balance and stability while flexibility helps improve range of motion.
If you're a beginner golfer, I recommend focusing on core strength first.
It will help build up your overall stability as well as keep you from getting injured during your golf game.
However, once you become more advanced with golfing then focus on improving flexibility.
This can be done through yoga and stretching exercises to help improve your swing range of motion.
Final Thoughts On Why Is Core Strength Important For Golfers?
So, there you have it.
The strength of your core will ensure that you have good control in your golf swing.
You need to be able to generate power when you swing at the golf ball and a strong and stable core is what you need.
If you focus some attention on this area of fitness, it is likely that your golf score will improve dramatically!
Golf is a fun game, especially when I play with Rick and we don't keep score.
However, if your body is not in sync with the game, you may cause yourself injury.
Do take care of your core and your golf game will take care of itself!