Let's discuss the best senior women's golf clubs.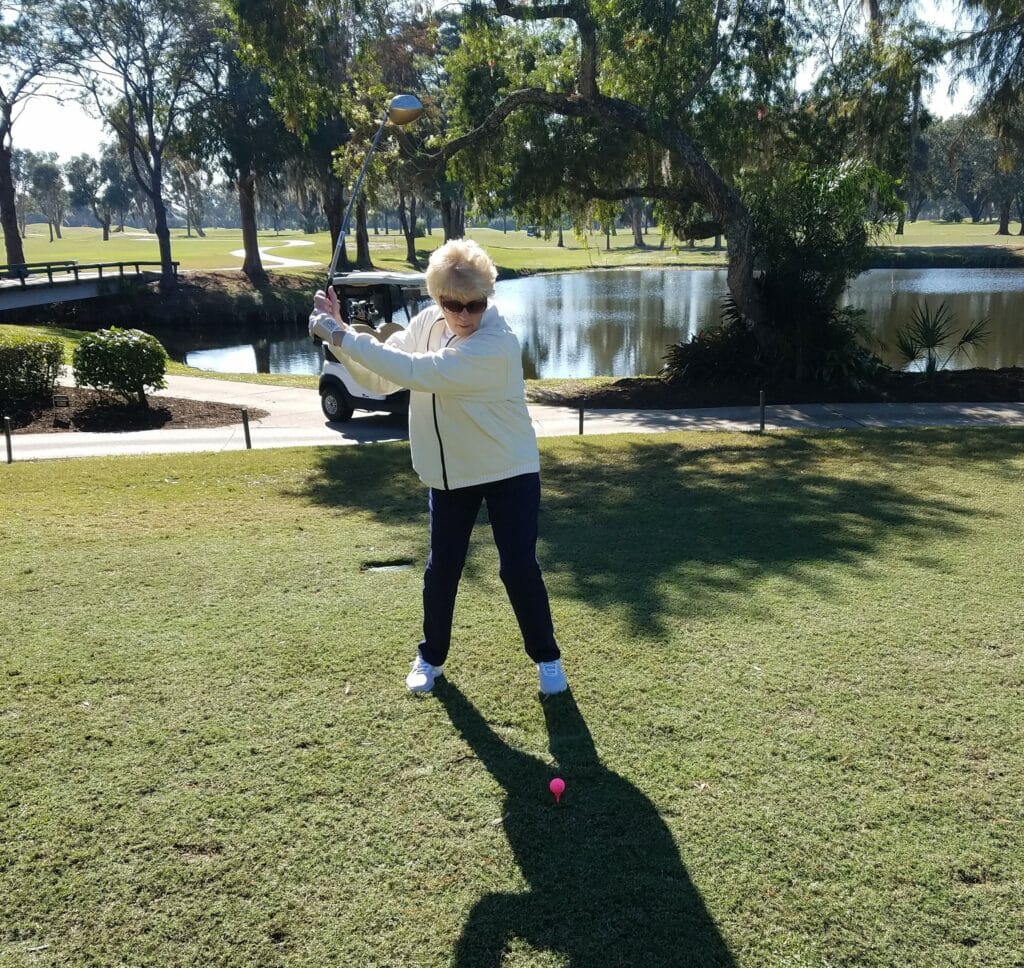 I am a senior woman golfer.
In fact, I didn't start playing golf until I was over 60. Thus, I have been a senior for all my golf-playing years.
So, I thought it would be worthwhile to research this topic to see if I could find out what are the best senior women's golf clubs.
Read on to find out what I have discovered.
Why Do Senior Women Need Different Golf Clubs?
First, we should discuss how your game might be different when you reach that "senior" age.
It stands to reason that once you are over 55 or even, 60, your body and strength changes.
Of course, it has been changing ever since you started playing golf. You probably didn't notice it, until now!
It may be that your swing has slowed from what it was.
Maybe you are suffering from back problems or arthritis.

Whatever the cause, your game is probably different now and this is the prime reason that you will need a different set of clubs.
So, girls, perhaps you are finding that your shots are much shorter than before and maybe less accurate.
If that is so, you need to consider getting the best senior women's golf clubs.
Here's What You Will Need To Consider.
Let's discuss the shafts:
An important aspect to consider will be the lightness and flexibility of the shaft.
Graphite shafts are definitely the lightest and engineers have now designed what is known as "ladies flex".
The slower your swing speed, the greater flexibility you need in the shaft.
Looking at the club head:
The loft in your driver will have a direct impact on the height and distance of your drive.
A 12-15 degree loft will ensure that your ball will be sailing through the air when driving off the tee.
The club face should have a great sweet spot to ensure forgiveness for your shots.
The design and shape of the club head will also add to the accuracy of your shots.
Cavity backs do enhance shot accuracy, so this type of club head design would be helpful to your game.
How about hybrids?
For quite a few years now, hybrids have been replacing long irons in golf club sets.
Hybrids are more forgiving than irons and, thus, provide more accuracy in your shots.
You should definitely consider club sets with, at least, the longest irons replaced by hybrids.
The Best Senior Women's Golf Clubs – Recommendations.
Our primary targets were golf club sets that had lightweight, graphite shafts with "ladies flex" incorporated.
Sets that also included hybrids in place of the longest irons were important.
Additionally, good design and quality were essential. We also ensured that there were both Right and Left-hand versions available. Here's what we found.
The Wilson Family of Brands feature a number of different sports and include apparel as well as equipment.
Golf, of course, is one of the sports featured by Wilson.
The Wilson Magnolia Women's Complete Set of clubs are lightweight (with graphite shafts), designed and weighted specifically for women.
In particular, they are designed to improve the playing experience for women.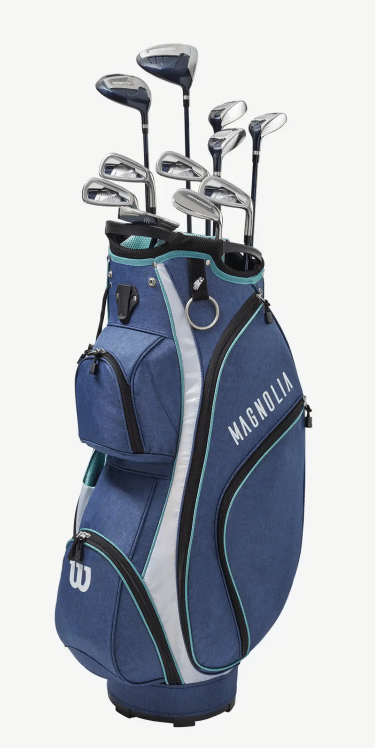 Driver
#3 Fairway Wood
#4, 5, 6 Hybrids
#7, 8, 9 Irons
Pitching Wedge
Sand Wedge
Putter
Callaway, of course, is always a trusted name in golf.
So it is not surprising that this Strata Plus Women's Golf Set is one of our top picks.
Callaway suggests that this particular set is designed for a great combination for distance and forgiveness.
The technology and design of this golf set is aimed at getting you the best performance ever from the tee to the green.
There were six reviews listed for these clubs on the Callaway website – all of them gave this set Five Stars!
In the golf bag, this set includes:
Merchants of Golf has been in the business for more than 30 years.
Their clubs and club sets have been designed with beginners in mind. Although you may not be a beginner, as a senior golfer you need equipment that is different to the clubs you were using when you were younger.
So, we chose this set because, like the others, it has lightweight graphite shafts.
In addition, there are several hybrids and the irons have deep cavity heads for forgiveness.
In the golf bag, this set includes: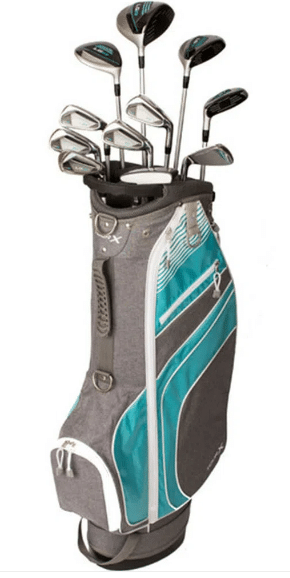 1 – 460cc Black PVD Driver with Graphite Shaft
2 – Low Profile Black PVD Fairway Woods with Graphite Shafts
1 – Perimeter-Weighted Black PVD Hybrid with Graphite Shaft
6 – Deep Cavity Stainless Steel Irons with Graphite Shafts
1 – Offset Alignment Putter
All Hybrid Sets – An Innovative Idea!
During our research, we came across two companies that have designed all hybrid golf sets.
This surely is a different concept that replaces all the irons with hybrids. And that includes the Pitching Wedge!
It would possibly take some time to get used to these and would certainly alleviate those difficult long iron shots.
Of course, you still need to keep your driver, sand wedge and putter but these hybrids replace the rest.
Both of these sets are available from Amazon and Walmart. We wanted to include them even though we do not have affiliate relationships with either company.
A Google search for either will find them for you.
Majek Senior Lady All Hybrid Set
Before coming out with this set Majek undertook a significant survey of senior female golfers.
They discovered that by far the most difficult part of the game for them was using the irons effectively.
As a result, the Majek engineers designed this All Hybrid Set for senior women.
The "lady flex" graphite shafts and the specialized designs ensure that senior female golfers can get the best from every shot.
This set includes #3, 4, 5, 6, 7, 8, 9 and Pitching Wedge Hybrids.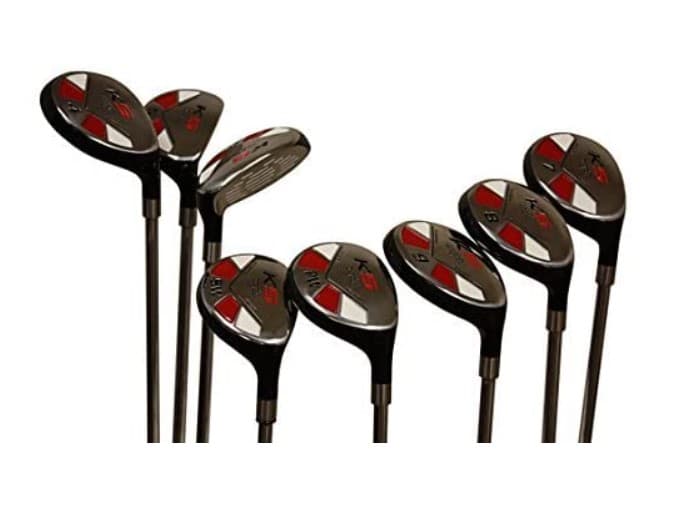 iDrive Senior Women's All Hybrid Set
This second set of all hybrids also has lightweight "lady Flex" graphite shafts to provide better swing capability.
An additional feature is a specially designed arthritic grip. This is made in the USA from a high quality thermo plastic rubber compound.
There is great aerodynamic design, giving higher club head speeds, leading to more distance.
This set also includes #3, 4, 5, 6, 7, 8, 9 and Pitching Wedge Hybrids.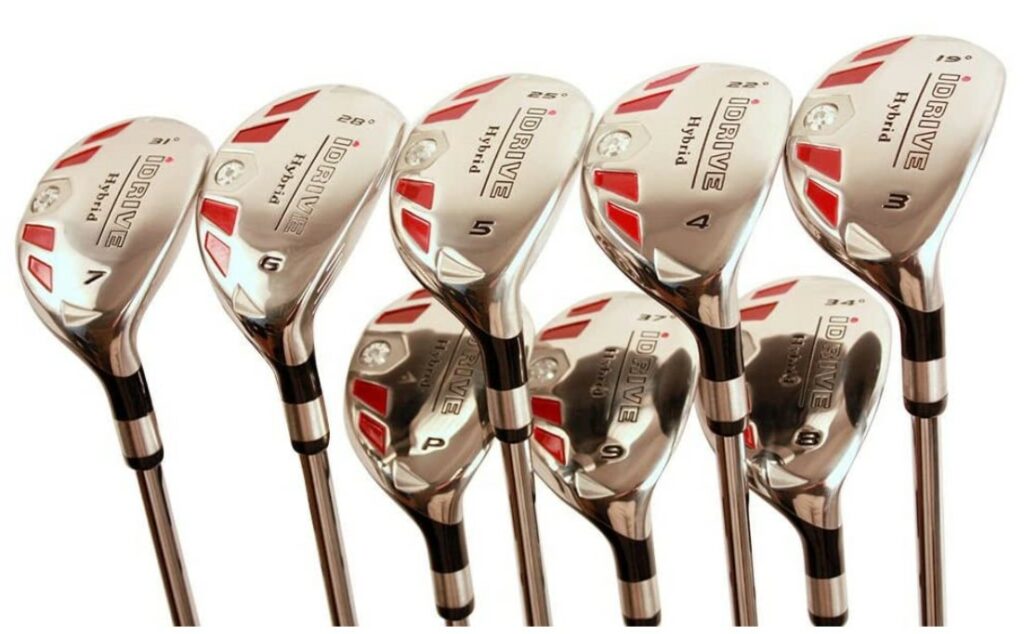 Some Final Thoughts. . .
Well, I think our research has generated some extremely good options in regard to the best senior women's golf clubs.
This includes the innovative idea of converting your existing club set to all hybrids.
We hope that the advice contained in this article will help you sort out your thoughts about your own needs and choices.
Having the right equipment will surely improve your game. As Tiger Woods once said:
"No matter how good you get, you can always get better — and that's the exciting part."