Which are the best women's beginner golf clubs?
Golf is one of the activities that I never imagined myself doing.
All it took for me to get involved and begin my golfing life was the love of a good man, who was a golfer!
It was not until I was over 60 that I married Rick Stannard and started playing golf.
So, remember you can be a "beginner" at any stage of your life, especially if it is something new that you have never tried before.
Golf, of course, requires specialized equipment and we are going to be talking about the best women's beginner golf clubs here.
A Brief Understanding of Golf Clubs
The Clubs that will be in your golf bag have different names and are there for different purposes.

We'll start with the Driver.
The Driver can also be known as the #1 Wood.
(This harks back to the time drivers and fairway clubs were made of wood.) But the woods of today's golf are known as "metalwoods".
This was first invented by Gary Adams who founded TaylorMade. The Driver has the largest club head and is the first club used in the game to drive the ball from the tee.
Fairway Woods: Today some of these are more likely to be "hybrids".
A hybrid club will have the accuracy of an iron while combining this with the distance achievable with a fairway wood. And, as you can guess, are used on the fairways.
Irons or Long Irons: Irons are numbered from 3 through to 9 and each have different lofts and distances.
However, it is most likely that the lower numbered irons have been replaced by hybrids I generally only carry 6 through 9 irons in my golf bag.
Wedges: Most golfers will carry both a Pitching Wedge (PW) and a Sand Wedge (SW).
These clubs are used close to the green and have a much higher loft than irons.
My husband, Rick, also has a Lob Wedge, which has an even higher loft and shorter distance than the other two.
Putter: The putter, of course, speaks for itself. It is the club used on the green to putt the ball into the hole.
What Will I Need In My Golf Bag As A Beginner?
Don't be alarmed! As a beginning golfer, you do not need to have everything we have described in your golf bag.
In the beginning you will only need the basics and can add to that as you get more experienced. The Golf Rules allow golfers to carry a maximum of 14 clubs in their bag.
We should just mention the different kinds of shafts. There are three different types of shafts for golf clubs.
Graphite, which is the most lightweight, Steel, which is the heaviest, and a combination of Graphite and Steel.
The weights of shafts can have an effect on how you swing the golf club, and we recommend that beginners choose either Graphite or combination shafts.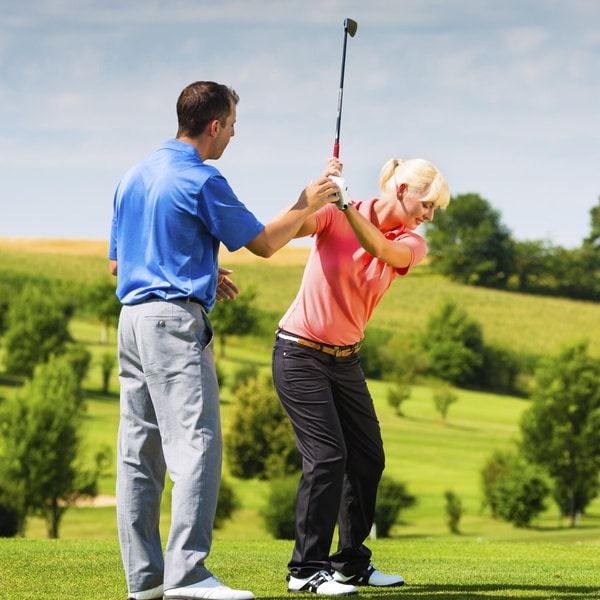 So, what are the basics you will need when you are starting out. Obviously, you will need a Driver and a Putter.
We also recommend that you have a Sand Wedge in your bag.
Our post on Golfing For Beginners has some useful information on this too.
We recommend that you also carry and use the following clubs when beginning:
Hybrid or Fairway Wood with a loft between 18 and 26 degrees
Pitching Wedge
Nine Iron
Seven Iron
With this basic set of golf clubs, every beginner should be able to become proficient.
At this stage, you may wish to add further clubs to your bag, or even upgrade to a newer more advanced set of golf clubs.
One final thought on choosing the right golf clubs. If you are taller than average or very short, you may need to choose clubs that have shafts appropriate to your height, rather than just the standard length.
We Recommend These Best Women's Beginner Golf Clubs
One of the criteria we used in finding the best women's beginner golf clubs, was that they should have both Right-Hand and Left-Hand sets available. Because, of course, not every beginning golfer is Right-Handed!
To purchase this set, click on the link above. At the website, click on Clubs and Package Sets.
Here's what you will get in the golf bag: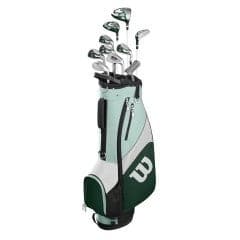 Driver
Fairway Wood
Hybrid
6,7,8,9 Irons
Sand Wedge
Putter
This is a really great starter set for any beginning golfer and will probably last you quite a while.
If you start like I did, first on the Driving Range, you'll probably only need to practice with the Driver, the 7 Iron and the Sand Wedge.
In this way, you'll be able to practice and refine your swing before getting out on the golf course.
The Wilson Women's Profile SGI Complete Golf Set comes in both Right and Left-Handed versions.
An added benefit is that in addition to the Standard shaft length, it also comes in Petite and Tall. All the shafts are graphite.
To purchase this set, click on the link above. At the website, click on Clubs and Package Sets.
Here's what you will get in the golf bag: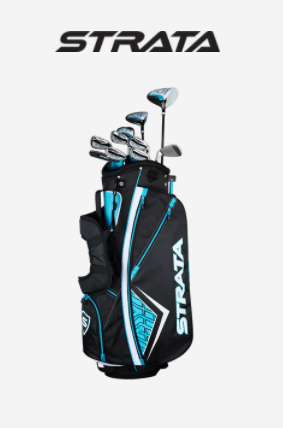 Driver
5 Wood
5 Hybrid
6 – 9 Irons
Pitching Wedge
Sand Wedge
Putter
Callaway is, of course, one of the trusted names in golf and this golf club set has everything you need to begin playing golf.
The clubs all have graphite shafts and come in both Right and Left-Handed versions.
This particular set, though does not have alternatives to shaft length.
It only comes in the Standard length which is suitable to golfers in the 5'4″ to 5'9″ height range.
If you fit within that range, then this is certainly a great option for you.
Here's what you will get in the golf bag: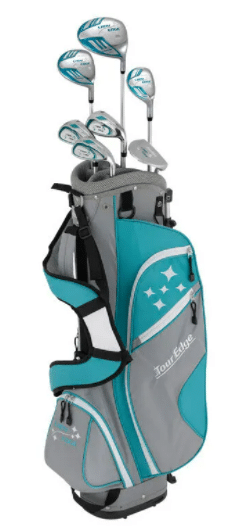 Driver
3 Wood
6 Hybrid
8 Iron
Pitching Wedge
Sand Wedge
Putter
This Tour Edge – Lady Edge Starter Set will certainly give you the edge as a beginning golfer.
Tour Edge lists it as a half-set because it contains only seven clubs. As we have explained previously, you will not need a full set of 14 clubs when starting out.
Like its counterparts above, this set features graphite shafts in both Left and Right-Handed versions. However, the shafts are only Standard length.
There are no allowances for tall or short girls. Nevertheless, this, too, is a great set of clubs for a beginner.
Choosing The Best Women's Beginner Golf Clubs
Now that we have given you options, you may still be wondering which is the right set of golf clubs for you.
There are a few things to consider when embarking upon this journey.
Price may be a factor for you. Golf is a fairly expensive sport and club sets can cost thousands of dollars.
The sets we have chosen to recommend fall within the $300 to $450 range.
They will all do the job well for you so if price is your factor, then choose the cheapest option in this list.
You will not need to fret about whether you have the right clubs in your golf bag.
We have chosen these particular sets because they perfectly meet the needs of beginning golfers.
If you are a Left-Hander – no problem, we have you covered.
All the golf club sets we chose have options for both Right and Left-Handers.
If, however, you are very tall or quite short, only two of the four recommended sets have the options you might need.
I actually played with my starter set for about 5 years before I decided it was time to upgrade.
Then I purchased the Callaway Strata Plus full women's set of clubs and have been playing with them ever since – about 10 years now and very happy with them.
I hope you have found this article helpful as you start on your golfing journey. If you have any comments or questions, I would be pleased to receive them and promise to respond.