This Bridgestone e6 Golf Ball review is my second post in this series of reviews. In my post titled "The Best Golf Balls For Women" the list I came up with included six of what I considered to be the best golf balls for us girls.
The five listed were:
Callaway Supersoft
Bridgestone e6 Lady
Srixon Soft Feel Lady
TaylorMade Kalea
Volvik Vivid
Titleist Velocity
I have already reviewed the Callaway Supersoft which is a great ball for both distance and around the green.
What's so good about the Bridgestone e6 Lady Golf Ball?
Well, this golf ball is only a slightly softer version of the Bridgestone e6 Soft golf ball.
Because of its lower compression, it's an ideal golf ball for us girls who tend to swing more slowly.
Using this ball will give us greater distance and a straighter shot off the tee. And it will still provide some excellent control around the greens.

So, unlike the Callaway Supersoft, this golf ball was manufactured with us in mind.
Its low compression and two-piece construction ensure that both greater distance and control are well integrated. In addition, the Dimple design of the Ionomer cover adds greatly to the flight distance off the tee.
So, many of our male counterparts, who may have slower swings, would benefit from using this golf ball. That is, of course, if they can overcome their ego and use a golf ball that has the term "Lady" associated with it!
Isn't Bridgestone a Tire Manufacturer, Though?
Indeed, it is!
Bridgestone was established in 1931 and, of course, is widely known for its tire production and other rubber products.
What you may not know is that the very first Bridgestone golf balls were produced four years later, in 1935.
So, Bridgestone has had a long commitment to golf. This came about because its founder, Shojiro Ishibashi, was a golf enthusiast.
In later years Bridgestone also sponsored other sports, such as motor racing, Olympics and Paralympics athletes.
It was not until 1997, however, that what is now considered to be the world's #1 best-selling women's golf ball, the Bridgestone Lady Precept, was actually manufactured.
It is the lowest compression golf ball produced by Bridgestone and since it was introduced, it has held its popularity among women golfers.
How Does The Bridgestone Lady Precept Compare To The Bridgestone e6 Lady?
It depends, of course, on your needs as a golfer as to which is the better choice for you.
If you are just starting out on your golf journey, it is likely that your swing will be quite slow and inconsistent.
The Lady Precept, with its 2-piece construction, really low core compression and soft cover is well suited to beginning golfers, intermediates and juniors.
Its design features the following:
Because of the core compression, it will achieve a longer tee shot with a good feel
The technology of the cover gives enhanced aerodynamics with slow to moderate swing speeds, allowing both greater loft and distance
The overall construction and technology adds greatly to the softest feel, both from the tee and around the greens.
This Bridgestone e6 Golf Ball Review Is All About the Lady Edition
If, however, you are already an experienced golfer with a consistent swing speed, and a better understanding of your needs, you should certainly look at the Bridgestone e6 Lady golf ball.
As we mentioned above, this golf ball is not strictly for female golfers, despite the term "Lady" in its name. It has been designed with a specific type of golfer in mind.
That is a golfer who has accomplished a consistently good game, but who does not have a fast swing and may benefit from its lower compression.
Some of the benefits of this ball are:
Low spin for better performance and straighter flight off the tee and in the fairway
This is a 2-piece ball with a surlyn cover. These work together to create better approach shots and high achievement on the greens.
Air resistance is reduced by the new Delta Dimple design which enhances flight
The dimple design also creates greater stopping power in the short game.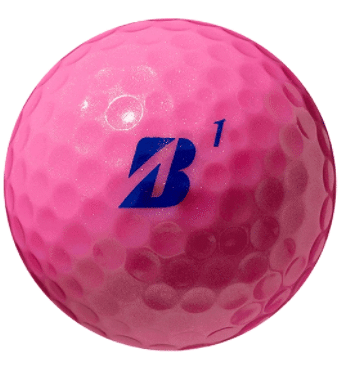 This ball is certainly a far cry from the 17th Century "Featherie" or the 19th Century "Guttie".
Thankfully for us, technology and engineering have advanced greatly since that time.
Additionally, our understanding of our golf equipment needs have also moved forward to the extent that we now have highly engineered golfing equipment, which includes our golf balls.
Price vs Performance
It is always important to understand if and how the price of the golf ball is going to have an impact on its performance.
There is that age-old saying that "you get what you pay for". Meaning that if it is cheap, it is not necessarily good.
However, that is not always the case with golf balls, and some of the cheapest have the best performance on the golf course.
So, when undertaking research for this Bridgestone e6 Golf Ball Review, it was indeed gratifying to discover that this golf ball was economically priced and a match for the Callaway Supersoft.
Therefore, given the performance of this golf ball, as outlined above, it would seem an obvious choice to add to the golf bag, girls!
More Thoughts On This Bridgestone e6 Golf Ball Review
The color range for this golf ball is not quite as extensive as the Callaway Supersoft. It does, however, come in standard White and Bright Pink.
I'm having so much fun finding out all this information about the best golf balls for women.
I now know how core compression works and that there are two-piece, three-piece and even four-piece balls. There are mantles and covers, all of different strengths and qualities.
Then the aerodynamics must be considered, especially with a softer core. And finally the design needs to ensure that the short game is also well taken care of.
I hope you're having fun, too, as you travel this journey with me. This Bridgestone e6 Golf Ball Review incorporating the Lady Edition definitely suggests that you should try this out for yourself so that you can see if it is the right ball for you.