Can you still learn golf at 70?
You've been retired for a while.
You had a great working life and brought up fabulous kids, who now have kids of their own.
Now it is time for you.
So, you're now 70 and wondering if you're too old to take up something you've always wanted to do.
Play golf.
The answer to the question "can you still learn golf at 70?" is most definitely – YES. Of course, you should be reasonably fit, because golf is quite a strenuous game. Because these days "70 is the new 50", many 70 year olds are actually fitter than their younger counterparts. Therefore, taking up to golf at 70 should be a breeze.
Is 70 Too Old To Start Playing Golf?
Even though we have generally answered this question already, there are one or two things I'd like to add.
You are never too old to start playing golf. In fact, my own golfing journey started when I was already past 60.
You can read my golfing story right here.
Actually, I was never a very athletic person growing up. School sports days were always hateful because I came in last in every race.
I did play field hockey at High School for a season or two, but that was the extent of it.
Therefore, no-one was more surprised than I, that I came to love golf so much.
One essential tip, I think, is don't keep score. Especially when you are a beginning golfer.
Rick, my husband and golf partner, has been playing for over 50 years and has never kept score.
He taught me the same way.
Now, we are never stressed by duffed shots or three-putts, we just enjoy the game and enjoy being together.
Plenty of time to start keeping score once you become proficient, if you wish.
What Age Is Considered A Senior Golfer?
Anyone who is 50 or above is considered to be a senior golfer.
While golf is still popular among the younger generation, the median age for golfers in the USA is 54. Therefore, a large proportion of the golfing community falls into the Senior category.
So, if you're just beginning to golf at 70, you're likely to enjoy social interaction on the golf course with those not that far behind you!
So, What Percentage Of Seniors Play Golf?
The current estimate is that 6.4 million seniors play golf. This accounts for about 26 percent of all golfers.
This number has grown by 4 percent over the past five years.
Another interesting statistic is that female golfers (both young and old) account for around 25 percent of all golfers, numbering 6.2 million.
This number is increasing every year as more women enter this male-dominated sport.
Women's golf has been a hard fought battle through the centuries. Read all about it here.
Should I Take Golf Lessons If I'm 70?
While golf can be fun and enjoyable, be prepared for it to be frustrating as well.
You may have a friend or life partner who is an experienced golfer. That doesn't mean they can teach you how to play. More likely they will teach you some of their own bad habits!
My best advice is yes, you should take some lessons to learn the fundamentals.
Most golf clubs have a Golf Pro on staff and they can help you get started. They will advise you on grip, stance, swinging the golf club and even more. In fact, everything you need to know to get started.
If you begin your golf journey the right way, you will soon become proficient.
How Often Should You Play Golf To Improve?
As a general rule, you should try to play at least once a week to begin with, more if you can manage.
When I first started playing golf, I was quite hopeless on the golf course. It was usually a day of frustration for me. My bad shots outnumbered by good shots by a ratio of 10:1.
What a surprise it was to discover that the more I played, the more I improved!
Suddenly, I was hitting more good shots than bad ones.
Since then, friends have said: "I tried to play golf a couple of times, but I wasn't any good so I gave it up". If only they had stuck with it and tried a bit harder.
Do Golf Balls Matter For Beginners?
As a matter of fact, they do. Even experienced golfers should play with the right type of golf balls to play their best game.
There is a huge difference in women's and men's golf.
Therefore, the equipment they use must also be quite different. This includes golf balls.
Women need golf balls with a softer core. This is because they swing the club more slowly than men. When the club head connects with the golf ball, compression happens, which causes the golf ball to jump off the club into the air.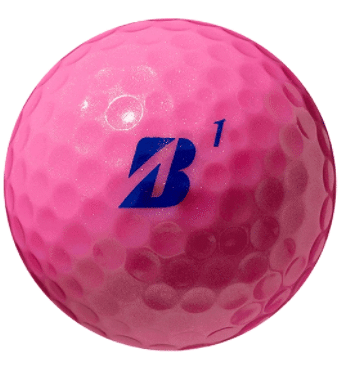 If we girls try to hit the hard core men's golf balls, they will not loft. Simply because we cannot hit them hard enough.
This also applies to beginning golfers, no matter whether they are men or women. Until you are able to increase the velocity of your swing, you should use low compression golf balls.
We have written an article about the best golf balls for women right here.
Is Golf Good For Seniors?
Golf is most definitely good for seniors.
Here are some of the reasons why:
Being out in the fresh air and sunshine is certainly beneficial to health.
Golf, and sport in general, can help to lower blood pressure, cholesterol as well as help prevent heart problems.
Improves strength and mobility.
Helps Seniors enhance their physical, emotional and mental well-being.
Achieves great social interactions, especially considering that 26 percent of golfers are seniors.
So, even if you're 70 or older, and you would like to take up golf, you should definitely take the plunge.
Are You Ready To Take Up Golf?
Golf is a really great sport for people of all ages and all physical abilities. You do not have to be highly athletic to take up golf.
I'm the runner who always came last on school sports days!
If you're anything like me, you'll find that the more you play, the better you get.
If you can play regularly, you'll find your fitness improving, no matter what your age.
Golf is a fantastic way to relax and have fun, especially if you take a leaf out of our book, and don't score.
At least when you're beginning.
Later on, you might want to keep score to get a handicap and participate in tournaments.
One of the great things we have found about playing golf, is that you acquire new friends.
Some of our best friends today are people we were paired with on the golf course.
The social aspect of golf cannot be overstated.
We greatly value our golf friendships.