Do you struggle with slicing your drives on the golf course? If so, you're not alone. However, we've got a solution for you. The Cobra Women's Air-X Offset Driver has you covered.
Many of us struggle with this frustrating problem, and don't know how to fix it.
We recently had the opportunity to test out the Cobra Women's Air-X Offset Driver on the course, and we were blown away by the results. Not only did it help us eliminate our slices, but also it added distance and accuracy to our drives.
So, now we'll share our experience with this Driver and explain why we think it's a game-changer for anyone who struggles with a slice.
Slicing the Golf Ball Can Be A Huge Problem.
Slicing is a common problem that can ruin your game.
A slice occurs when the ball spins off to the right (for right-handed golfers) or left (for left-handed golfers) of the intended target.
Slicing is caused by a range of different things, including an outside-to-inside swing path, an open club face, or an improper grip.
Whatever the cause, slicing can be frustrating, especially when you keep doing it.
The good news is that the Cobra Women's Air-X Offset Driver can help eliminate your slice.
This is because the club is designed with an offset hosel, which means that the shaft is positioned slightly behind the club face.
This helps to square the club face at impact, reducing the amount of spin on the ball and promoting a straighter shot.
The club head is also designed to be forgiving, taking care of those off-center shots.
But the Cobra Women's Air-X Offset Driver isn't just for slicers because it also comes with a straight shaft. So, it's a great choice for golfers who want to add distance and accuracy to their drives.
The driver is designed with a titanium face and carbon fiber crown. Thus reducing weight and increasing club head speed which can add distance to your drives.
Our Personal Experience With The Driver.
We were eager to test out the Cobra Women's Air-X Offset Driver and see if it lived up to the hype.
We (that is Janet and me) headed out to the golf course with high hopes, and we weren't disappointed.
From the first swing, it was evident that this club was something special. The club head felt light and easy to swing, and the ball flew off the face with a satisfying "thwack."
One of the first things we noticed was how much straighter our shots were. We're both prone to slicing, so it was a relief to see the ball flying straight down the fairway.
But what really impressed us was the distance we were getting – usually 10 to 20 feet more.
We both hit our drives farther than we ever had before. And even when we didn't hit the ball perfectly, we still got good results. Even our mishits were better than they would have been with our old drivers.
Overall, we were extremely impressed with the Cobra Women's Air-X Offset Driver.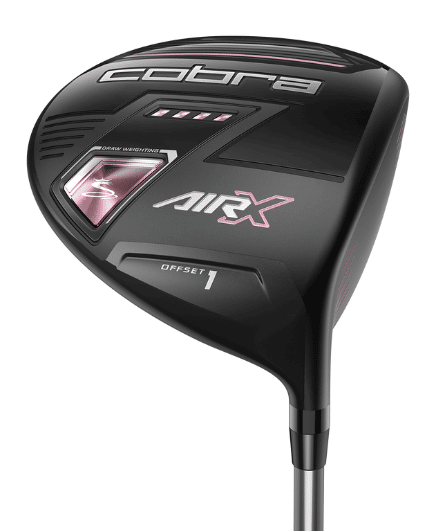 Key Features and Technology.
The Cobra Women's Air-X Offset Driver is packed with features and technology designed to help us girls improve our game.
Here are some of the key features:
Offset hosel: The offset hosel helps to square the club face at impact. This is definitely a huge bonus for slicers because when you hit the ball square on the club face, you get a straighter drive.
Titanium face: The club face is made of titanium, which is a lightweight and durable material. This allows for more weight to be distributed to the perimeter of the club head, increasing forgiveness and promoting a higher ball speed. Forgiveness in the club head will even out your mishits and give you a better result.
Carbon fiber crown: The crown of the club is made of carbon fiber, which is even lighter than titanium. This reduces weight in the club head and promotes swing speed. The lighter weight of the club head is important in giving you more flexibility in your swing.
Speedback technology: Speedback technology means that the weight is positioned low and back in the club head. This builds a higher launch and more ball speed, giving longer drives. A higher launch will ensure that your drives go farther.
MyFly8 technology: The driver has eight adjustable loft settings, ranging from 9 degrees to 12 degrees. You can fine-tune your launch angle to optimize the ball flight.
All these features work together to make the Cobra Women's Air-X Offset Driver a powerful and forgiving club.
What We Liked And Didn't Like.
As with any golf club, the Cobra Women's Air-X Offset Driver has its pros and cons. Here are some of the things we liked and didn't like about it.
We liked:
Eliminates slices.
Adds distance and accuracy to drives.
The club head is forgiving.
It has adjustable loft settings.
Light and easy to swing.
Didn't like:
We were hard-pressed to find anything that we didn't like about the Cobra Women's Air-X Offset Driver, especially for those of us who struggle with slices.
Some Tips For Improving Your Game With This Driver.
It's important to use the driver correctly to get the best results. Here are some tips;
Make sure the club is fitted to your swing. A club that is too long or too short can affect your swing and your results.
Experiment with the loft settings to find the best launch angle for your particular swing.
Focus on your grip and swing path to ensure that you're hitting the ball squarely.
Practice with the club on the driving range before using it on the course.
With a little practice and attention to technique, you can improve your game and say goodbye to your slice.
Customer Reviews And Ratings.
Of course, our personal experience with the Cobra Women's Air-X Offset Driver is just one opinion.
Therefore, to get a better sense of how the club performed for other golfers, we looked at customer reviews and ratings.
Overall, the club has received positive reviews, with many golfers praising its ability to eliminate slices and add distance to drives.
Some golfers have noted that it can take some time to adjust to the offset hosel, but once they do, they see significant improvements in their game.
The Cobra Women's Air-X Offset Driver has an average rating of 4.9 stars out of 5 on the Cobra website, which is a strong endorsement of its performance and quality.
Here are a few Reviews taken from the Cobra website: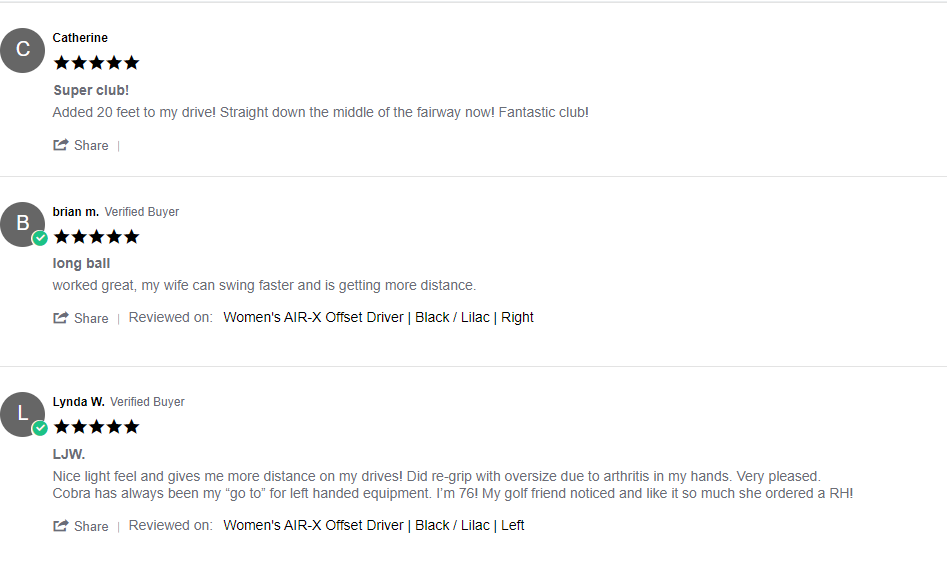 Where To Buy The Cobra Women's Air-X Offset Driver.
You can purchase this driver for $199 from Amazon, The Golf Warehouse, Global Golf and a number of other golf outlets. We recommend purchasing from the PGATour Superstore, click on the image below to buy yours.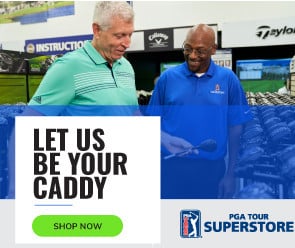 Final Thoughts. . .
So, if you want to say goodbye to your slice, you should definitely try the Cobra Women's Air-X Offset Driver. Its combination of an offset hosel, forgiving club head and adjustable loft settings make it a great choice for slicers.
We do believe that the benefits of this club are well worth the investment.
We think that you'll be as impressed as we were with its performance.