This Volvik Golf Balls Review will be focused on the brightly colored golf balls made by Volvik.
It is one of the six golf balls we have recommended as being among the best golf balls for women.
This golf ball is quite different to the others we have reviewed and is probably more suited to the girls among us who have lower handicaps and faster swing speeds.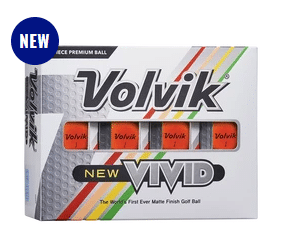 The First Thing You Notice About Volvik Vivid
We would usually leave a color discussion until later in this review.
But the first thing you notice about the Volvik Vivid golf ball is the incredible range of extremely bright (vivid) colors.
Not only that, but also there is a matte finish on them that seems to hide the dimples.
They actually seem to be dimple-less, until you pick them up and inspect them more closely.
The manufacturer claims that this matte finish is aimed at reducing glare on the golf course, and helping with your concentration.
The colors have been chosen to make the balls more visible during flight, as well as when they land.
They mostly become easily visible on the fairway or in the rough.
The Volvik Vivid golf balls come in a great range of colors. They are:
Yellow
Orange
Red
Green
Blue
Purple and, of course,
White.
I guess they might almost be called a rainbow collection! Click on the image below to get yours.

Colors Are Okay, But What About Performance?
The Volvik Vivid golf ball is graced with what the manufacturer calls a "Nano Bi High Energy Resiliant Core" and it is aimed at golfers with a swing speed of between 70 and 90 mph.
Therefore, it is probably not suitable to beginners or inexperienced golfers.
So, you should only choose this golf ball if you swing your driver at the speed mentioned.
Then, there is no doubt that you can achieve really good distance and a high flight pattern off the driver.
As well as this, it is a straight shooter both off the tee and in the fairway.
This is a three-piece ball. It has an ionomer cover and has been developed to provide minimal spin off the driver.
Because of its design and construction, though, your wedge shots should generate slightly more spin and therefore, better stopping power on the green.
Of course, a low-spin ball will always tend to roll a little when settling on the green.
It seems, then, that the Volvik Vivid may definitely be considered a good all-round performer.
What Else Should I know about the Volvik Vivid Golf Balls?
Apart from the really fun aspect of playing golf with brightly colored balls, what else is worth talking about?
The combination of the core, the inner cover layer and the outer cover provides a mid to soft feel for the ball.
There are 322 dimples in the ionomer cover which adds greatly to its aerodynamic performance.
Volvik has alignment arrows that can be used both for putting and for lining up tee shots.
It is easier to see in flight and on the ground, so fewer lost balls.
The manufacturer claims that it is the "world's first ever matte finish golf ball".
Players have said that they stay up in the air longer and actually penetrate the wind.
It has been suggested that this latter point could be as a result of the matte exterior of the golf ball – but who knows?
In addition, the matte finish helps to sustain the color and prevent fading so your Volvik Vivid actually stays vivid!
Performance vs Price
The information gleaned from our research for this Volvik Golf Ball Review indicates that the Volvik Vivid golf ball is a really good all-round performer.
Additionally, because of its bright colors, it is easy to see in flight and should be much easier to spot on the fairway. Maybe this will be another benefit that will lead to fewer lost balls.
This is the most expensive golf ball that we have reviewed so far.
Current pricing suggests that for one dozen Volvik Vivid Golf Balls you would pay between $32.99 and $37.99.
They may be the most expensive, but I'll bet they're the most fun to play with, too!
Final Thoughts In This Volvik Golf Balls Review
This is the last review of the six golf balls we chose as being the best golf balls for women.
Even though these are our first choice, we will research others that seem to be likely candidates in the future.
For the time being, though, the Volvik Vivid is certainly a fairly impressive golf ball.
Its uniqueness because of the vivid colors takes nothing away from its performance on the golf course and, in fact, may enhance it.
Not really a new kid!
Despite its seemingly being the "new kid on the block", this South Korean manufacturer has been in the golf ball business for more than 40 years.
The Volvik Vivid is only one of a whole range of golf balls made by this company.
Its higher powered Tour golf balls have been used by the professional golfers since 2012.
Therefore, you can be assured that the brightly colored Volvik Vivid golf balls are not just a gimmick.
A lot of research and development has gone into making sure that they are engineered and designed appropriately for the particular type of player at which they are aimed.
So, girls, if your swing speed is between 70 and 90 mph, you should be keen to try out this golf ball.
A friend of mine, Kerri, is an avid golfer and we played, together with our husbands, in a couple of charity golf tournaments that were staged by Charlotte Players – my community theatre group.
Both times, Kerri won the trophy for having the longest women's drive in the tournament!
It was quite an impressive achievement, especially as she drove the ball about double the distance of my drive.
She says that she absolutely loves playing golf with the Volvik Vivid golf balls.
So maybe a nice birthday or Christmas gift!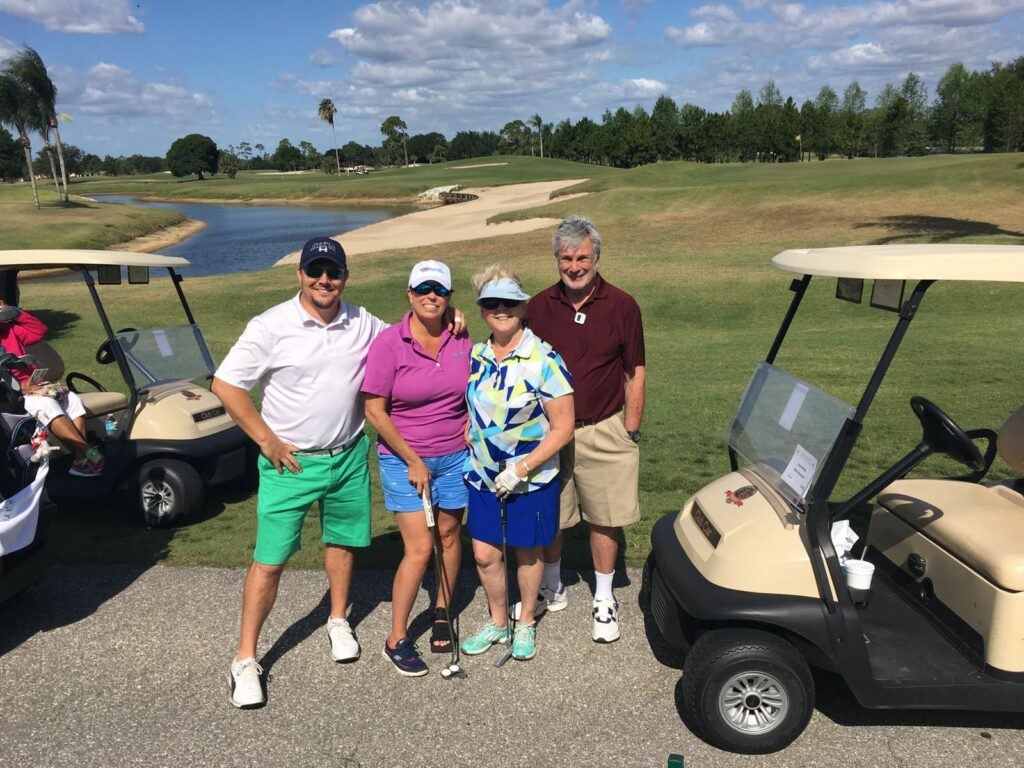 There is more information about the best golf balls for women right here.