What are the reasons why women should learn how to golf?
A round of golf used to be just something the men did on the weekend, but it's quickly becoming an activity that women are getting into as well.
Women's golf can be traced right back to Mary Queen of Scots.
We have written a full article on the history of women's golf and you can access it right here.
It was not until the late 1800s that women were actually granted the right to play this traditionally "men's game".
And after that, our predecessors fought long and hard to make women's golf accessible to all of us.
So, one of the reasons is that we should not miss out on honoring their battle to take up the game.
And here are the others.
1. Learning Some Of Life's Lessons.
Golf is one of the only sports that is umpired by the players themselves.
Honesty and integrity are important attributes in playing golf.
You are honor-bound to stick to the rules and not cheat.
You must play your ball from where it lands (sometimes in the rough, out of sight of other players) and not move it except with the golf club.
There are many other rules that you must abide by throughout the game. Integrity is a must!
Golf is often a challenging game and as you learn it, you will begin to understand how to deal with life's challenges as well.
It teaches you about the importance of consistency to become a good golfer.
This also applies to other aspects of your life.
How you handle success or failure on the golf course will teach you much about your own personal development.
2. Golf Is A Great Exercise Routine.
Not only does golf give you a great physical workout, but also a mental one.
Golf is known for being both physically and mentally challenging.
It is said that if you walk the golf course, it will be equal to walking around five miles.
Then, if you add your driver swings and general swinging of the golf clubs through the fairways, your workout will be complete.
Even if you ride a cart around the golf course, you will still end up walking about half that distance.
Learning to be mentally prepared for your game of golf can also be quite demanding.
You must try to keep your mind in a calm space and not get traumatized by missed or duff shots.
I must confess that this took me quite sometime to accomplish.
In the beginning, I got so mad at myself for duffing shots that the expletives were frequent.
Fortunately, time and many golf games has taken the edge off this issue.
You should also keep hydrated while on the course.
This will help alleviate any muscle cramps or aches, especially if you haven't played for a while. And don't forget the sunscreen!
3. Networking For Your Career.
One of the reasons why women should learn to golf is because it can provide great networking opportunities to enhance your career.
If you happen to serve on any Corporate Boards, you will know that many decisions are made by the guys on the golf course.
You can and should be a part of this, too.
Golf also provides great opportunities for meeting new business contacts.
In fact, many business connections have been made on the golf course.
You never know who you might meet at your local golf club.
Another great networking opportunity can be by attending an industry event or trade show that hosts a golf outing.
These events are ideal if you want to make professional connections outside of work but don't have time for structured networking opportunities like happy hours.
So, if you are building a career in the corporate world, learning to play golf can be a great asset.
4. Social Networking.
Golf can also be a great social networking opportunity.
As well as playing with friends, you can meet new people and have fun golfing together.
Charity golf tournaments are great events at which you can make social connections and improve your game.
People at all levels of golf can play together because of the handicap system.
Social networking on the golf course is great when you are all working together to support a cause you believe in.
Playing golf with a group of girlfriends can generate some great conversations and lead to other social events.
You shouldn't miss out on such opportunities.
5. Become A Golf Fashionista!
If fashion is your thing and you want to look great on the golf course, today's fashions will certainly let you become a golf fashionista!
Women's golf fashions today are a far cry from those of our predecessors.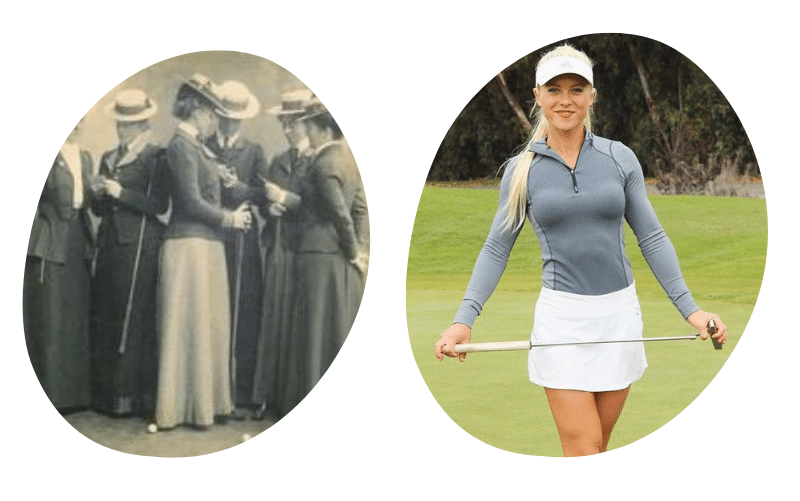 There is an amazing range of golf clothing for women.
This includes Bermuda shorts, skorts, skirts, capris and pants as well as tops that are sleeveless, with short, mid or long sleeves, and golf dresses.
They all come in an array of colors and styles to suit any fashionista's taste.
Not only this, but also there are golf shoes that are both practical and stylish.
Then golf bags and clubs also come in matching colors, along with other golf accessories.
What more could a girl ask for?
Final Thoughts On Why Women Should Learn How To Golf.
Did you know that in 2022 the ratio of males to females in the US population is close to 50% each gender.
Therefore, it is surprising to learn that of the approximately 25 million golfers here, less than one quarter (6 million) are women.
Come on, girls, we need to even out those numbers!
Getting out on the golf course to enjoy some healthy exercise is the goal of many golfers.
As we have explained above, the frustrations of hitting bad shots can be overwhelming.
Nevertheless, most of us who play, love the game of golf and our focus is this love and not how well we are able to score on a particular day.
In fact, Rick, my husband, has been playing most of his life and has never kept score – this is how he taught me to play.
So there is no pressure just fun to be out together on a beautiful golf course, enjoying the day.